After making it two for two, with the win in race one yesterday and the Superpole race today, Toprak (Pata Yamaha) was looking in scintillating form in San Juan, and was looking to make it a clean sweep of wins.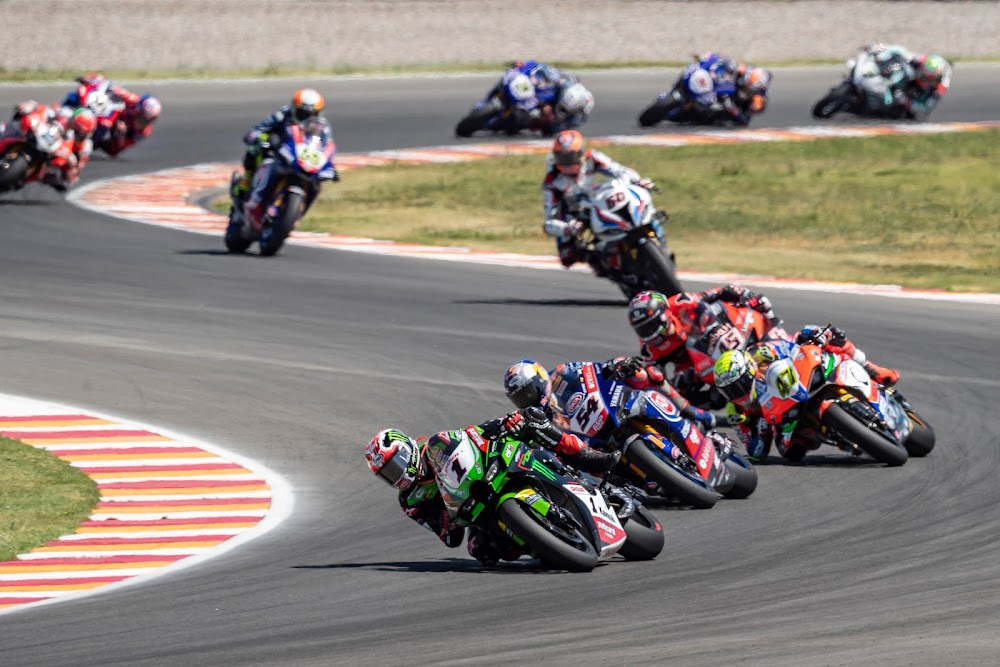 Lights out and again Razgatlioglu gets the hole shot. Rea (KRT Kawasaki) second, Redding (Aruba.it Ducati) third, Bassani (motocorsa Ducati) fourth, vd Mark (BMW Motorrad) fifth and Locatelli (Pata Yamaha) sixth.
Rea was keen not to allow Toprak to escape as he had in race one, and was putting the pressure on in search of a way up the inside of the Yamaha, but was unable to make a move stick. Bassani swooped by on Redding to take third. Toprak went wide out of the straight and allowed Rea to take over the lead.
With 19 laps to go, Rea had put the hammer down setting a new fastest lap of 1:38.256; the front four of Rea, Razgatlioglu, Bassani and Redding were pulling away from the rest. Toprak didn't stay behind Rea long, before diving up the inside of the Irishman to retake the lead.
With 18 laps to go, Rea now found himself in third after Redding got by. The Ducatis were looking good and Bassani was all over the back of Rea now.
With 17 laps to go, Redding uses the Ducati power to get past Razgatlioglu down the back straight but subsequently goes wide into the next corner, allowing both Toprak and Rea through.
With 15 laps to go, it was Razgatlioglu leading, followed by Rea, Redding, vd Mark and Rinaldi. As they had all season, both Razgatlioglu and Rea were going faring to faring, and the lead swapped several times.
With 14 laps to go Razgatlioglu puts in a fastest lap of 1:37.968, but he can't break Rea or Redding behind as he had in race one. Meanwhile further back, Davies (GoEleven Ducati) was sat in eigth, chased by Haslam (Honda HRC) and Gerloff (GRT Yamaha WorldSBK Team).
With 12 laps to go Redding takes the lead, getting up the inside of Toprak having previously gone through on Rea. Would he be able to get away?
With 10 laps to go, Redding puts in a fastest lap of 1:37.716, steadily pulling away from both Razgatlioglu and Rea behind. Bassani fought back, and is now right on the back of Rea.
With six to go, Rea outbrakes Razgatlioglu into turn one to take 2nd. Meanwhile Redding was looking comfortable in the lead, and held a gap of over two seconds to Rea.
Last lap and Redding denies Razgatlioglu a clean sweep of wins, claiming his first win in Argentina. Rea came across the line for second, ahead of Razgatlioglu, Bassani, Rinaldi, vd Mark, Locatelli and Gerloff.
Top Five Classification:
Redding (Aruba.it Ducati)
Rea (KRT Kawasaki)
Razgatlioglu (Pata Yamaha)
Bassani (motocorsa Ducati)
Rinaldi (Aruba.it Ducati)
Top Three Championship Classification:
Razgatlioglu – 531 pts
Rea – 501
Redding 465