Thankfully we had blue skies and the sun was out for dry racing conditions on Sunday. For the Superpole race, Rea (Kawasaki KRT) decided on the harder Sc0 tyre, while most of the other riders went for the softer ScX rear tyre. After a restarted race due to a crash and subsequent red flag, Rea went on to take his first win of the weekend followed by Razgatlioglu (Pata Yamaha) in 2nd and Bautista (Honda HRC) in 3rd, who takes his first podium of the season.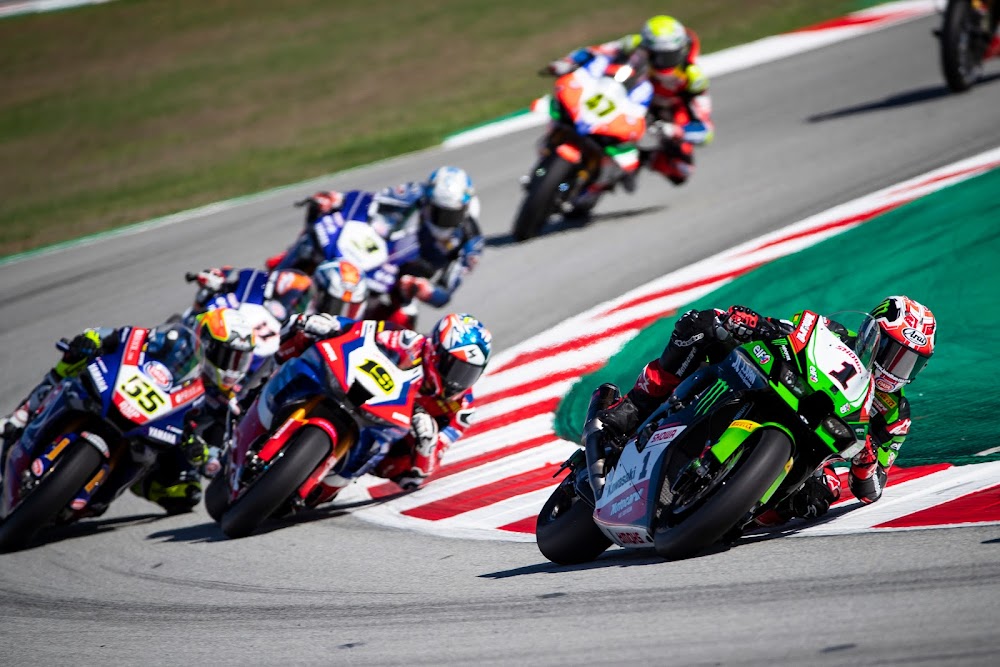 For race 2, the riders were barely off before a big incident at turn 1 involving Sykes (BMW Motorrad) and Mahias (Kawasaki Puccetti Racing) saw the race red flagged for the second time today. It was decided the restarted race would be brought down to 19 laps.
Lights out for the shortened race and its Razgatlioglu with the hole shot down into turn 1, followed by Rea in 2nd, Rinaldi (aruba.it Ducati) 3rd, Bautista 4th and Locatelli (Pata Yamaha) in 5th. Redding, as in race 1, was down in 10th.
Track temperature was around 40 degrees Celcius and the riders knew the second half of the race would be crucial in terms of managing tyre wear. Only the Ducati team mates of Rinaldi and Redding had gone with the harder Sc0 rear tyre, while everyone else went with a softer option.
With 17 laps to go, it was Rinaldi who set a new fastest lap of 1:42.566 and he was breathing down the neck of the Turkish rider in front after powering past Rea down the straight.
Next lap and Redding was now up to 6th and, as he had in race 1, he was now finding his groove and looking ready for a fight. Bautista was in front of Redding and feeling more confident on his Honda after his podium in the Superpole race. Gerloff (GRT Yamaha WorldSBK Team) was in 7th and trying to hang onto the group in front of him.
Lap 6 of 19 now, and Rinaldi finds a way past Razgatlioglu and holds a lead of 0.4. Rea was in 3rd and Locatelli was in 4th, followed by the group of Bautista, Redding and Gerloff who was starting to slip backwards.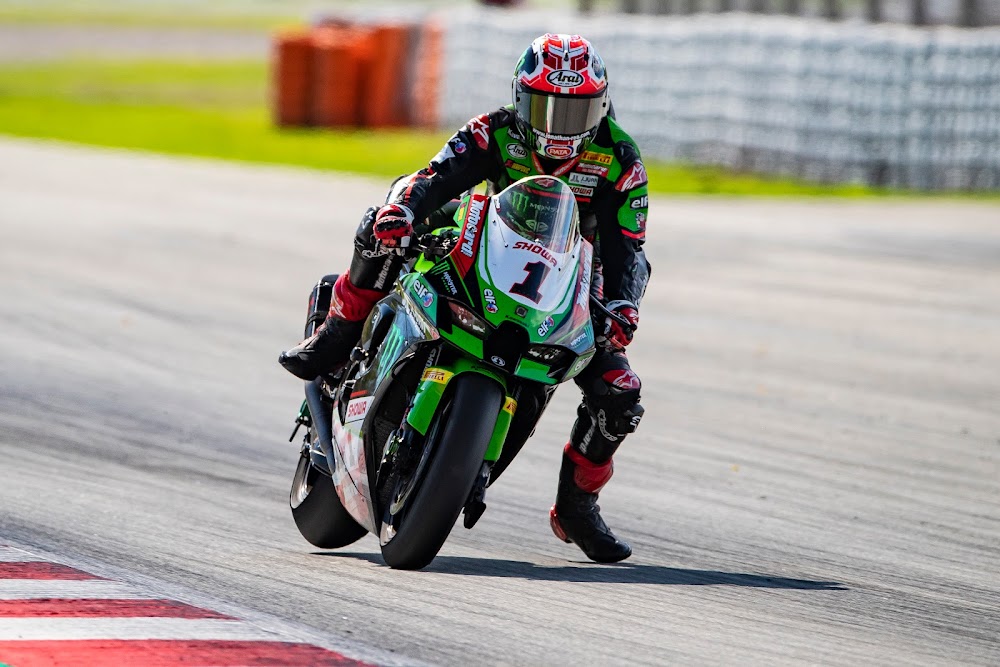 Redding was desperate to get past Bautista and tried several times to dive up the inside of the Honda rider although every time he tried, he was way too hot into the corner going wide which allowed Alvaro to respond and retake the position back.
With 11 laps to go Rea was dropping back to Locatelli, no doubt suffering tyre wear issues. Both Bautista and Redding were doing faster lap times and would soon catch him. Meanwhile further back it was Bassani (motocorsa racing Ducati) in 8th, Nozane (GRT Yamaha WorldSBK Team) 9th and vd Mark (BMW Motorrad) in 10th.
With 9 laps to go, Redding takes both Bautista and Rea, the latter who had himself been passed by Locatelli and was dropping back like a stone now really struggling with grip.
With 8 laps to go, Razgatlioglu fights back and dives up the inside of Rinaldi into turn 6 to retake the lead. If he was also suffering with tyre wear, the Yamaha rider was definitely handling it better. However the harder tyre choice seemed to be working very well for both of the Ducati riders.
With 5 laps to go, Rinaldi out brakes Razgatlioglu down the long straight and into turn 1 to retake the lead. The two holding a gap of 3 seconds to Locatelli in 3rd.
Three laps to go and Rinaldi was pulling away from Razgatlioglu and now held a  gap of 1.5 to the Turkish rider. Meanwhile Redding moves up the inside of Locatelli down into turn 1 and was now hunting down the Yamaha rider in 2nd.
Onto the last lap now and Redding was within a second of Razgatlioglu. Further back Rea was still holding onto 6th, with Gerloff in 7th. Toprak was definitely falling back but would there be enough time for Redding to catch him?
Rinaldi crosses the line to take the win followed by Razgatlioglu who holds on for 2nd, Redding 3rd, Bautista 4th, Locatelli 5th, Rea 6th, Gerloff 7th and Bassani 8th.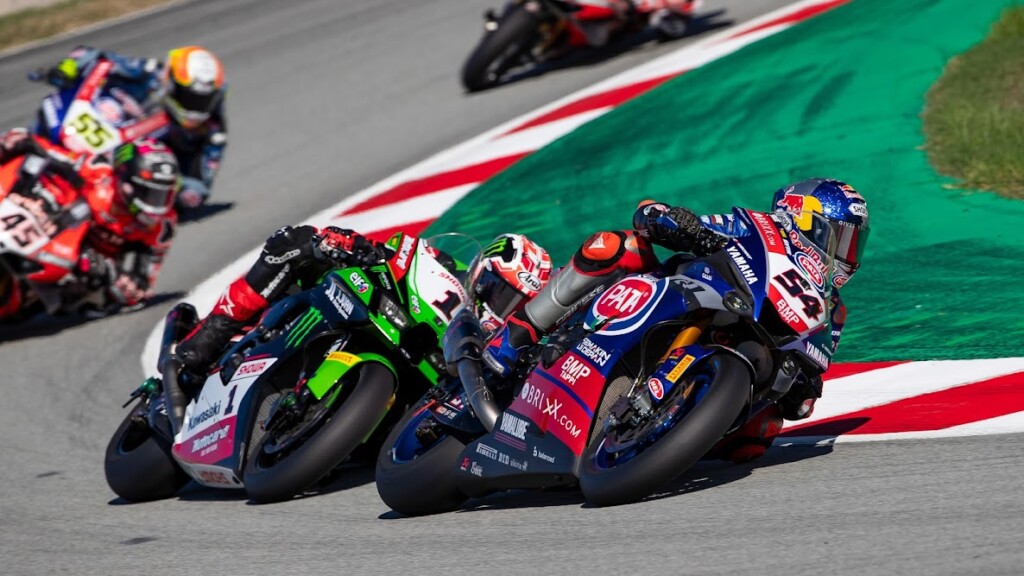 And the result means Razgatlioglu retakes the top spot of the championship yet again, this time by a single point. This season is going down to the wire and is still too hard to call.
Result top 5:
Rinaldi (aruba.it Ducati)
Razgatlioglu (Pata Yamaha)
Redding (aruba.it Ducati)
Bautista (Honda HRC)
Locatelli (Pata Yamaha)
Rider out: Sykes (BMW Motorrad), Lowes (Kawasaki KRT), Epis (Pedercini Kawasaki), Cresson (Pedercini Kawasaki), Mahias (Kawasaki Puccetti Racing)
Championship top 3:
Razgatlioglu –  399 pts
Rea 398
Redding 339