It was Tom Sykes (BMW Motorrad) who ended Jonathan Rea's (Kawasaki KRT) dominance of superpoles by claiming his very own with a fastest lap of 1:40.408. Razgatlioglu (Pata Yamaha) getting 2nd with Rea in 3rd.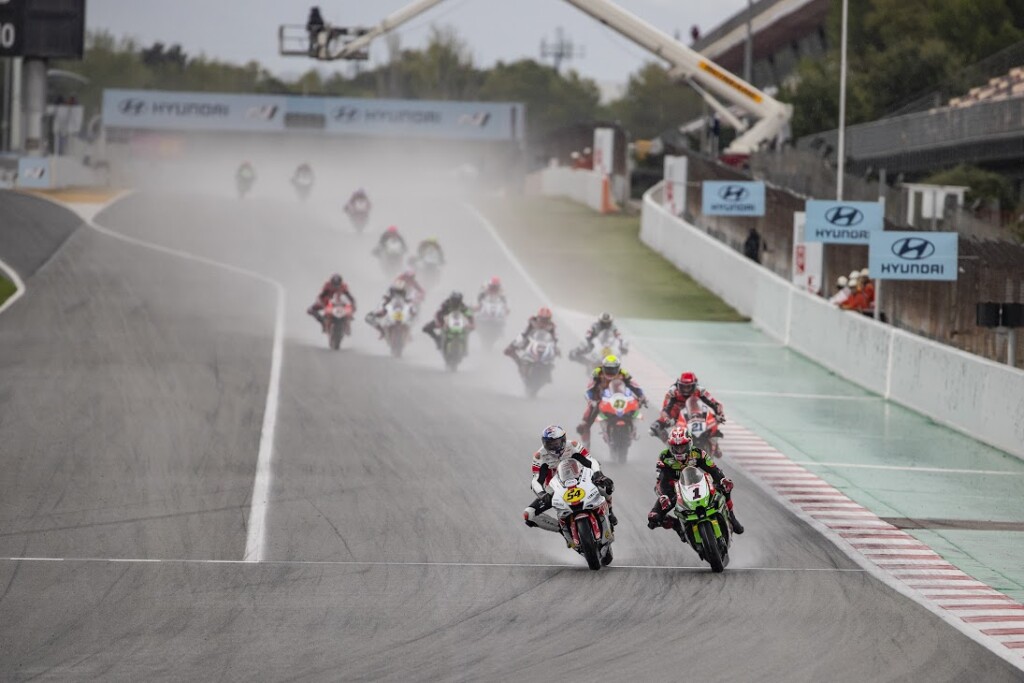 The start of race one was declared wet with rain pelting down onto the track. No surprise then that the whole grid went with wet tyres. Gerloff (GRT Yamaha WorldSBK Team) retired before the start, unfortunately crashing out on the sighting lap.
Lights out and it was Razgatlioglu with a great start in the tricky conditions, getting the hole shot into turn 1. Locatelli on the other Pata Yamaha was briefly in 2nd before Rea came through to claim the position. It was Rinaldi (Aruba.it Ducati) in 3rd, Locatelli 4th and Bassani (Motocorsa Racing Ducati) in 5th from a grid position of 11th. However both Sykes and Redding (Aruba.it Ducati) had terrible starts and found themselves way down in 9th and 10th respectively.
By the start of lap 2, Rea had found a way past Razgatlioglu and was looking to get away, although the Turkish rider was having none of it and they swapped the lead several times. Bassani was now up to 3rd, looking confident in the difficult conditions and looking to join the battle up front.
Rea had put the hammer down on lap 3, posting a fastest lap of 1:57.362 and this pace was now putting a significant gap into Toprak behind who had to deal with Bassani who had closed right behind him. Further back the Honda team mates of Haslam and Bautista were in 9th and 14th respectively with Nozane (GRT Yamaha WorldSBK Team) in 10th and Redding who had slipped further back to 11th.
Rinaldi and vd Mark (BMW Motorrad) were having a battle for 4th place. Both bikes came together with Rinaldi coming off the better and scraping through to take 4th. Meanwhile up front Razgatlioglu had his hands full keeping Bassani at bay with both riders giving the spectators a real treat, swapping positions several times. This was all playing into the Northern Irishman's hands and he had now increased his gap at the front to 2.5 on lap 4.
Further back Lowes (Kawasaki KRT) had now moved into 5th, taking the position from vd Mark. Redding was 7.5 behind the leader in 10th and looking very unsure of his Ducati in the brutal conditions.
Razgatlioglu responded to the pace of Rea putting in a new fastest lap of 1:56.777. Meanwhile further back there was a three way battle for 8th, 9th and 10th between Sykes, Locatelli and Redding respectively, with the latter eventually moving through to take 8th.
With 15 laps to go, Bassani takes 2nd from Razgatlioglu, the Italian looking for his first ever WorldSBK win. No doubt Toprak was getting more frustrated as he saw his championship lead being cut.
Meanwhile Haslam had now caught the group of Rinaldi 4th, vd Mark 5th and Lowes 6th to make it a four way battle. At the front Razgatlioglu responds with another fastest lap of 1:56.544, desperate not to let Bassani get away.
With 12 laps to go, Redding had now made it onto the back of the Haslam group into 8th and was looking more confident into the tricky corners, but would there be enough laps for him to get any further?
Halfway stage of the race and Rea now appeared to be losing his advantage with both Bassani and Razgatlioglu less than a second behind. The Turkish rider setting a previous lap nearly a whole second quicker than Rea.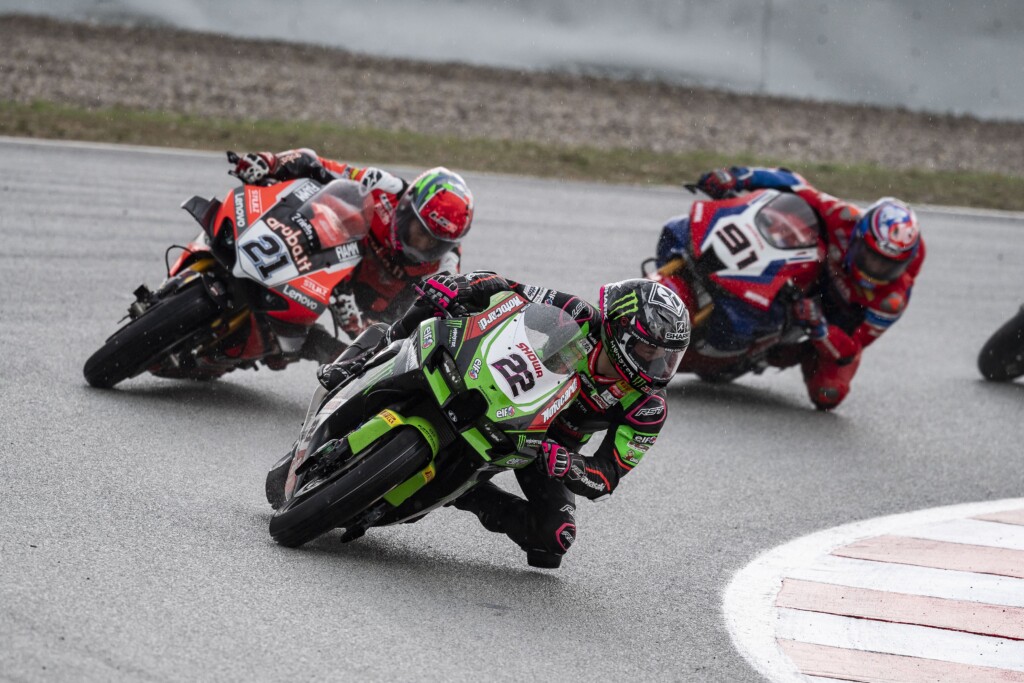 With 9 laps left, Razgatlioglu had come through on Bassani and then drives his Yamaha around the outside of Rea to take over the lead. Bassani then uses all the grunt of the Ducati to power past Rea down the straight, Rea falling back like a stone now and would soon have vd Mark on him. Redding meanwhile, was in 6th and looking for a way past Rinaldi in 5th.
Then drama with 6 laps to go, disaster strikes for Razgatlioglu, his Yamaha losing all power and that spells the end of his race. Bassani could not believe his fortune and takes over the race lead.
With 5 laps to go, there was now a group of 5 riders all vying for the win. Rea continued to slip back and both Ducati team mates came through, Rinaldi in 2nd with Redding in 3rd, Rea now 4th and vd Mark in 5th.
Lap 18 and Redding was really in the groove and after getting by on his team mate, he had Bassani firmly in his crosshairs in the process setting a fastest lap of 1:56.166.
Into turn 5 and Redding makes a block pass on Bassani, taking over the lead. With only 3 laps to go could Bassani respond? Meanwhile Rea was desperately trying to hold off vd Mark in 4th.
Redding does not allow Bassani back into contention and takes an amazing win after only being in 10th on lap 1. Bassani comes over the line in 2nd, Rinaldi 3rd, Rea 4th and vd Mark 5th. Other notable places were Lowes in 6th, Haslam 7th, Sykes 8th and Bautista 9th.
The result meant Rea would again take over at the top of this quite breathtaking championship from Razgatlioglu.
Result top 5:
Redding (aruba.it Ducati)
Bassani (motocorsa racing Ducati)
Rinaldi (aruba.it Ducati)
Rea (Kawasaki KRT)
vd Mark (BMW Motorrad)
Out: Razgatlioglu (Pata Yamaha), Gerloff (GRT Yamaha WorldSBK Team)
Championship top 3:
Rea 376 pts
Razgatlioglu 370
Redding 323