The earlier Superpole race finished an exact copy of race 1 with Redding (Aruba.it Ducati) taking the win, followed by 2nd Rea (Kawasaki Racing Team)., and 3rd Razgatlioglu (Pata Yamaha).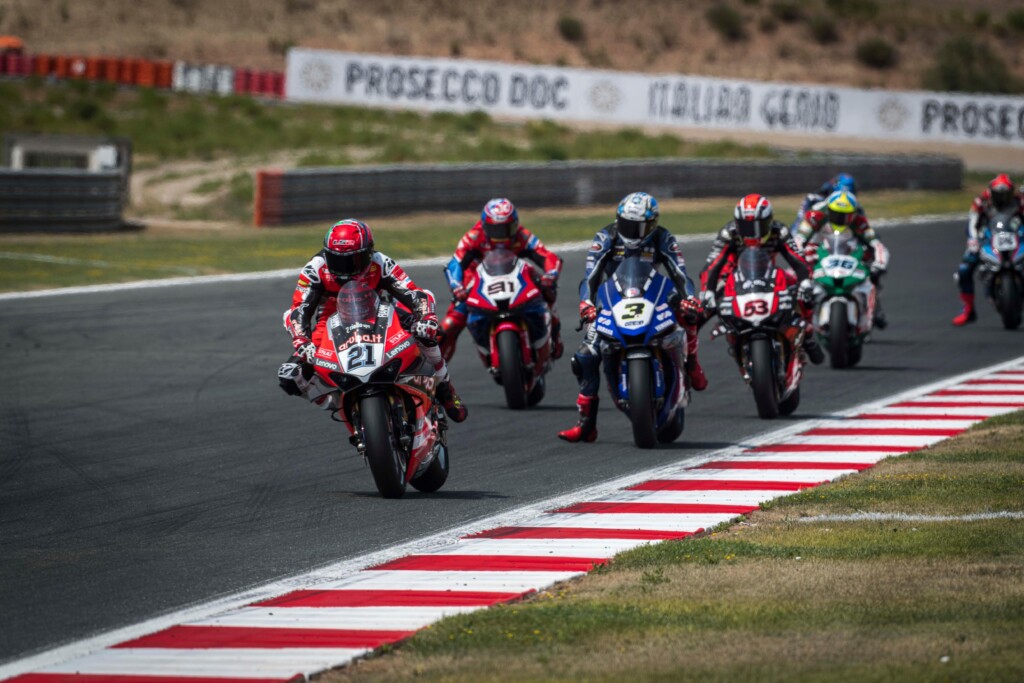 Race 2 saw track temperatures rising to nearly 50 degrees celsius., with riders deciding on a wide range of tyre options. Redding choosing a softer front tyre, while Rea and Razgatlioglu opted for a harder tyre. Could Redding make it a clean sweep of wins at Navarra?
After a delayed start, it was lights out and Redding with another quick fire blast off the line, again got the hole shot, great start. The same couldn't be said for Rea who slipped back to 5th from his 2nd on grid.
The gloves were definitely off with Locatelli (Pata Yamaha) slicing his way from nowhere briefly taking the lead from a stunned Redding before then going wide into a corner to concede the lead back to Redding.
Starting lap 2 and it stood: 1st Redding, 2nd Locatelli, 3rd Razgatlioglu, 4th Rea, 5th Lowes (Kawasaki Racing Team), 6th Sykes (BMW Motorrad).
Then more drama for Davies (GoEleven Ducati) who was having a miserable weekend. He lost the front end of his bike into turn 9, subsequently sending it ploughing into the back of Gerloff (GRT Yamaha WorldSBK Team) who found himself helplessly sliding into the gravel. Both riders were out of the race.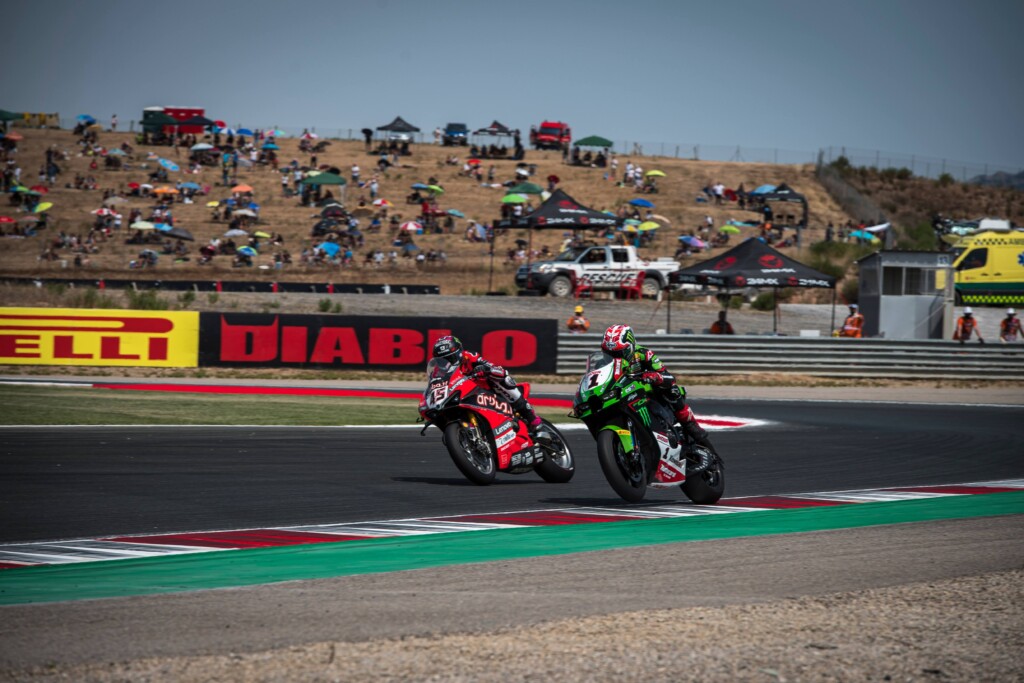 Onto lap 3 and Razgatlioglu, showing impressive speed, gets through on Redding to take the lead. Then it's the turn of Rea, who cuts under Redding into the hairpin corner to take 2nd. As in race 1 this trio was again pulling clear of the rest.
The northern Irishman had his sights on the Turk, and wasn't letting him escape, setting a new fastest lap of 1:37.609. Meanwhile Redding was looking like he was struggling to match the pace and was slipping further back.
Further down the field it was the BMW team mates of Sykes and Vd Mark in 5th and 6th respectively, with Lowes in 7th and Bautista (Honda HRC) further back in 10th.
With 15 laps to go, Lowes comes through on Vd Mark into turn 15 to take 6th.
Rea was closing in on Razgatlioglu, but looked like he was really struggling with front end chatter, the bike visibly bouncing into some corners. Rea held a gap of 0.5 to Redding in 3rd.
With 11 laps to go, Razgatlioglu had a gap of 0.5 to Rea in 2nd. Meanwhile Redding had found something, and was now right within striking distance of Rea.
Nine laps to go and Razgatlioglu found a second wind and was pulling clear of Rea, pushing the gap out to 1.0. Meanwhile Honda continued their poor weekend, with Haslam (Honda HRC) sending his bike sliding in a shower of sparks into the gravel. He cut a dejected figure trudging back.
Rea was really under pressure from Redding now and only had a gap 0.3 to the Ducati. The pressure was telling with Rea losing the front end, but as he had in race 1, he somehow managed to save it. Rea was fighting the Kawasaki into the corners and subsequently went wide, letting Redding through.
Redding now had his sights firmly on the Yamaha but with only 3 laps left could he catch Razgatlioglu who was looking comfortable, and held a 1.0 advantage.
Last lap and Razgatlioglu was holding his nerve keeping Redding at bay. He crosses the line to deny Redding a hat trick of wins, Redding getting 2nd while Rea crossed further down in 3rd.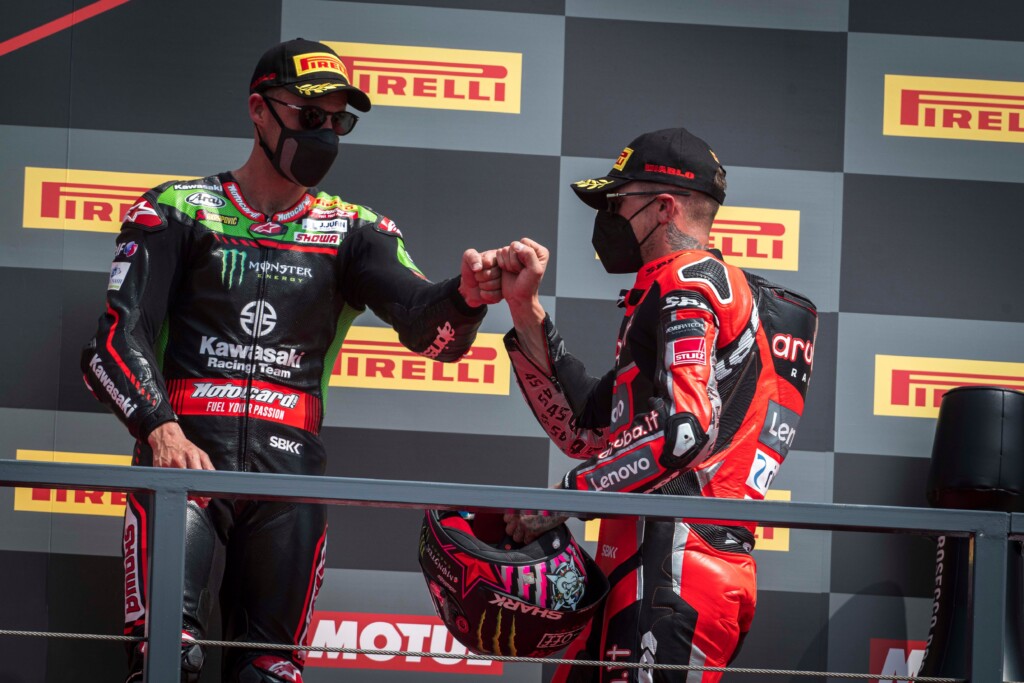 Amazingly enough, the result means there is a two way tie for the lead of the championship between Rea and Razgatlioglu. Surely this season will come down to the wire. Expect more fireworks!
Result top 5:
Razgatlioglu (Pata Yamaha)
Redding (Aruba.it Ducati)
Rea (Kawasaki Racing Team)
Locatelli (Pata Yamaha)
Sykes (BMW Motorrad)
Riders out: Davies (GoEleven Ducati), Gerloff (GRT Yamaha WorldSBK Team), Nozane (GRT Yamaha WorldSBK Team), Uramoto (Suzuki), Haslam (Honda HRC).
Championship top 3:
Rea 311 pts
Razgatlioglu 311
Redding 273