Perez took pole while his teammate suffered a driveshaft issue in Q2 meaning he will start P15. Alonso was unable to capitalise on his speed in practice, managing P3 with Leclerc getting P2 before his penalty is applied. This is how it happened during Qualifying.
Q1 began like normal, with the faster teams choosing to stay back while everyone else took to the track. It wasn't long before the incidents started to bring out the yellow flags.
De Vries nearly caused the first red flag of Qualifying by locking up and spinning into turn 1. However, he was able to use the run-off and get his car going again.
With 10 minutes to go, Norris made contact with the wall on the way into turn 27. The team worked hard to get his car back out, hoping for a red flag but unfortunately, they couldn't make it work. Norris will start in P19 and was forced to watch as his teammate went front strength to strength.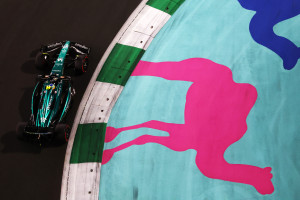 Alonso went for a quick spin on his first fast-lap run. He managed to keep the car out of the wall by completing a full 360. He appeared to get on the power early out of turn 10, he overwhelmed the rears and went around.
There were plenty more mistakes in Q1 than in any of the practice sessions. The drivers were complaining about the track, saying it was not where they wanted it but had to stick to the strategy. The grip just wasn't with them in the session after the Formula 2 race.
After having a lap time deleted for track limits at turn 27, Sargent spun, bringing out only a yellow flag as he got going again. He lit up the rears heading through turns 22 and 23 which he had been having problems with all weekend. 
Alpha Tauri tried to recover from De Vries' incident but they seemed to be having poor luck in Jeddah. Both drivers were out in Q1 with Tsunoda in P16 and De Vries in P18.
Williams joined them with Albon couldn't make it out of Q1 but qualified P17 while Sargent still had issues getting a lap together and damaged the car on his final run meaning he goes away in P20.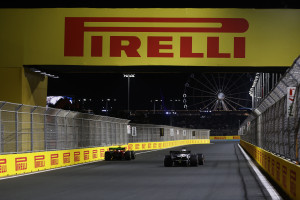 Q2 has most people out on soft tyres, apart from RedBull, who at this point could potentially come out on the wet tyres and still go fastest.
9 minutes left and Verstappen came over the radio with what he thought was an engine issue. He managed to limp home for the team to have a look at the car and potentially solve the problem. However, within seconds of being back in the garage, the double-world champion was out of the car and out of qualifying. RedBull have since reported it as a driveshaft issue. Cue an angry Verstappen making his way through the pack on Sunday.
Meanwhile, his teammate set a lap time good enough for P2, just behind Alonso. Behind them, Sainz had a big moment narrowly missing the wall and being able to carry on. In P11 with only 2 minutes to go, it was very important for the Spaniard to put in a good lap.
Alfa Romeo and Haas went about qualifying very quietly but had strong sessions each. They made up the remainder of the eliminated cars from Q2, joining Verstappen. 
Out in Q2, Hulkenburg, Zhou, Magnussen, Bottas, and Verstappen.
Q3 seemed to be wide open now that Verstappen was out. However, we were looking at a potential pole for Alonso for the first time since 2012. Perez was out to stop that and pick up the pieces of his teammate's problems.
The First runs were done, and Perez was half a second in front of Leclerc in P2 with Russell in P3. Alonso wasn't far behind but it appeared there was more pace to come out from the only RedBull in the session. 
Both Alpines made it into the top 10 for a strong qualifying for both drivers after a not-so-great weekend in Bahrain. Ocon starts in P6 while Gasly starts in P9. Piastri joined them for his first Q3 session and made a good effort against his more experienced rivals, but starts P8 with Leclerc's penalty.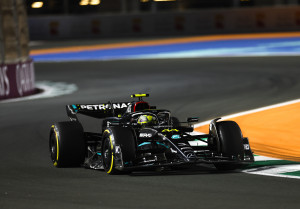 Hamilton will not be pleased with starting P7. Still unable to adapt to the car properly while Russell starts in P3 after Leclerc's penalty is applied. This was the story for the Silver Arrows during qualifying who had a generally mixed session. However, in a race that has a 100% chance of a safety car, they will be looking to use their reliability to gain points tomorrow. 
Ferrari had a decent qualifying for them, but none of that matters with Leclerc's penalty. He will start P11 while Sainz will start P4, alongside Russell. If they want to mount a challenge on Verstappen and RedBull this season they will need to take advantage of having the reigning world champion behind them suffering from reliability issues.
Tomorrow will be an extremely interesting race to watch with Verstappen and Leclerc starting out of position and Alonso hunting down the remaining RedBull at the front of the pack. Can Russell take advantage of his good starting position or will Sainz get ahead? Will there be a safety car or red flag which changes the race, probably, but it's worth watching to find out.