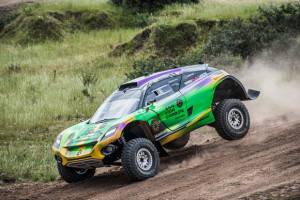 Extreme E is about to enter its third season and there have been a number of changes over the winter break to get your head around. Luckily, this handy guide breaks it all down for you!
Format:
The most noticeable change to Extreme E this year is to the format. Gone are the days of one day for qualifying and one day for races: now each weekend will be a doubleheader! 
Qualifying:
Qualifying remains two separate sessions, but there will be heats in both Qualifying 1 and Qualifying 2. In Qualifying 1, teams will race in one of two five-car heats, with intermediate points being awarded ten through two based on finishing position. 
These heats will also set the grids for Qualifying 2. First, third, and fifth in Qualifying 1 Heat 1 will compete against second and fourth from Qualifying 1 Heat 2 in Qualifying 2 Heat 1. The remaining teams will race each other in Qualifying 2 Heat 2. As with Qualifying 1, intermediate points are awarded ten through two to finishers first through fifth. The teams that win their heat will receive one championship point. 
After both qualifying sessions are complete, intermediate points are added up and the teams are ranked first to tenth from highest points tally to lowest. Any teams that are tied will be separated by their times in the Continental Traction Challenge, which awards the team with the fastest combined time over the course of the day an extra two championship points. Got that? Good! 🙂
Race:
There are no Semi-Finals or Crazy Races this year. Instead, the teams that qualify in the top five positions will go straight through to the Final, whereas the teams that qualify in sixth or lower will face off in the Redemption Race.
Despite its name, the Redemption Race will not provide teams the opportunity to make the final, which remains just five cars. Instead, the teams will attempt to gain as many championship points as they can, with the team finishing first in the Redemption Race receiving eight points. Points awarded for second to fifth in the Redemption Race will be six through one.
The Final remains unchanged from last year and will award 25 points to the winner. Second place will receive 18 points, whilst third, fourth, and fifth will pick up 15, 12, and ten points respectively.
If that doesn't fill your racing appetite, teams will do it all again the following day! The new double-header race weekend will provide anyone who had a poor Saturday with a great opportunity to immediately bounce back and recover some crucial championship points. So, where are they racing this year?
Calendar:
The Season 3 Extreme E calendar will see teams return to some championship favourite locations, as well as some new courses that will provide a fresh challenge.
The season opener is, once again, taking place in Neom, Saudi Arabia this weekend (11th-12th March). Neom hosted the first round of Season 2, which saw the one-time championship winners, Rosberg X Racing, take the victory. Sardinia, Italy; and Antofagasta, Chile also return to this year's calendar.
There will also be two locations making their Extreme-E-hosting debut. Scotland will run the Hydro XPrix on 13th-14th May, though the exact location is yet to be confirmed. Either the Amazon, or USA will feature a round on 16th-17th September.
The full race calendar is as follows:
11th-12th March – Desert XPrix – Neom, Saudi Arabia
13th-14th May – Hydro XPrix – Scotland
8th-9th July – Island XPrix – Sardinia, Italy
16th-17th September – TBC XPrix – Amazon or USA
2nd-3rd December – Copper XPrix – Antofagasta, Chile
Teams and Drivers:
Taking on these challenging courses will be a mixture of new drivers, and old, as well as at least one new team.
The freshest team on the grid, taking the place of Xite Energy, is Carl Cox Motorsport. Racing for British DJ, Carl Cox's team will be the smiley Spaniard Christine GZ, as well as Timo Scheider. Both GZ and Scheider have a vast amount of experience in the series, which will surely help the team settle in quickly.
Jenson Button's team, JBXE, will welcome a Finish former Formula 1 driver (no, not THAT one) in Heikki Kovalainen. Compared to much of the grid, Kovalainen has limited rallying experience so he will be hoping that his teammate, Hedda Hosas, can get him up to speed.
Other new additions to the grid include Fraser McConnel, who will drive for X44, and Amanda Sorensen, who will drive the Chip Ganassi car. Mattias Ekstrom will replace Carlos Sainz at Acciona Sainz for the Desert XPrix as the Spaniard is still recovering from an injury.
There was also supposed to be another team joining the grid this year, XE Sports Group. However, they will not race this coming weekend, and it is unconfirmed whether they will join the grid at all this year. Former footballer, Tim Cahill, was set to be one of the team's backers.
The confirmed driver lineups for the Desert XPrix are as follows:
Veloce Racing – Kevin Hansen and Molly Taylor
Rosberg X Racing – Johan Kristoffersson and Mikaela Ahlin-Kottulinsky
JBXE – Hedda Hosas and Heikki Kovalainen
Andretti Altawkilat Extreme E – Catie Munnings and Timmy Hansen
X44 Vida Carbon Racing – Cristina Gutierrez and Fraser McConnell
Acciona Sainz XE Team – Laia Sanz and Mattias Ekstrom
NEOM McLaren Extreme E – Emma Gilmour and Tanner Foust
GMC Hummer EV Chip Ganassi Racing – Amanda Sorensen and RJ Anderson
ABT Cupra XE – Klara Andersson and Nasser Al-Attiyah
Carl Cox Motorsport – Cristine GZ and Timo Scheider
The new season is now just days away and there are many questions just waiting to be answered. Will the change in driver lineup put reigning champions X44 on the backfoot? Will Heikki Kovalainen fare any better than his new boss Jensen Button did back in Season 1? How will championship newcomers Carl Cox Motorsport handle the series? And what impact will the change in format have on the series? Tune in on Saturday as we attempt to uncover the answers.