X44 are still in with a chance of winning the Extreme E team's championship after winning in Chile.
The result sees them jump up to second in the championship, just 17 points behind leaders RXR. With 30 points available in the final round, it's still all to play for.
Semi Final One:
Race day on Sunday started well for RXR, who looked on course for yet another round win.
They cruised through the first semi-final, beating Acciona Sainz and Andretti United.
It was Acciona Sainz who had got the better start and led coming into the switch zone. However, RXR's efficient driver change in the switch zone saw them leapfrog into first place.
From there, they didn't look back, guaranteeing their spot in the final. Second place was taken by Acciona Sainz, who just held on at the line.
Andretti United were awarded a 10 second time penalty for dropping a waypoint marker.
Semi Final One Classification:
RXR  9:04.370

Acciona Sainz  +6.439

Andretti United  +16.791
Semi Final Two:
X44's semi final against ABT Cupra and Chip Ganassi was very sedate.
X44 took the lead into the first corner, ahead of Chip Ganassi. From there, the leaders were untroubled and crossed the line first to book their place in the final.
Further behind, ABT Cupra were piling the pressure on Chip Ganassi, the latter eventually making a mistake and ABT Cupra took the position.
ABT Cupra joined RXR, Acciona Sainz, and X44 in reaching the final.
Semi Final Two Classification:
X44  9:02.840 

ABT Cupra  +3.519

Chip Ganassi  +6.314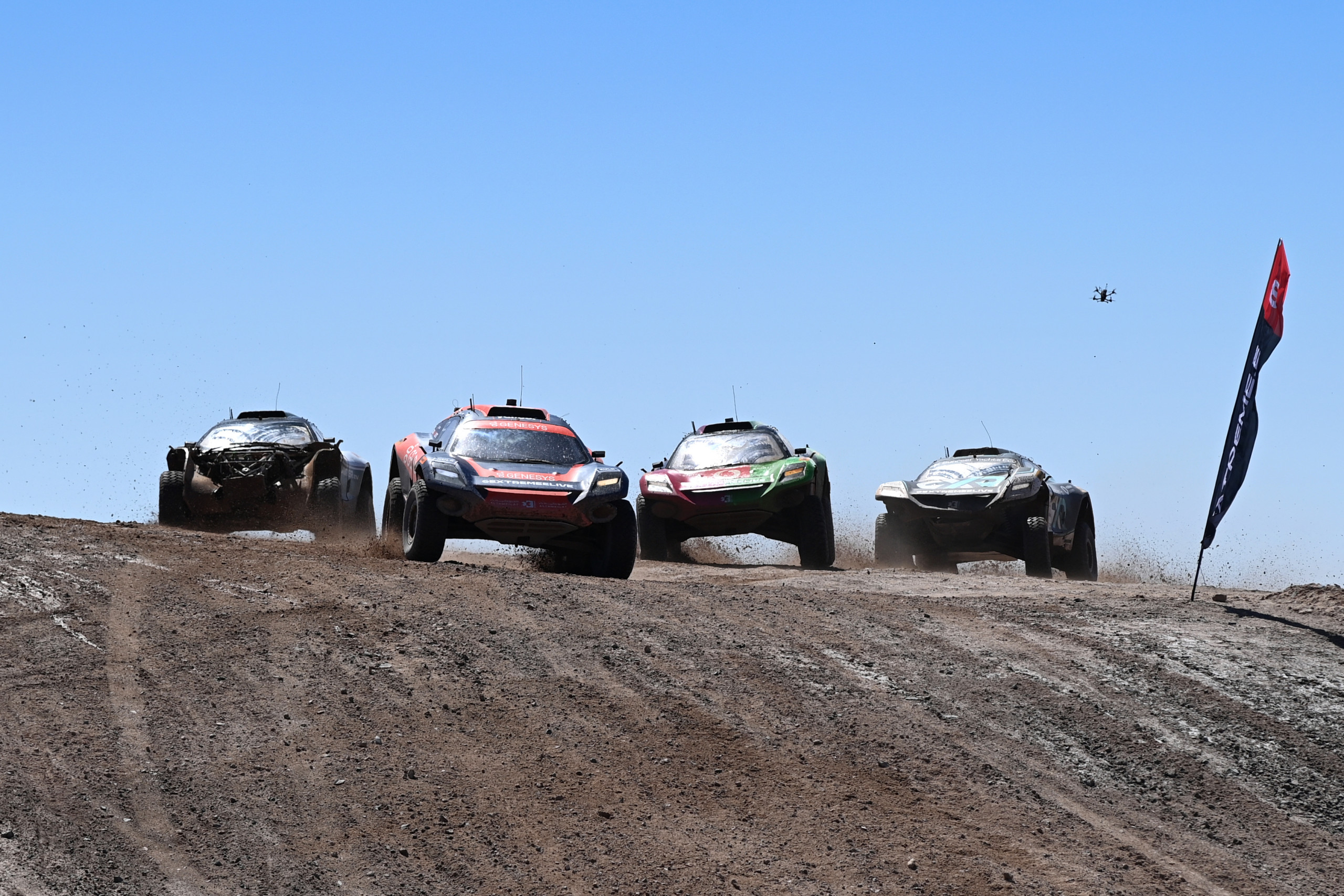 Crazy Race:
The last place in the final was contested between McLaren, Veloce, Xite Energy, and JBXE in the Crazy Race.
McLaren got the best start, leading JBXE after the first corner. Further behind, Xite Energy got a penalty for dropping a waypoint marker.
The battle for a place in the final was hard fought between JBXE and McLaren. Despite an initial early lead, McLaren lost the position to JBXE, who overtook on a jump. The two would remain close, however.
After each team had come into the switch zone to change drivers, the battle recommenced. Eventually, McLaren drew alongside JBXE and they were side by side going over a jump.
However, on landing, both teams lost control of the car and they steered into each other. Dust flew up everywhere and once it had settled it was clear to see that McLaren had retaken the lead, with Xite Energy now in second.
That would be how they crossed the line, with McLaren progressing through to the final. JBXE were promoted to second thanks to Xite Energy's penalty.
Crazy Race Classification:
McLaren  9:12.588

JBXE  +15.042

Xite Energy  +19.474

Veloce  +2:17.762
Final:
The first drama of the final – and there would be more to come – saw disaster for the championship leaders. Unfortunately for the German team they were unable to fix damage they sustained in the semi final and could not start the race. Chip Ganassi were given a lifeline.
As the lights went out, X44 and Chip Ganassi went side by side for the lead through the first few corners. X44 eventually managed to get ahead.
In more side by side battling, Chip Ganassi made contact with another car and lost control of their vehicle. The team span and dropped a waypoint marker.
Hitting waypoint markers would be theme of the final, as the McLaren team, who were by this point fighting with X44 for the lead, also dropped a flag.
X44 also hit a waypoint marker but, crucially, did not knock it over and did therefore not incur a penalty. McLaren then downed a second flag.
McLaren crossed the line in first position but with their penalties, they dropped down to fifth place. X44 won the race, giving their title hopes a boost. Acciona Sainz, who just looked to stay out of trouble, finished in second, with ABT Cupra rounding out the podium.
Final Classification:
X44  8:59.728

Acciona Sainz  +6.093

ABT Cupra  +8.612

Chip Ganassi  +10.159

McLaren  +18.935
Overall Weekend Classification:
X44 +25 Points

Acciona Sainz +18 Points

ABT Cupra +15 Points

Chip Ganassi +12 Points

McLaren +10 Points

RXR +8 Points

Andretti United +6 Points

JBXE +4 Points

Xite Energy +2 Points

Veloce +1 Point
McLaren also gained five points for achieving the weekend's fastest time through the Continental Traction Challenge.
X44 move into second place in the championship and close the gap to RXR to 17 points.
Acciona Sainz and Chip Ganassi in third and fourth place respectively are also just about still in the championship battle.
Another poor weekend for Veloce sees them comfortable at the bottom of the table.
Championship Standings:
RXR 83 Points

X44 66 Points

Acciona Sainz 60 Points

Chip Ganassi 55 Points

McLaren 34 Points

Andretti United 33 Points

Xite Energy 29 Points

JBXE 25 Points

ABT Cupra 21 Points

Veloce 8 Points