Jorge Martin has taken possibly the best win of his career, eventually coming out on top ahead of his nearest championship rider and one of the hardest racers on the grid. He celebrated like he had won the title, showing just how crucial this victory is for his championship campaign.
With the top three riders covered by less than 0.3 sections, we spent most of the race not knowing who was going to come out on top. Eventually, it was Jorge Martin who came out on top. He battled hard but it was a clean and mistake-free final lap that eventually gave him the win.
Brad Binder fought hard to cross the line in 2nd – however, he faced a post-race penalty for track limits that ultimately demoted him to 3rd. He left everything out on the track today and, in the latter stages of the race, looked like he could be on for his first win of the season.
Binder's demotion handed 2nd place to our championship leader, Pecco Bagnaia. It wasn't an easy race for the Italian, who started in 6th, dropped back to 7th and was forced to fight his way up through this field. It was a brilliant recovery rider that allowed him to keep the lead in the title fight, with the final 3 races of the season left.
PECCO BAGNAIA ALMOST PULLED OFF THE IMPOSSIBLE! 😱

LAST LAP! 🚨#ThaiGP 🇹🇭 pic.twitter.com/WDHD4kYkNO

— MotoGP™🏁 (@MotoGP) October 29, 2023
Bagnaia now has just a 13 point lead over Martin, with his lead being cut by 14 points across this weekend. It is looking more likely than ever that this championship will continue to be fought until the final race of the season in Valencia.
Alex Marquez should have been on the podium but he crashed out on lap 14, whilst running 3rd. He was the only rider with a medium rear tire (everyone else ran a hard rear tire) which could have caused his mid-race mistake.
It was a positive day for Fabio Quartararo and Marc Marquez, who came home in 6th and 7th respectively – both riders seem to have found their groove again this weekend and laid down some brilliant moves that showed us why they are champions in their own right.
The top 10 was rounded out by Fabio Di Giannantonio in 9th, who is still desperately seeking a rider for 2024, and Johann Zarco in 10th, who had a difficult day after the highs of his maiden win last weekend.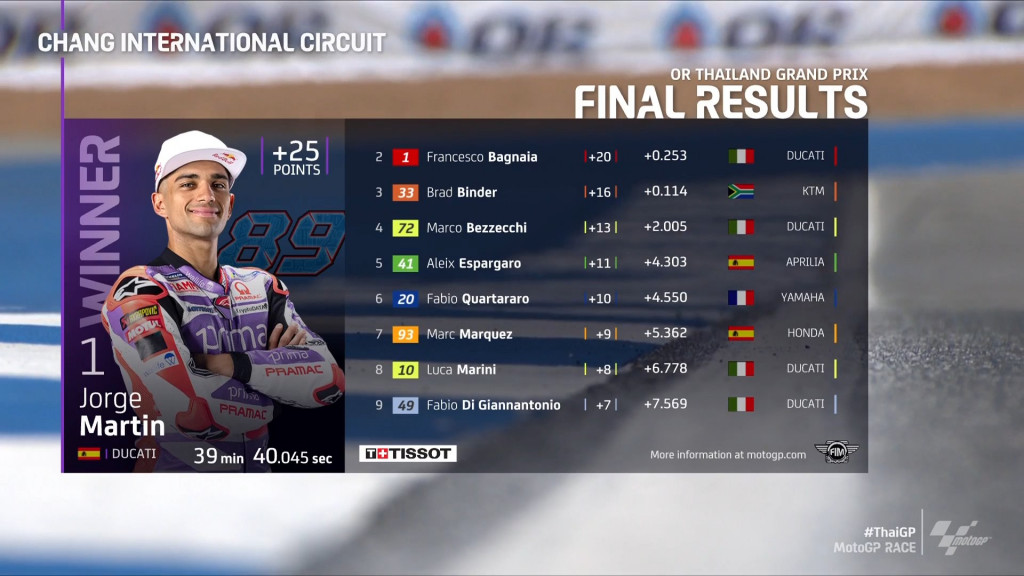 MOMENTUM SHIFT?
Watching Jorge Martin's celebrations during the cooldown lap and when he returned to parc ferme, you would be forgiven for thinking he had won the championship today. He ripped the windshield off his bike and his visor off his helmet as he celebrated. Instead, he just closed the gap to Pecco Bagnaia by 5 points. However, this race felt like so much more than 25 points.
After two difficult races, with a crash in Indonesia and a bad choice of tires in Australia, it was crucial for Martin to come back stronger than ever. He could have crumbled under the pressure and handed the control over to Bagnaia, but he seems to have come back stronger than ever. This was just the weekend he needed with a dominant sprint race win and today's breathtaking performance.
Meanwhile, Bagnaia looked very subdued and quiet during the post-race celebrations today. He is still leading the championship fight but he certainly doesn't look comfortable or confident ahead of the last 3 races of the year.
Regardless of who wins the title, this race is clearly a crucial moment in the championship battle and one we will likely look back on as pivotal in the fight.
That might just prove to be the most important moment in the 2023 title race! 🏆#ThaiGP 🇹🇭 pic.twitter.com/Y2cEwPvCw5

— MotoGP™🏁 (@MotoGP) October 29, 2023
BEST RACE OF THE SEASON?
Many people across social media and throughout the paddock have hailed this the best race of the season. Seeing the riders watching the key race action in the cool down room, before their podium celebrations, it's clear that their reactions also matched this.
With just 0.25 seconds covering the top 3 riders as they met the chequered flag, this is the 4th closest podium in the premier class' history. But this race was so much more than just the top 3 riders – there were battles up and down the field with aggressive, experienced and beautiful moves being made almost every lap.
At one point in the race, Pecco Bagnaia was stuck down in 7th place and seemed unable to make any moves of those ahead of him. To pull it back and salvage a 2nd place, that was almost a race win, shows how phenomenal his performance was. We also had the joy of seeing previous champions, Fabio Quartararo and Marc Marquez enjoying some exciting battles within the top 10.
For so many reasons, this race will clearly go down in history books, with action from start to finish and rider's prowess shining through.
Feature Image Credit: MotoGP on X