Everyone loves MotoGP at Phillip Island but, today, no one loves it more than Johann Zarco. The Australian track has given us some historic races over the years and today was no exception.
After 258 races in MotoGP, Johann Zarco has won his maiden race. It was a stunning performance from the Frenchman as he fought his way back from a poor start and calculated the final laps to perfection.
However, it wasn't all joy in the Prima Pramac garage as their championship contender, Jorge Martin, lost a comfortable lead on the final lap. He dropped back from 1st to 5th as his gamble of running on soft tires failed to pay off. He spent 20 of the 27 laps with a 3+ second lead but wasn't able to hold off the chasing pack.
As Martin's championship hopes faded, Pecco Bagnaia came up in 2nd place. He remained within the chasing pack for most of the race and made a stunning move with only a few corners remaining. He will certainly be celebrating extending his championship lead when it looked to likely that this wouldn't be the case.
The final podium place was taken by Fabio DiGiannantonio who is fighting for a place on the MotoGP grid next year. This maiden podium couldn't have come at a better time and his aggressive, confident riding through the race, will have undoubtedly helped his cause.
The race was packed with drama from start to finish, with big moves and plenty of overtakes happening up and down the grid. It is certainly a race that will be talked about for years to come but its effect on the final championship result are yet to be known.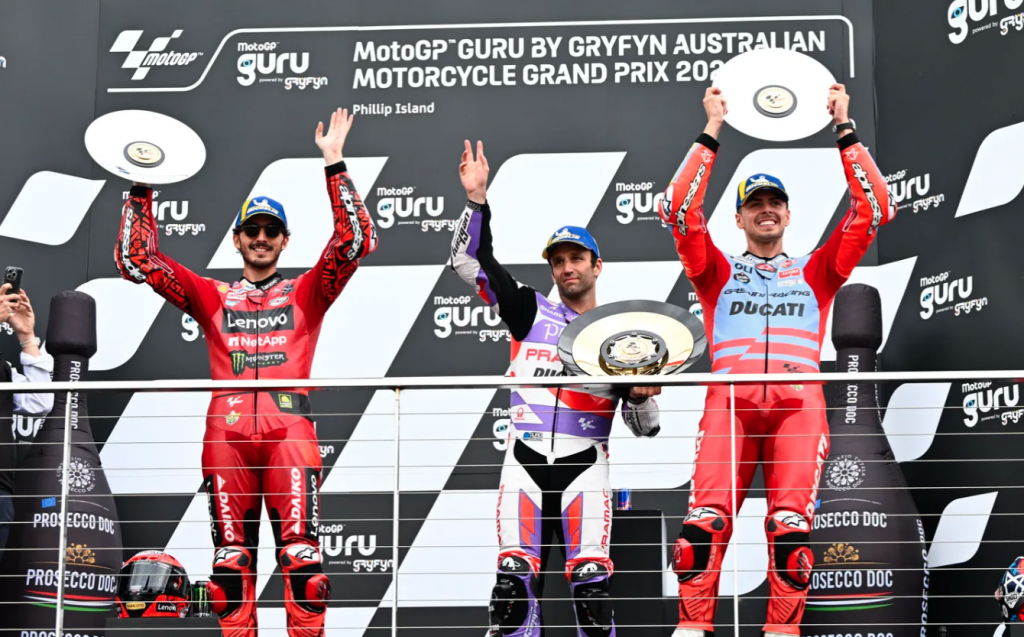 AS IT HAPPENED
Jorge Martin and Brad Binder, starting from 1st and 2nd respectively, flew off the line and quickly put clean air between them and the rest of the field. Despite Binder pulling up alongside Martin, it was the Prima Pramac machine that was quicker and able to keep the lead. Pecco Bagnaia then slotted himself in to 3rd. Jack Miller, the home hero, had a great start going from 8th on the grid to 4th.
It was a tricky start for Marc Marquez who slipped back from 7th to 10th, as well as Johann Zarco who dropped from 5th to 8th.
Martin was quick to pull a gap out between himself and Binder. Meanwhile, in to turn 11, Miller made a move up the inside of Bagnaia to take 3rd away from the championship leader. However, on the following lap, Miller goes wide and drops back to 6th. This allowed Fabio DiGiannantonio and Marquez to gain positions.
All this battling allows Binder to pull a 1.2 second gap over Bagnaia in 3rd. Martin was then a further 0.5s down the road.
In to turn 2 on lap 3, DiGiannantonio makes an aggressive move to steal 3rd place from Bagnaia. Further back on the same lap, Marquez goes wide thanks to pressure from Zarco. This lets through Zarco, who is now up to 5th and Miller, who is up to 6th. Marquez remains close behind Miller but isn't able to get back past.
⚠️ @PeccoBagnaia is under pressure here! @FabioDiggia49 is riding inspired! He's into a podium position! 🔥#AustralianGP 🇦🇺 pic.twitter.com/8RofvS9Nh6

— MotoGP™🏁 (@MotoGP) October 21, 2023
With drama unfolding up and down the field, the leading trio of Martin, Binder and DiGiannantonio are all enjoying comfortable gaps. Behind them is where the drama is unfolding. It seems like Bagnaia is riding slower than others and that sees him backing up the pack somewhat.
The battles between 4th and 10th are hotting up and, on lap 6, there are moves happening up and down the field. Zarco makes his way past Marquez for 5th, Aleix Espargaro takes 7th from Miller and Marco Bezzecchi takes 9th away from Alex Marquez. Zarco continues battling with Marc Marquez throughout the lap, with the pair jostling back and forth. Eventually, it is Zarco who comes out on top and instantly sets his sights on Bagnaia in 4th.
A few laps later and there seemed to be spots of rain falling across the track. It isn't heavy enough to affect the riders but it was certainly visible on their visors. By this point, Martin was now leading by 2.4 seconds.
On lap 11, Joan Mir crashed out of 15th place. Going in to turn 4, he bumped in to Luca Marini and ended up in the gravel. The incident was reviewed by the stewards deemed that no further action was necessary.
The following lap and the battle behind the leading pack continues. Espargaro gets past Marquez for 7th and, a few corners later, Miller makes a similar move. This pushes Marquez back down to 8th.
On lap 13, turn 4 takes another victim as Augusto Fernandez slides out of contention.
Bagnaia, by lap 15, is the fastest rider on the field and catching up to DiGiannantonio. However, with Zarco breathing down his neck, the reigning champion is forced to turn his attention to defending and that allows DiGiannantonio to pull a 1 second lead over his rivals.
With rubber flying off everyone's tires – even the medium tires – Martin's lap times were dropping significantly. However, he had been able to maintain a steady gap. Just behind, and despite being close on his tail for a few laps, it wasn't until lap 19 when DiGiannantonio was able to get past Binder for 2nd. Their battle allows Bagnaia to close the gap and he is now hot on the tail of Binder.
LAST LAP 🔄

THEY'RE ON HIM! 😱#AustralianGP 🇦🇺 pic.twitter.com/E4pIw3K2Zv

— MotoGP™🏁 (@MotoGP) October 21, 2023
With DiGiannantonio now in second, he gets his head down and starts to chase down Martin in the lead. He quickly brings down the gap from 3.4 seconds to 2.8, and brings Binder (in 3rd), Bagnaia (in 4th) and Zarco (in 5th) along with him.
On the following lap, the gap is cut by a further 0.3 seconds and DiGiannantonio has even managed to pull out a 0.5 second lead over Binder.
On lap 22, Zarco takes 4th place away from Bagnaia – he came up alongside the Italian on the start-finish straight and had shut the door on him but turn 1. At the same time, Martin reacts to the mounting threat behind him and stabilises the gap – DiGiannantonio is now no longer closing in on him.
The following lap, Binder is able to pull up alongside DiGiannantonio and regain 2nd place. It's Binder who now significantly closes the gap at the front and, within 2 laps, this is reduced to less than 1.2 seconds.
On lap 26, Zarco is able to get past Binder for 2nd place. The attack forces him slightly wide and as the pack bunches up, Binder ends up dropping from 2nd to 5th. Now, the chasing pack are just 0.4 seconds behind Martin.
On the final lap of the race, we have an exciting 5-way battle for the win with Martin in 1st, Zarco 2nd, Bagnaia 3rd and DiGiannantonio 4th. But Zarco is able to pull away from Bagnaia, leaving him vulnerable to DiGiannantonio who makes his move up to 3rd. Zarco then makes a move for the lead, which he times to perfection. He brings Bagnaia with him who makes a stunning move for 2nd place. The chaos lasts for a few final corners, in which Martin drops from 1st to 3rd.
As the checkered flag falls, it's Zarco who claims the victory, ahead of Bagnaia in 2nd and DiGiannantonio in 3rd. Just behind them, on the final straight, Martin loses 4th place to Binder. Bezzecchi is the "best of the rest" in 6th, whilst Miller snatches 7th place away from Espargaro on the line.
FULL RESULTS
| 1 | Johann Zarco | Prima Pramac |
| --- | --- | --- |
| 2 | Pecco Bagnaia | Ducati |
| 3 | Fabio DiGiannantonio | Gresini |
| 4 | Brad Binder | Red Bull KTM |
| 5 | Jorge Martin | Prima Prama |
| 6 | Marco Bezzecchi | Mooney VR46 |
| 7 | Jack Miller | Red Bull KTM |
| 8 | Aleix Espargaro | Aprilia |
| 9 | Alex Marquez | Gresini |
| 10 | Enea Bastianini | Ducati |
| 11 | Maverick Vinales | Aprilia |
| 12 | Luca Marini | Mooney VR46 |
| 13 | Miguel Oliveira | CryptoDATA RNF |
| 14 | Fabio Quartararo | Yamaha |
| 15 | Marc Marquez | Repsol Honda |
| 16 | Raul Fernandez | CryptoDATA RNF |
| 17 | Franco Morbidelli | Yamaha |
| 18 | Pol Espgararo | GASGAS Tech3 |
| 19 | Takaaki Nakagami | LCR Honda |
DNFs = Augusto Fernandez (GASGASG Tech 3), Joan Mir (Repsol Honda)
CHAMPIONSHIP STANDINGS
| 1st | Pecco Bagnaia | 366 points |
| --- | --- | --- |
| 2nd | Jorge Martin | 339 points |
| 3rd | Marco Bezzecchi | 293 points |
| 4th | Brad Binder | 224 points |
| 5th | Johann Zarco | 187 points |
Feature Image Credit: MotoGP