A chaotic race in Indonesia has seen Pecco Bagnaia reclaim the championship lead that he lost after yesterday's sprint race. Jorge Martin, his nearest rival, made a painful error which saw him crash out of the lead. With just 5 races left, this season is far from over!
It was both a costly error from Jorge Martin and a calculated ride from Pecco Bagnaia that has firmly placed today's Indonesian GP in the history books. Having lost the championship lead for a day, Bagnaia was able to quickly reverse this as he sailed to a phenomenal victory. He made his way from 13th on the grid to win what might be the greatest race of his career.
Meanwhile, it was an undoubtedly difficult day for Martin. Having enjoyed all the momentum and accolades over the last few races, he crashed out of the lead at a crucial point in the season. The costly error came despite him sitting comfortably at the front of the field for the first 20 laps.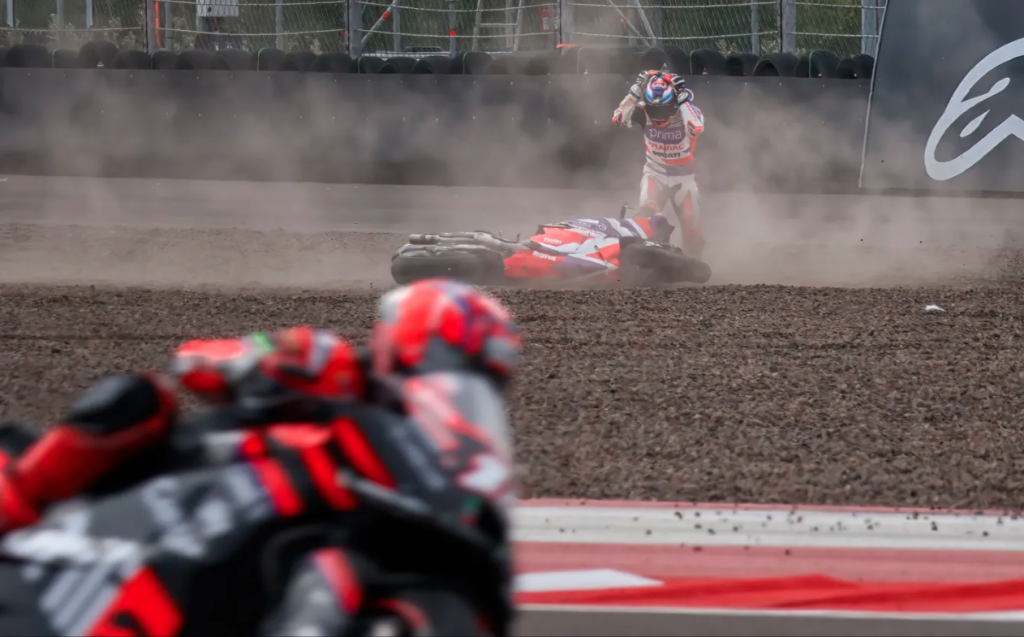 Bagnaia was joined on the podium by Maverick Vinales and Fabio Quartararo who both enjoyed strong weekends but were frustrated to not finish higher after a close final few laps.
There was chaos up and down the field for most of the race, as we start our first of two triple-header weekends to round out the 2023 season.
AS IT HAPPENED
As the lights went out, Jorge Martin flew off the line and leapt from 6th to 1st before entering the first corner. It was a slower start for both Aprilia riders, as well as Luca Marini, who all slipped back down the field. This allowed both Brad Binder and Fabio Quartararo to make up some places on the first lap. However, Maverick Vinales was able to recover and slot in to 2nd.
There was chaos up and down the field across the opening laps of the race. This started with Aleix Espargaro going wide at turn 1. This let Pecco Bagnaia through but as Espargaro returned to the racing line, he nearly collected Marc Marquez.
Enea Bastianini also went wide, causing him to go off the track. He failed to rejoin in the correct way and was later given a long lap penalty as a result.
On lap 3, Binder gets out of shape at turn 10 and clatters in to the side of Marini, knocking him in to the gravel. Binder was just carrying too much speed in to the corner and wasn't able to make it round. Like Bastianini, he also received a long lap penalty for this later on in the race.
Luckless @Luca_Marini_97 on Sunday! 💔

His race came to an early end after a contact with @BradBinder_33, who was later handed a LLP for irresponsible riding ⚠️#IndonesianGP 🇮🇩 pic.twitter.com/dnjeS0416i

— MotoGP™🏁 (@MotoGP) October 15, 2023
On the same lap, Pol Espgargaro crashes at turn 15 and Franco Morbidelli heads in to the pits to retire.
Pecco Bagnaia and Aleix Espargaro then find themselves breezing past Quartararo to take 3rd and 4th respectively. Meanwhile the leading pair of Martin and Vinales were now 1.8 seconds ahead of the rest of the field.
As Binder takes his long lap penalty on lap 6, he drops from 5th to 10th. Espargaro, in 4th, is all over the back of Bagnaia, in 3rd, and forcing the Italian to ride defensively.
On lap 8, Marc Marquez is quickly overtaken by Jack Miller, Marco Bezzecchi and Brad Binder, shuffling him back from 7th to 10th. A few corners later, he then crashes at turn 13. It has been a difficult weekend for the Spaniard who is undoubtedly counting down to his move to Gresini for 2024.
A miserable Mandalika run for @marcmarquez93💥

After yesterday's #TissotSprint tumble, the Spaniard fell out of contention again! 😌#IndonesianGP 🇮🇩 pic.twitter.com/7QHZFRAdWa

— MotoGP™🏁 (@MotoGP) October 15, 2023
This then sparks a 4-way battle for 6th place, with Miguel Oliveira, Miller, Bezzecchi, and Binder in 6th to 9th respectively. Miller is the first to make a move on the final corner of lap 9, followed by Bezzecchi on the first corner of lap 10.
On the following lap, Binder attempts to then make a move on Oliveira but bumps in to the side of him, knocks off his wings, and then sends them both wide. They are both able to rejoin but lose places at a crucial point in the race. Binder will receive his second long lap penalty of the race for this harsh move.
On lap 12, Augusto Fernandez crashes, followed by Joan Mir on the following lap.
Moments later, our race leader then crashes at turn 11. The bike slides out from under him and he is left looking down at his Prima Pramac machine in utter disbelief.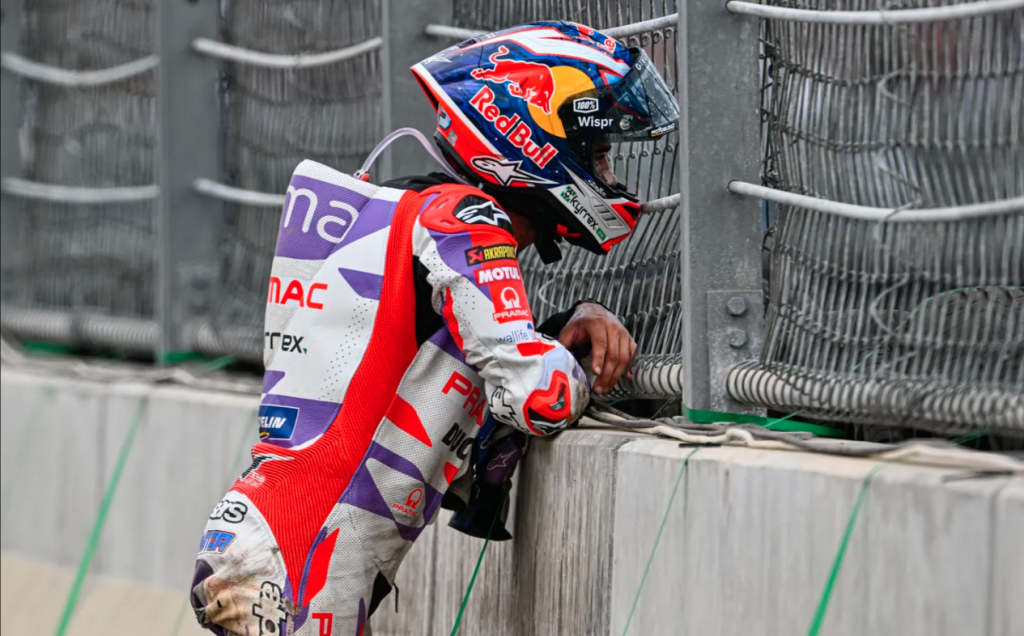 This promotes Vinales to 1st, with a 1.2 second gap to Bagnaia in 2nd. Quartararo, after recently making a move on Espargaro, is now promoted to 3rd.
On lap 16, Johann Zarco also crashes, again at turn 11. This leaves just 14 riders out on the track.
Meanwhile, at the front, Quartararo is closing in on Bagnaia who, in turn, is closing in on Vinales. We thought the chaos had calmed down but these three had other ideas.
At this point in the race, it is clear to see who opted for soft tires and who played it safe with the hard tires. Those on softs begin dropping back down the field as their tires struggle with the heat and soaring temperatures.
After closing the gap significantly over 4 laps, it was on lap 20 when Bagnaia was finally able to take control at the front of the race. He breezed past Vinales to take 1st place away from him.
For the final 7 laps of the race, the leading trio kept the pressure on each other. So much so that, by the final lap, there was barely a hair's width between them. However, neither Vinales or Quartararo could make a move and they were forced to settle for 2nd and 3rd respectively.
FULL RESULTS
| 1st | Pecco Bagnaia | Ducati |
| --- | --- | --- |
| 2nd | Maverick Vinales | Aprilia |
| 3rd | Fabio Quartararo | Yamaha |
| 4th | Fabio Gi Giannantonio | Gresini |
| 5th | Marco Bezzecchi | Mooney VR46 |
| 6th | Brad Binder | Red Bull KTM |
| 7th | Jack Miller | Red Bull KTM |
| 8th | Enea Bastianini | Ducati |
| 9th | Alex Rins | LCR Honda |
| 10th | Aleix Espargaro | Aprilia |
| 11th | Takaaki Nakagami | LCR Honda |
| 12th | Miguel Oliveira | CryptoDATA RNF |
| 13th | Raul Fernandez | CryptoDATA RNF |
| 14th | Franco Morbidelli | Yamaha |
DNF = Johann Zarco (Prima Pramac), Jorge Martin (Prima Pramac), Augusto Fernandez (GASGAS Tech 3), Joan Mir (Repsol Honda), Marc Marquez (Repsol Honda), Luca Marini (Mooney VR46), Pol Espargaro (GASGAS Tech3).
Feature Image Credit: MotoGP