Onto the second full day of this event and the crews faced 109km's over six stages in Germany and Austria. Could Elfyn or Thierry pass Kalle for the lead, even though the Finn had a 36.4 second lead?
First up then was SS9 Schärdinger Innviertel 1 – 15.72 km and Elfyn showed he was on the pace winning the stage from Thierry and Kalle. Meanwhile in WRC2 Nicolas was fastest from Nikolay and Erik. Emil remained in charge of the category leading Erik and Nicolas. However, Nikolay was climbing up the leader board passing Kajetan for fourth overall.
Into SS10 Mühltal 1 – 27.15 km and Thierry was fastest from Elfyn this time with Seb third. There was drama though for rally leader Kalle who slid off the road and lost 24 seconds of his lead. WRC2 leaders Emil and Reeta were fastest from Nicolas and Nikolay. The pace of Nicolas brought him ahead of Erik and into second overall in the category. Mind you there was only three tenths of a second between them, meaning the fight was still on for second place.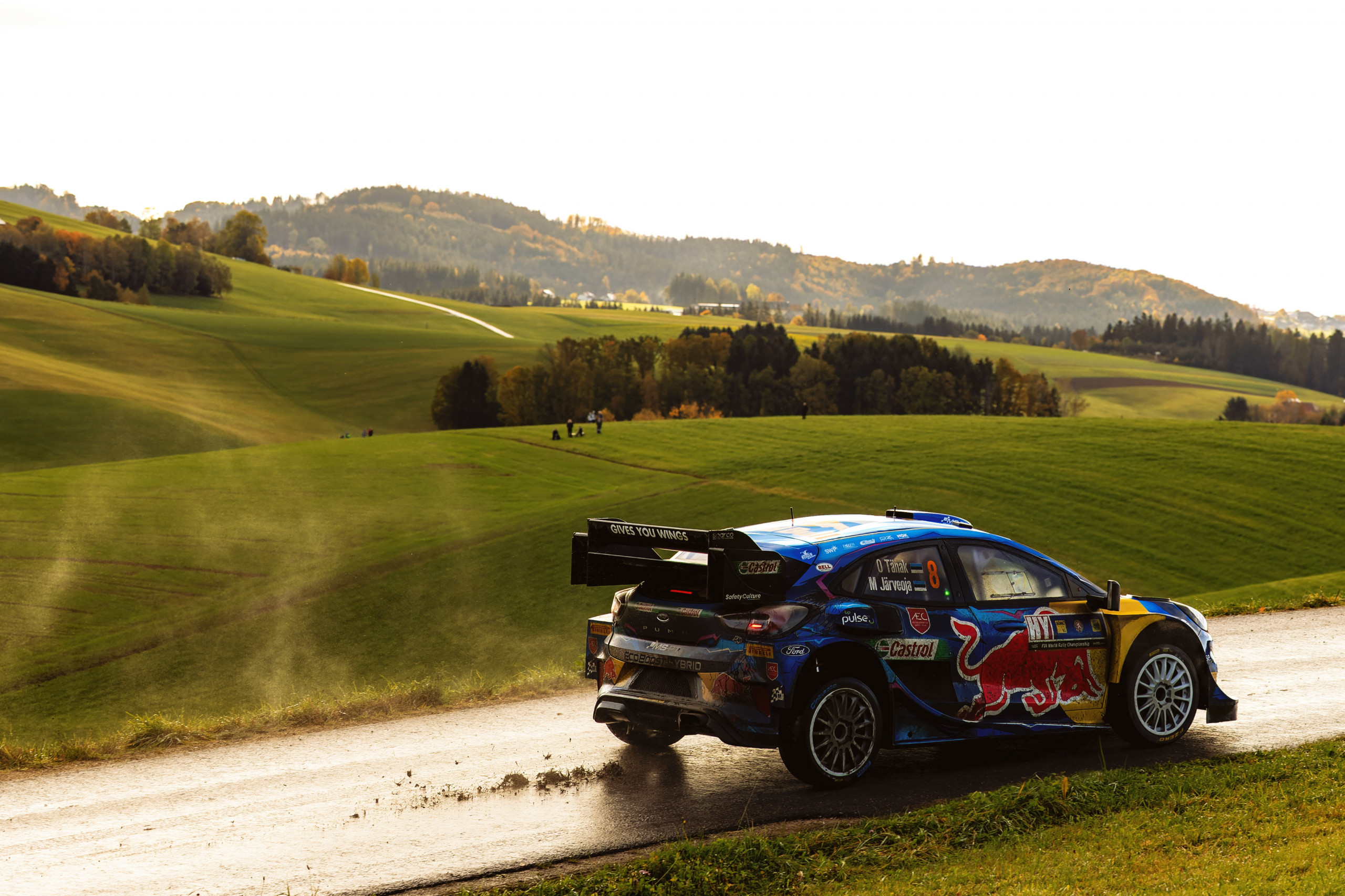 The final stage of the morning loop SS11 Knaus Tabbert Bayerischer Wald 1 – 11.88 km and Teemu set the early pace before Thierry came through to set the fastest time from his teammate and Seb was third. However, this stage saw the retirement of Elfyn and Scott who slid wide and hit a garage on the left-hand side of the stage. The damage was too much for them to continue. Kalle was made aware that his teammate was out, and he made the decision to just drive through safely given that his closest rival was now out. In WRC2 Nicolas was fastest from Emil and Erik and the top three remained unchanged.
Next up after the service break was SS12 Schärdinger Innviertel 2 – 15.72 km and Seb was fastest from Thierry and Ott. Kalle was controlling his pace setting and set the same time in the stage as his Japanese teammate, going equal fourth fastest. In WRC2 Gus went fastest from Nikolay and Nicolas. Emil continued to lead the category from Nicolas, with the gap between them reduced slightly to under 13 seconds.
The penultimate stage of the day, SS13 Mühltal 2 – 27.15 km and Seb was fastest again from Ott and Thierry. Kalle remained off the pace as he continued to take things easy, and Thierry now had a lead of 26.7 seconds. Emil set the pace in WRC2 going fastest from Gus and Erik. The Finn continued to lead the category with an increased lead of almost 21 seconds.
Now to the final stage then which started in semi-light and ended in darkness with the full moon shining over the landscape. Thierry set the early pace but then Kalle came through and was fastest by half a second and Takamoto was third. Emil was fastest from Gus and Erik in WRC2.
Let's take a look at the top positions and hear from the drivers.
Classification after Day Two
| | | | | |
| --- | --- | --- | --- | --- |
| 1 | T. Neuville | M. Wydaeghe | Hyundai i20 N Rally1 Hybrid | 2:18:34.5 |
| 2 | K. Rovanperä | J. Halttunen | Toyota GR Yaris Rally1 Hybrid | +26.2 |
| 3 | O. Tänak | M. Järveoja | Ford Puma Rally1 Hybrid | +1:49.1 |
| 4 | S. Ogier | V. Landais | Toyota GR Yaris Rally1 Hybrid | +2:20.2 |
| 5 | T. Katsuta | A. Johnston | Toyota GR Yaris Rally1 Hybrid | +2:47.9 |
| 6 | T. Suninen | M. Markkula | Hyundai i20 N Rally1 Hybrid | +2:58.8 |
| 7 | G. Munster | L. Louka | Ford Puma Rally1 Hybrid | +3:52.2 |
Hyundai Motorsport
Thierry Neuville
"Another tricky day, similar to yesterday with tough conditions out there. We couldn't expect such a turnaround in the early morning, but both Kalle and Elfyn made mistakes while we were very consistent throughout the whole day. This gave us the lead by mid-day service and then an even bigger margin this evening. I wouldn't say the gap is comfortable, because anything can happen, but we should be able to manage it tomorrow. We are as confident as we can be we hope to have a clean run, no surprises, and that it is a bit easier than the past couple of days."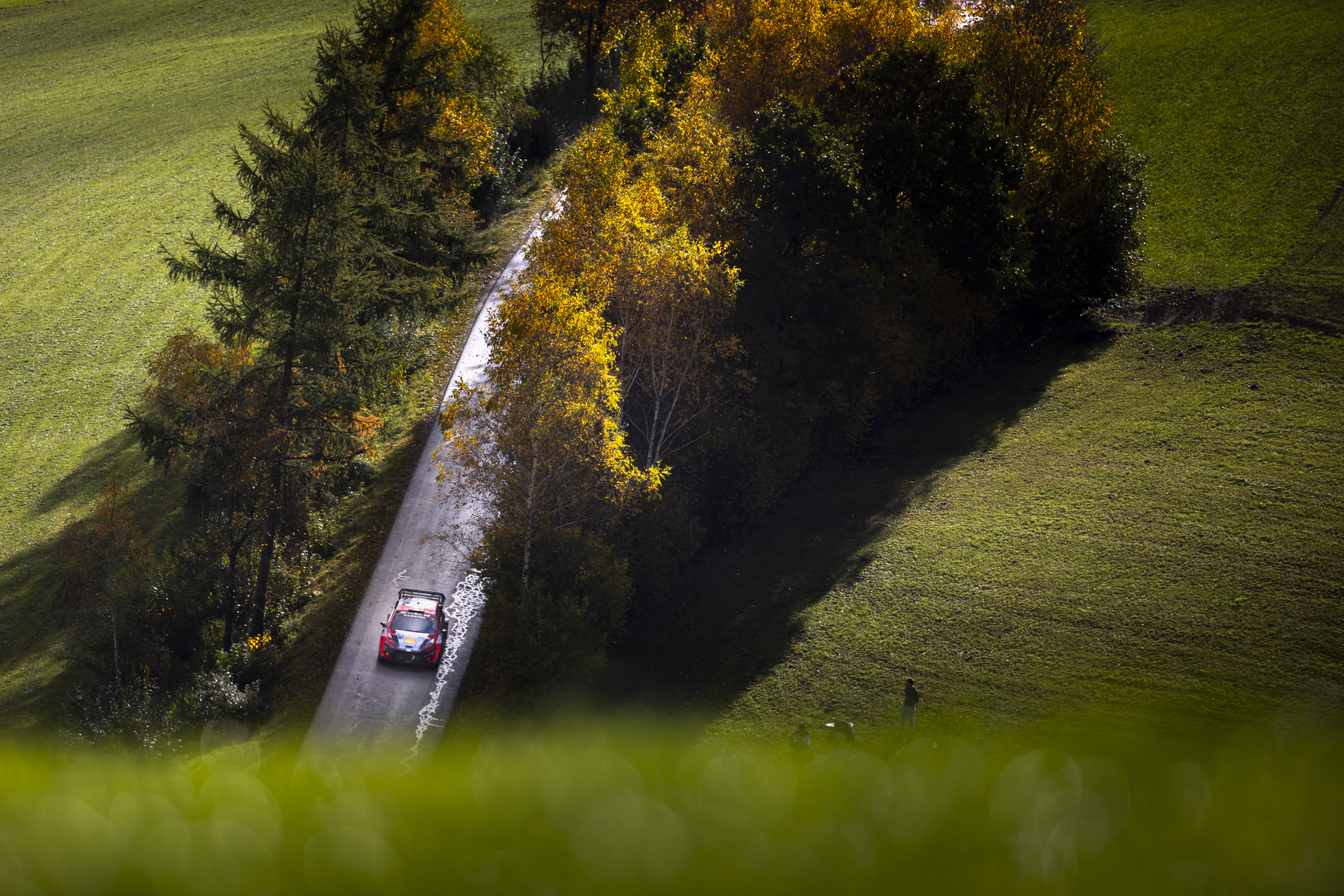 Teemu Suninen
"Today in Central European Rally was another challenging one. I felt that the rally was quite different compared to yesterday; the conditions of all the roads changed. In the morning loop, we had good pace, but in the afternoon, we went for slicks. The grip level was a lot better, but I couldn't really use it and I was a bit cautious in some sections. Generally, it has been a good one, and it is great to see Thierry leading the rally. I wish him the best of luck for tomorrow and hope to show even more improvements myself."
Toyota Gazoo Racing WRT
Kalle Rovanperä
"It was a big challenge today. I had a moment myself in the second stage: it surprised me a bit just how slippery it was under braking, and luckily there was some space to be able to save it and come back on the road. It was a real pity then when Elfyn went off; I found out just before we started the stage and then the plan changed because now it was just about finishing the rally with some decent points. In these extremely difficult conditions, we just tried to cut out the risk and be safe, so we were a bit slower on some stages. It was not so enjoyable like this, but I did have a better feeling in the last stage which hopefully we can take into tomorrow. But we just have to try and focus on bringing it home."
Sébastien Ogier
"Today the roads were different to yesterday, but the conditions were pretty similar for us, still running in the middle of the pack. This morning it was still tricky with mud on the road, so I tried to keep it on the safe side, and we had an OK morning loop. Then in the afternoon we had better conditions, it was a bit drier, and we could finally enjoy some better grip and pace and have more fun in the car. So, there are some positives to take from today. There is too much of a gap around us now to really target anything for tomorrow and the conditions might still be tricky in the morning, but we'll try to have a decent pace until the end."
Elfyn Evans
"The conditions were quite difficult out there again this morning, but things seemed to be working quite well for us behind the wheel. Unfortunately, in the final stage of the loop I was just caught out by a particularly slippery right-hander. The car seemed to slow down initially quite well on the brakes, but when I turned in, the grip was much lower than I had expected, and I just locked the inside front wheel. Once that pushed us wide, the road was so narrow that there was nowhere to go really. We picked up a bit too much damage to be able to continue, but the team has managed to repair the car so we can be back out there tomorrow. I'm just disappointed for the team and for ourselves."
Sunday
The final day then waits for the crews and perhaps Kalle and Jonne's second championship title. With 67km's over four stages and no service break it will be important to get through cleanly. Thierry is in a good position to take victory, whilst Elfyn's remaining title hopes remain with taking maximum points in the power stage and with Kalle not actually finishing the rally.