Jaume Masia continued his blistering form and took his 3rd pole position in a row here today in Motegi, Japan. Masia made it look easy, with championship rival Deniz Öncü qualifying in 2nd and a back-to-back front row start for Matteo Bertelle completing the front row in 3rd.
A 5th pole position of the season for Leopard Racing team's Masia and it's hard to imagine anyone in Moto3 being able to stop Masia charging to championship glory. Championship rival's Daniel Holgado starts the race on row 2 from 6th position and Ayumu Sasaki starts 7th on row 3 tomorrow.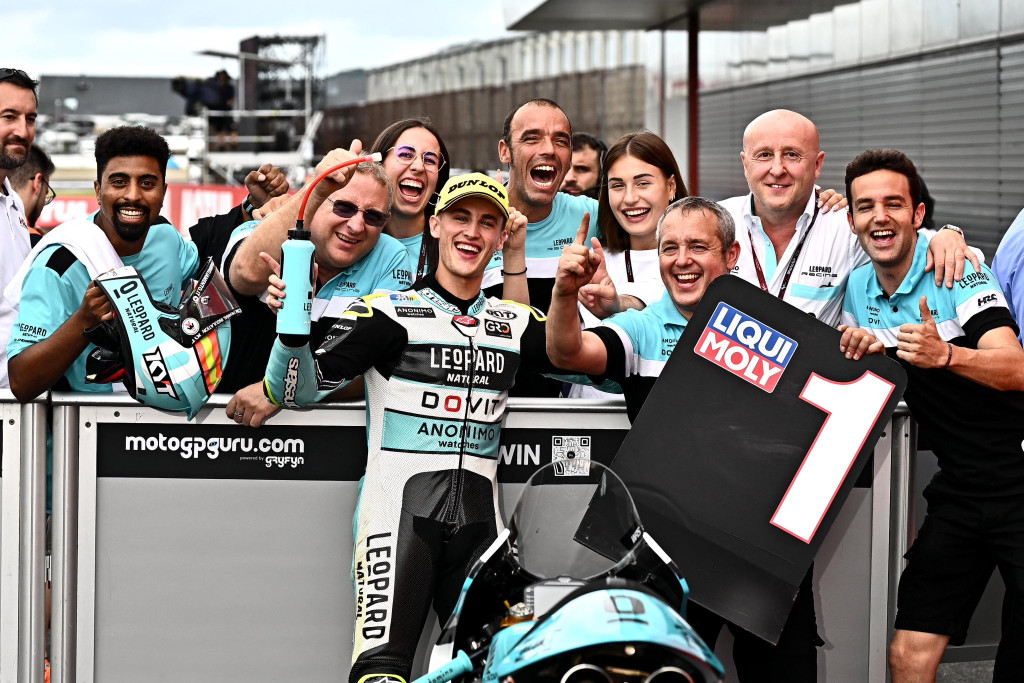 Image Credit: Leopard Racing 
AS IT HAPPENED
Qualifying 1
Jose Antonio Rueda had a rare appearance in Q1. Taiyo Furusato and Riccardo Rossi also unlikely names in Q1 ready to battle it out for a spot in Q2.
Furusato was the first of the riders to come through and set a time, quickly followed by a group of 5 unable to go faster, with 10mins left of the session. Furusato was quicker through the first 2 sectors on the next run, only for the lap to be cancelled after running wide in sector 3.
Red Bull KTMs Filippo Farioli come through and up to 2nd in the standings. Still +0.633 seconds behind the quickest time set so far in the session. A 1:57.564 from Furusato. Farioli come off at the end of turn 2, but quickly back up and thankfully Farioli ok to continue.
5mins left in the session and CFMOTO teammates Joel Kelso and Xavi Artigas come through with Kelso setting the quickest time and Artigas up into 3rd. The top 4 currently heading through to Q2 at this point was Kelso, Furusato, Artigas and Farioli.
3mins remained in the session and Rossi was red through sectors 1 and 2 on his first flying lap in the session. Rossi topped the standings with a 1:57.161 a time +0.261seconds clear of Kelso in 2nd.
The riders had very little time to get through to Q2, only one more shot at getting through to Q2. Kelso, Artigas, Rueda and Rossi all on flying laps as the chequered flag came down on the session. The top 4 heading through to Q2 were Rossi, Kelso, Furusato and Rueda.
Qualifying 2
Some breaking news at the start of the Q2 session, with 3 place grid penalties handed out to Diogo Moreira and Collin Veijer. Both for moving their hands off the grips on the straights. No rain and a dry session in a really important qualifying in Moto3. Just 1 point separating the top 3 in the championship.
As the battle for pole position started it was bike #6 Ryusei Yamanaka coming through to set the first time of the session. GASGAS Aspar Team rider Yamanaka keen to impress this weekend and still needed a ride for next season. Bertelle quickly followed over the line and up to the top of the timings, with Ortola 2nd and Rueda currently in 3rd.
Less than 10mins of the session remained and the first group of riders were all setting flying laps. David Munoz setting a benchmark time now of 1:56.892, the first to get into the 1min56's. Munoz tucking in behind the Husqvarna teammates Veijer and Sasaki picking up some slipstream along the finish straight.
Masia now seen coming out of the pits with Deniz Öncü, Kaito Toba, Rossi and Kelso all yet to set a time in the session.
With 5mins left of the session both Masia and Öncü were lighting up the sectors red just as Rossi had a big crash into turn 9. Yellow flags in sector 3, but both Masia and Öncü clear of the incident at the time and their laps stood. Masia up to the top with a 1:56.744 and Öncü 2nd with a gap of just +0.120seconds to Masia on provisional pole.
Masia and Öncü marched on with Öncü behind Masia on track, both continued to set the sectors red on their second runs. Both Masia and Öncü improved with Masia up to a 1:56.331 with a gap of +0.208 to Öncü in 2nd. Only Öncü able to be within a half a second to Masia at the top.
Sasaki with only a minute left in the session got a slipstream from teammate Veijer. Sasaki through the victory corner turn 14 onto the straight only to go 5th. Sasaki was up in the first two sectors on Masia on that lap, but unable to piece it all together for pole position.
With the chequered flag waving the riders all completed the session, none of the riders able to knock Masia off the top. A third pole position in a row for Masia. The Leopard Racing team rider sent a clear message to his championship rivals today in Motegi. A 5th pole position of the season for Masia and seemingly unstoppable at the moment in Moto3.
Official Starting Grid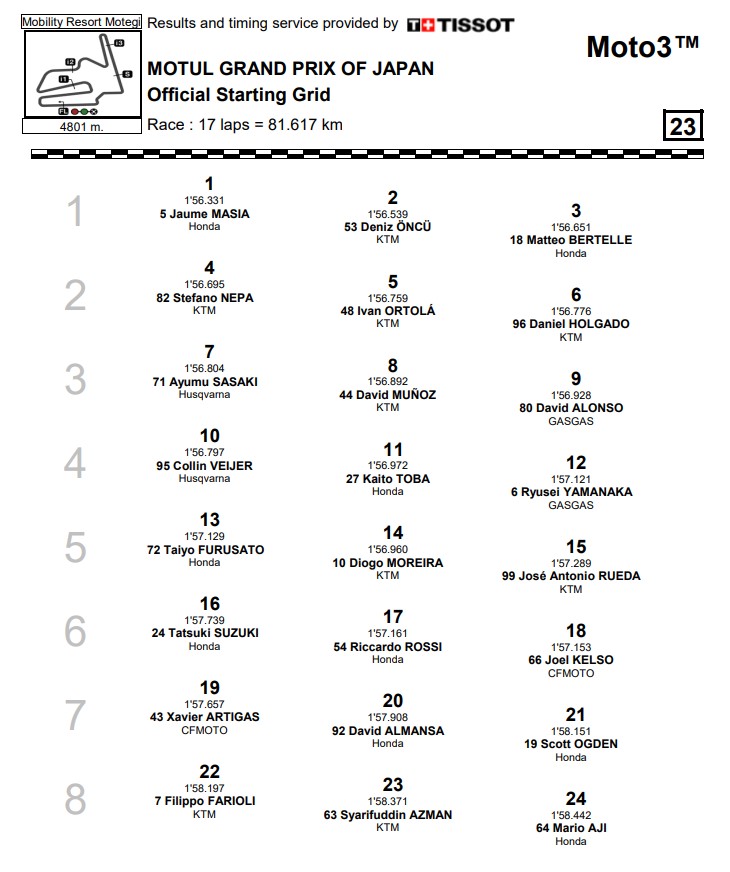 Image Credit: MotoGP