The first full day of action saw the crews tackle 112km's over six stages. As championship leader, Kalle would open the road. What could the Finn do on the first day to stay close to those who would have an advantage further down the start list?
First up was SS1 Pulperia 1 – 19.77 km and Ott set the early pace from Teemu and Elfyn making a great start despite being second on the road. Just 4.9 seconds covered the top three. There was drama for Esapekka though. The Finn would roll out of the stage and that would be the end of his event as well. Meanwhile his teammates were doing better giving the Hyundai team something to cheer for. It was big crash for EP, but he and Janne were fine. In the WRC2 category the top three was Oliver, Sami and Nikolay, again the top three covered by just a little under 5 seconds.
Time for SS2 Rere 1 – 13.34 km and Elfyn continued his great start winning the stage from Kalle and Pierre-Louis. The Welshman jumped two places and into the lead, with Teemu now second, just a tenth from his former teammate and Ott dropped down to third, but just 1.8 seconds from the new leader. In WRC2 the top three was Sami, Gus and Oliver. Sami moved into the lead and Oliver dropped to second and Nikolay remained in third.
Into SS3 Rio Claro 1 – 23.32 km and it was another stage win for Elfyn from Ott and Teemu. The Welshman continued to hold the lead and in fact had opened the gap to Teemu. There was drama for Ott teammate though, with Pierre-Louis losing control and rolling out. The top three in WRC2 remained Sami, Oliver and Nikolay.
After the service break, Teemu won SS4 Pulperia 2 – 19.77 km from Ott and Thierry. The Finn jumped one place and into the lead as Ott moved into second overall, whilst Elfyn was now in third. Sami was continuing to set the pace in WRC2, winning the stage from Nikolay and Oliver. The Finn continued to hold the lead in the category as well.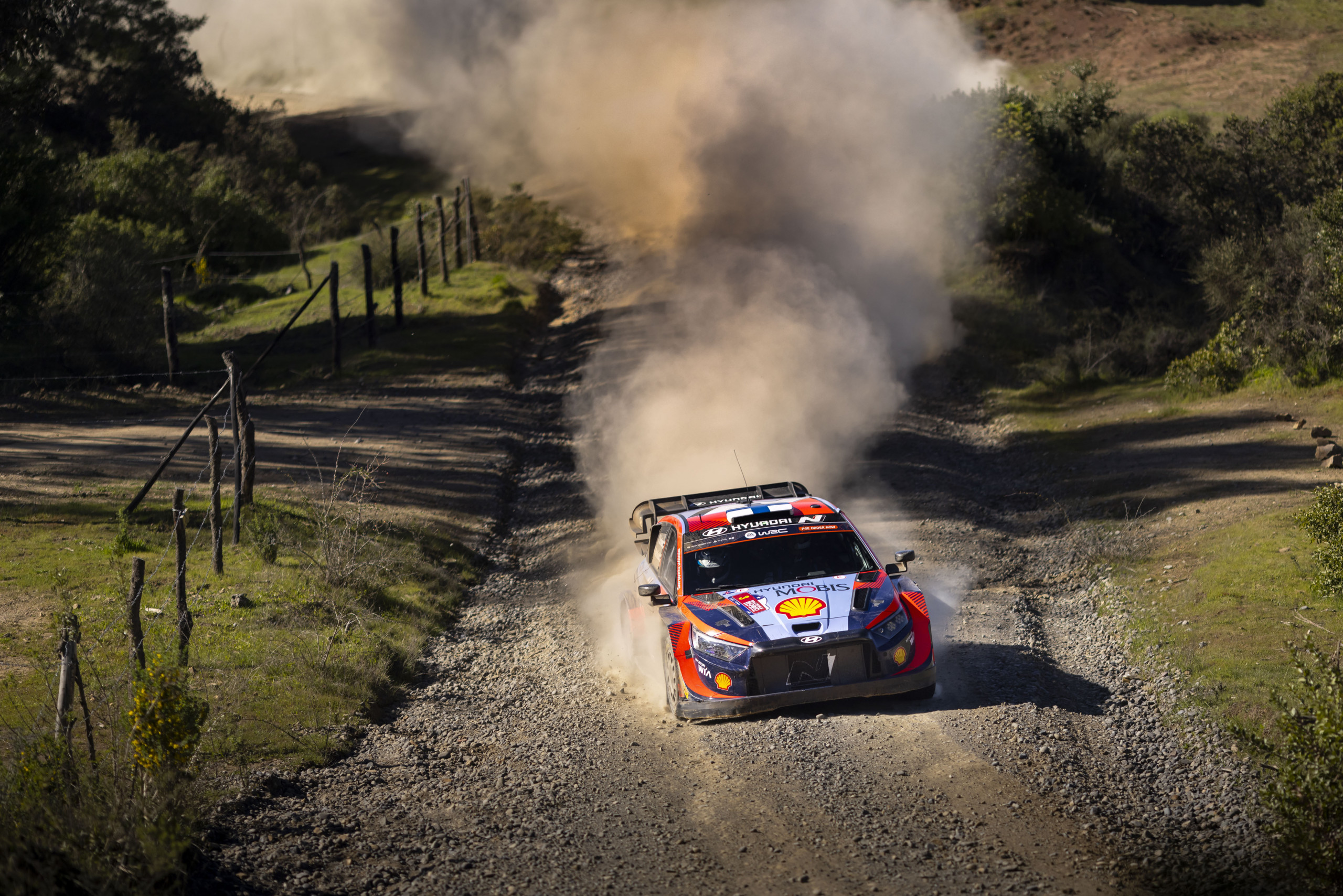 Ott then took SS5 Rere 2 – 13.34 km from Thierry and Teemu, the result being the Estonia moved back into the lead from Teemu and Elfyn was still third. Once again, Sami was fastest from Oliver and Emil in WRC2.
Ott took SS6 Rio Claro 2 – 23.32 km from Teemu and Thierry. The Belgian's pace brought him up into fourth overall, whilst Kalle suffered a spin in the stage. The top three remained Ott, Teemu and Elfyn. Sami also continued to lead WRC2 from Oliver and Nikolay.
Let's check out the top positions and hear from the drivers.
Classification after Day One
| | | | | |
| --- | --- | --- | --- | --- |
| 1 | O. Tänak | M. Järveoja | Ford Puma Rally1 Hybrid | 58:43.7 |
| 2 | T. Suninen | M. Markkula | Hyundai i20 N Rally1 Hybrid | +4.2 |
| 3 | E. Evans | S. Martin | Toyota GR Yaris Rally1 Hybrid | +12.7 |
| 4 | T. Neuville | M. Wydaeghe | Hyundai i20 N Rally1 Hybrid | +27.7 |
| 5 | K. Rovanperä | J. Halttunen | Toyota GR Yaris Rally1 Hybrid | +38.7 |
| 6 | T. Katsuta | A. Johnston | Toyota GR Yaris Rally1 Hybrid | +45.6 |
| 7 | G. Munster | L. Louka | Ford Puma Rally1 Hybrid | +1:38.4 |
M-Sport Ford WRT
Ott Tanak
"It's been a quite consistent day and the afternoon loop was actually quite drama free, so clearly a lot about tyre management. I would say we did quite well. It was difficult to make the right choice on tyres and either tyre compound would have good, but I would say it played out quite well. The feeling in the car was quite consistent and I had a good rhythm in the stages."
Hyundai Motorsport
Teemu Suninen
What a day! I think we did a good job, we were driving very well and pretty much on the limit the entire time, with a few moments here and there, but we are still here and in a really good position with just a few seconds between us and the lead. The car was really enjoyable to drive. I am happy with my performance. I think we managed some small issues well and didn't lose too much time. I want to go for the win, but tomorrow is like a whole new rally. It is very different profile, and I am still learning the car in different conditions, how to manage the tyres – which will be really important tomorrow. There is a lot of new things, but I will try to keep pushing."
Thierry Neuville
"Today has been a bit of a struggle. This morning whenever I tried to attack, I was almost going off, which is not the situation you want on such a challenging event. It was a bit better this afternoon, but road position is making a huge difference here. We are struggling on the loose gravel, the car just can't get grip and slides around, but in the afternoon loop we were able to find some grip and it was much more drivable. It is good to have made a place and to have got ahead of Kalle, which was our target for a good road position for tomorrow, however there are still four cars behind us who are in a better place."
Esapekka Lappi
"Both Janne and I are ok, which is the main thing, but unfortunately our roll cage is damaged, and we are unable to continue in Chile. I braked too late on the last corner of SS1 Pulperia 1 and to try and save the situation, I turned in a bit earlier. There was a gravel bank just in front of the concrete, and I think the front tyre dug into the gravel which caused us to roll. It had been a very challenging stage and I felt I was too safe, braking too early throughout; I just didn't have the normal rhythm."
Toyota Gazoo Racing WRT
Elfyn Evans
"We had a really good morning, but it wasn't easy. The grip levels were really low and today's stages were particularly technical. It was very fast in places, but also quite blind, so with the grip as it was, the pacenotes were really critical. Somehow the road seemed to be cleaning more in the afternoon, which was a bit of a surprise and made things quite difficult for us, and I also just didn't have the best feeling behind the wheel. But given our starting position this morning, it's quite OK to at least be in the fight tonight. We'll have a better position for tomorrow and can look to fight from there."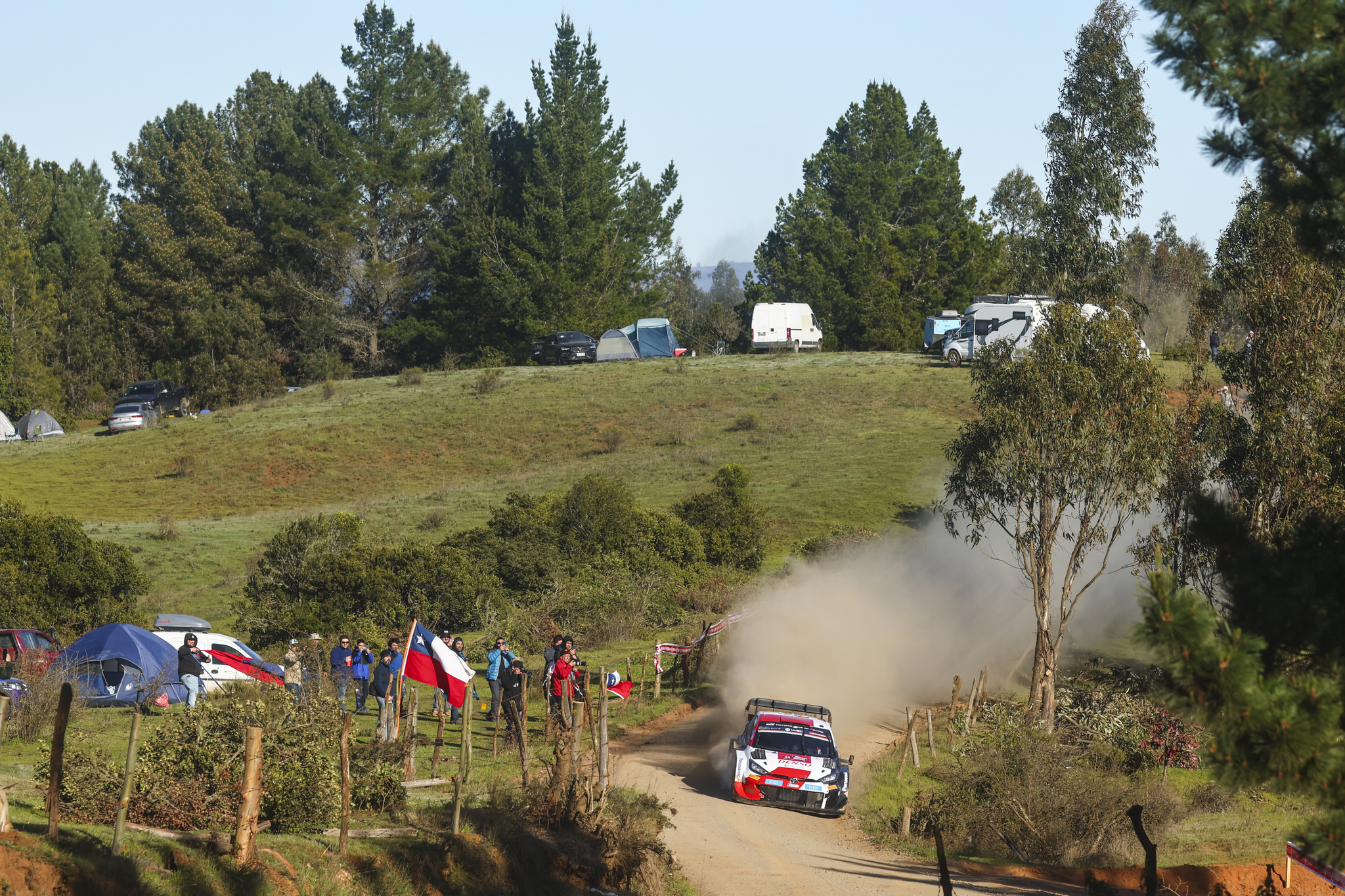 Kalle Rovanperä
"Today was quite difficult for us. The stages were definitely looser and more slippery than I had been expecting. Where it had been drying up, it was a big challenge to open the road. We changed the setup of the car a bit for the afternoon, and it was certainly a bit better in that sense, but the road cleaning was still a big factor: the surface was a bit messier with no clear lines to follow, so it was tough. Then I had a half-spin in the final stage and dropped a place, which was not good for the road position for tomorrow, but hopefully we can still start to fight back."
Takamoto Katsuta
"Today's stages were really difficult. They were mainly new for everyone, and we knew the grip would be not so high, but it was even more slippery than expected. There were also quite a lot of blind corners, so you really needed to trust the pacenotes and the car. In the morning I was driving on the careful side with no rhythm, but in the afternoon, I had a much better feeling. With my engineer, we changed quite a lot in the service and the car felt a lot better. The pace was also there, but I was still making some mistakes and losing a bit of time. Tomorrow will be a big challenge also with long stages and we'll be the third car on the road, but I will do my best."
Saturday
Well, it was a great return to the stages in Chile and what does day two hold for us? Well, it is the longest day in terms of competitive kilometres with 154km's over the six stages. Can Ott continue to lead, or will Elfyn and Teemu fight back? What will Thierry do, or even Kalle?
What will happen in WRC2 as the fight for victory continues between Sami and Oliver? Can Gus get into the mix as well? How about Nikolay who holds third in the category?