Deniz Öncü (Red Bull KTM Ajo) took his 3rd pole position of the season today at the Chang International Circuit. Öncü continued his great run of form, from the win last weekend in Phillip Island. 
The fight for the championship is extremely tight in Moto3. Championship leader Jaume Masia (Leopard Racing) starts on row 3 tomorrow, in 7th. Title rival Ayumu Sasaki (Liqui Moly Husqvarna Intact GP) had a great qualifying session and starts from the front row in 3rd. The top 2 in the championship separated by just 4pts coming into this weekend. Diogo Moreira (MT Helmets – MSI) splits Öncü and Sasaki on the front row and starts from 2nd on the grid.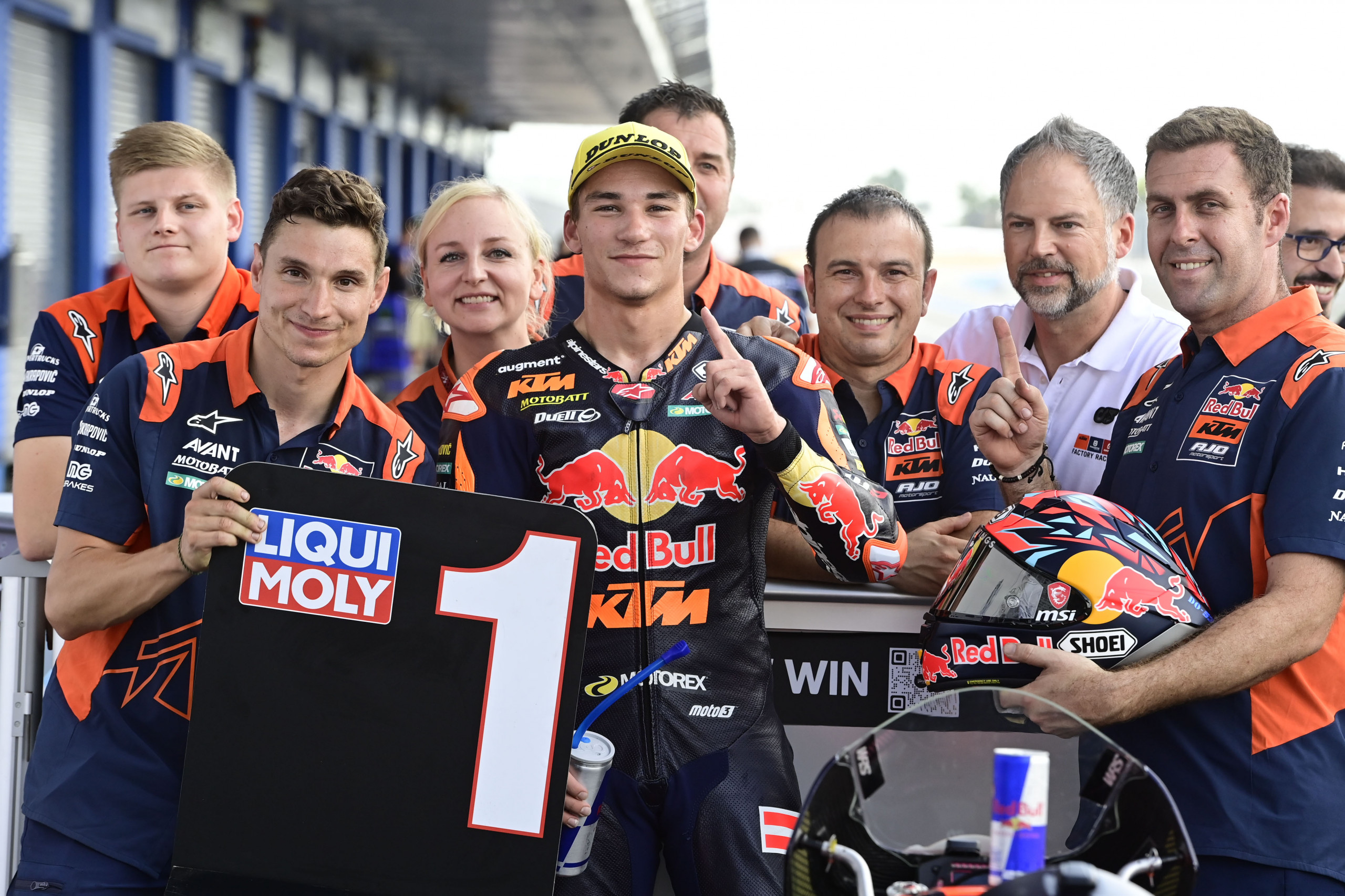 Image Credit: Red Bull KTM Ajo on X
QUALIFYING 1

David Munoz (BOE Motorsports) and Stefano Nepa (Angeluss MTA Team) were the surprise names taking part in the Q1 session. In hot muggy conditions, the riders filtered out onto the track to battle it out for a top 4 place.
Munoz set the first lap of the session and half way through, it seemed no rider was willing to set a time on their own. Sitting on the outside of turn's 8 and 9, riding at a snails pace, everyone was waiting for someone to follow and get a tow. That someone.. was Joel Kelso (CFMOTO Racing PruestelGP).
Just under 7mins remained and a rain flag waved. Thailand's weather never fails to throw something into the mix on a Grand Prix weekend. All of the riders needed to get a move on and post a fast time as Kelso led a sea of riders over the line to go quickest in the session.
Only a few minutes left and the top 4 going through at this point were Kelso, Munoz, Nepa and Adrian Fernandez (Leopard Racing).
Out of the pits for their final attempt at getting into Q2, there was no real sign of any rain on track, just dark clouds lurking in the distance. As the Thai wildcard for this weekend Krittapat Keankum (Yamaha Thailand Racing – BOE) crashed out, all of everyone's laps were cancelled.
Subsequently, the top 4 remained unchanged. Kelso, Munoz, Nepa and Fernandez progressed to Q2.
QUALIFYING 2

Öncü led the way and was first to take to the track for the 15min battle for pole position. The first set of flying lap times registered and Moreira took provisional pole position with a 1:42.118. The time to beat was only a couple of tenths shy of the fastest time of the weekend so far.
Öncü returned to the pits after 2 spoiled laps in a row. 1 lap ruined by Moreira barging his way by on his provisional pole lap, and the other after Öncü running wide.
6mins left of the session and Sasaki set a time just +0.001 seconds slower than Moreira, who still held provisional pole at this point. Tactics were a plenty in this session, mostly to avoid traffic and towing round rivals. In the Red Bull KTM Ajo garage, teammate Jose Antonio Rueda was tasked with giving Öncü a tow to finally set a time in the session.
Öncü out of the pits and with a bit of help from Rueda went quickest, with 3 mins left of the session remaining.
Just as Taiyo Furusato (Honda Team Asia) was chasing pole position and red in sectors 1 and 2, both Furusato and Kelso went down at turn 8. Yellow flags then waved in sector 4, as Ryusei Yamanaka (Gaviota GASGAS Aspar Team) crashed out at turn 12. All riders ok though and headed back to the pits.
The crashes late on stopped anyone trying to deny Öncü his third pole position of the season. If Öncü had some consistency with results this year, we could of seen him crowned Moto3 champion. Öncü is 37pts behind in the championship, and with just 100 left available, its going to take a miracle for the Turkish wonderkid to take Moto3 glory this year.
Starting Grid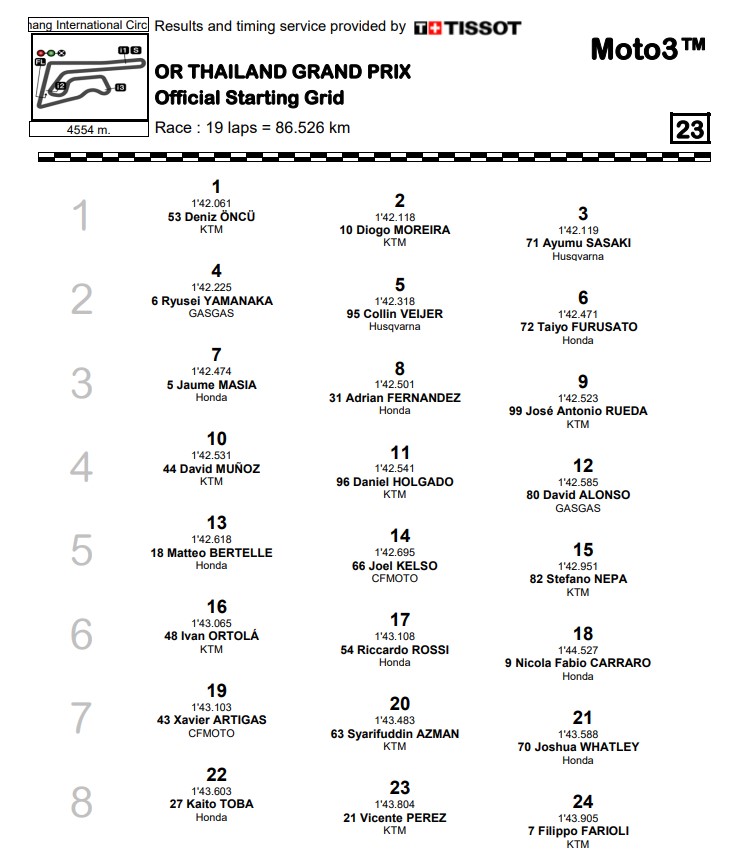 Image Credit: MotoGP
Öncü on Qualifying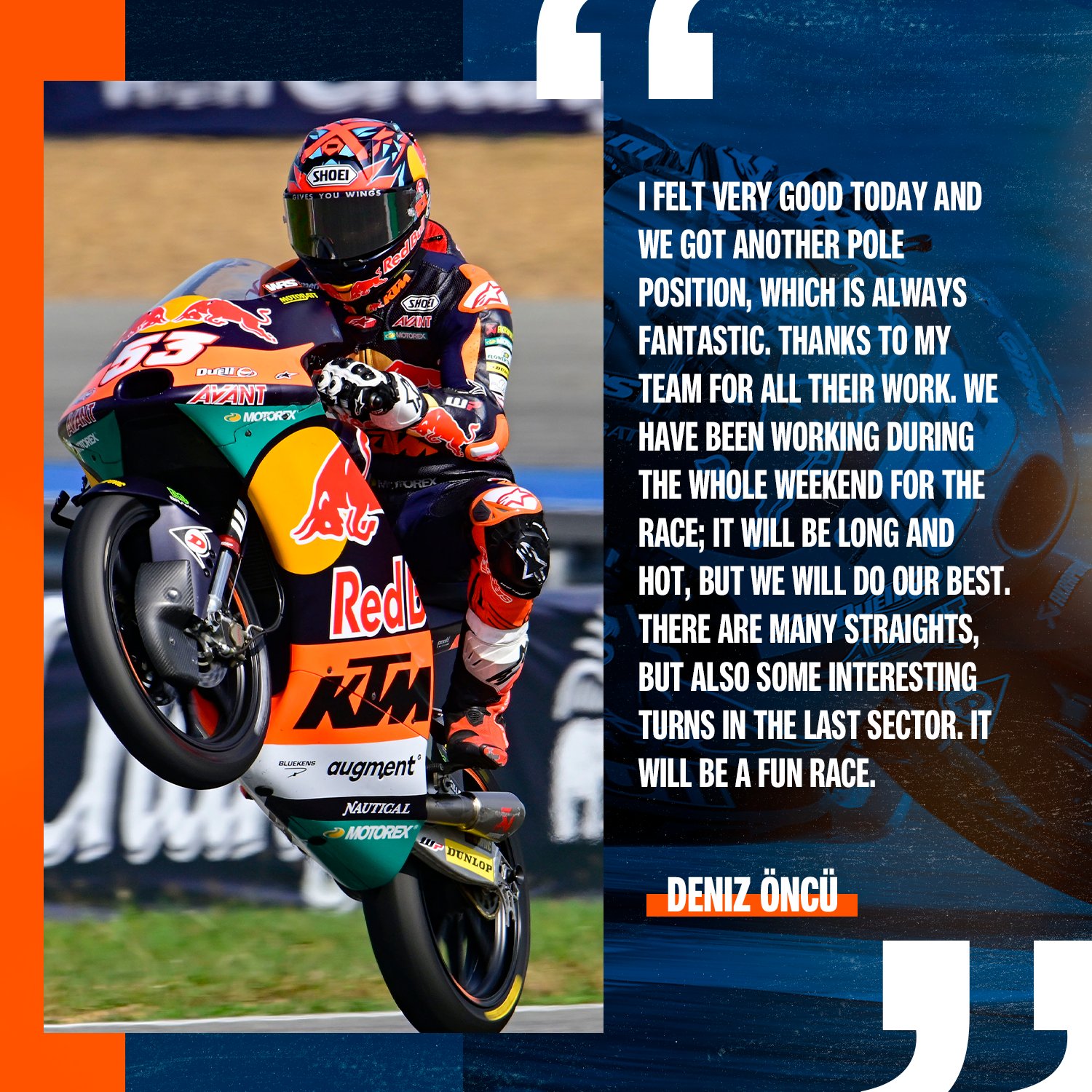 Image Credit: Red Bull KTM Ajo on X
Feature Image Credit: MotoGP