Daniel Ricciardo returned to the Formula One grid after a half year hiatus at this weekend's Hungarian Grand Prix.
The 34-year-old Australian replaced the sacked Nyck De Vries, himself dropped as suddenly as he was signed following a stellar 9th place at last year's Italian Grand Prix.
It is a move Red Bull are almost infamous for, having swapped Brendon Hartley for Pierre Gasly at Toro Rosso in 2018, Gasly out for Alex Albon in 2020 and Daniil Kvyat out for Max Verstappen back in 2016. How did that last one go?
Ricciardo has resurfaced at Alpha Tauri following a disastrous spell at McLaren during which he never matched Lando Norris. That saw the Woking team pay the eight time winner to terminate his contract a year early to make way for compatriot Oscar Piastri.
This was after initially stating that he did not want come back to Formula One in back of the grid machinery, despite the team with whom Ricciardo started out with in 2012 – save for a half season cameo at HRT the year before – currently bottom of the Constructors' Championship.
So why has he come back, how did he end up off the grid, what could he achieve and have we learnt anything from his first outing at the Hungaroring?
How did we get here?
Ricciardo left Red Bull with his stock among the highest on the Formula One grid at the end of 2018.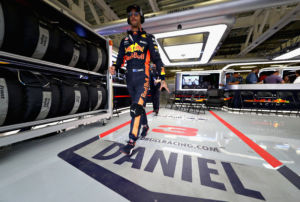 He had a successful five years with the team, winning three times in his first season in 2014 which ultimately saw 4-time World Champion and team leader Sebastian Vettel seek refuge at Ferrari.
He would go on to win seven times for Red Bull including a memorable success at the 2018 Monaco Grand Prix, where he held off challenges from Vettel and Lewis Hamilton despite a total ERS failure leaving him over 100 bhp down on power.
A couple of high profile incidents with Verstappen, at Budapest in 2017 and more famously in Baku the following year saw things begin to sour and Ricciardo joined Renault for 2019.
A sluggish 2019 for the Enstone team made way for a better 2020, but by the start of that season he'd already decided to abandon the Renault project before the first race of the Covid-delayed season to sign for McLaren.
He was expected to lead the Woking outfit, paired with Lando Norris but despite victory at Monza during his debut season, it did not work out that way.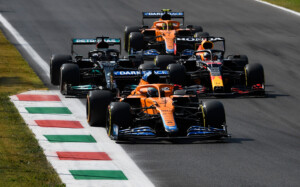 Ricciardo struggled with McLaren's inconsistencies on corner entry during both years there, and scored roughly a third of the points scored by Norris during that period and left the team a shadow of the driver that deposed a reigning four-time champion from Red Bull eight years prior.
Why move to Alpha Tauri, and what might he gain? 
He took refuge as Red Bull's third driver to work on the simulator and assess options for the upcoming seasons, where even they noticed "bad habits" had crept in as Ricciardo's driving had become so compromised by his attempts to change his driving style to try to suit McLaren.
Ricciardo says that he's realised he needs to   drive naturally to get the best out of himself and the car, rather than change his style.
He was expected to appear on certain race weekends in an ambassadorial role for Red Bull and work on their simulator at the factory.
That was until Nyck De Vries' performances began to fade badly in the face of a solid if low key season from Yuki Tsunoda at Red Bull's junior team.
De Vries' struggles for consistency coupled with a tendency to collide with other drivers such as Kevin Magnussen in Canada or the wall such as twice in Baku had led to questions over whether the Dutchman would see out 2023.
At the same time, Red Bull's other driver Sergio Perez was experiencing struggles of his own, failing to get into the final part of qualifying for five straight races in comfortably the best car on the grid, and only breaking that duck this weekend with ninth place.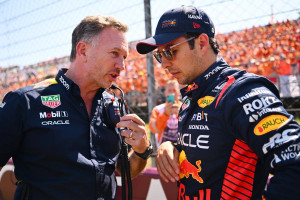 Ricciardo has not taken the seat because his ultimate goal is to drive for Alpha Tauri – his mind has not changed from his comments at the end of last season.
The return to Alpha Tauri is to effectively put himself in the shop window, whether that is to replace Perez at Red Bull for this or next year. Perez has a contract for 2024.
If Ricciardo shows well and ultimately beats Tsunoda, Red Bull will know that they have a competitive replacement should Perez, 110 points (over four race victories) behind Verstappen, continue to falter and crucially an experienced driver who has raced at the front of the grid before. Being a known quantity may go in his favour.
Can we learn anything from his return this weekend?
As we've seen already with Red Bull it would be foolish to judge a driver's potential from one race, as with De Vries.
The signs are good – Ricciardo's pace in a recent tyre test at Silverstone in the RB19 was competitive, and out of the car he appears a completely different man to the one unceremoniously dumped by McLaren.
His results on the track were never going to be earth-shattering this weekend – two tenth places are the team's best result courtesy of Tsuonda and they are on average the ninth slowest car on the grid.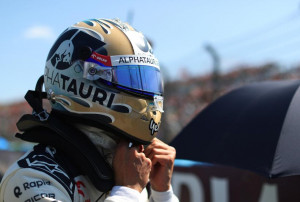 After outqualifying Tsunoda to line up 13th, the first time in five races Alpha Tauri have gotten out of Q1, Ricciardo's cause wasn't helped when Zhou Guanyu used his Alpha Tauri as a battering ram against the Alpines of Esteban Ocon and Pierre Gasly.
That saw him drop to 18th but the pace was there and he brought himself back up to 13th with a mixture of decent pace relative to machinery and a Ricciardo-inspired strategy call to ditch hard tyres after 11 laps on lap 29, and take fresh mediums to the end.
He and Alpha Tauri Team Principal Franz Tost believe it could be four races before the Australian is properly up to speed, but should the team – and Red Bull – see the old Ricciardo as opposed to the McLaren-spec one then it is possible that he may take the second Red Bull seat.
Perez, for his part, says that it is in his (Perez's) hands and the Mexican is right. If he stops making basic errors such as dropping a wheel onto the grass on his first lap of the weekend, or crashing into the wall in Q1 in Monaco, then Red Bull will see no reason to replace him.
If he doesn't, the door is very much ajar.
Images courtesy of Red Bull Content Pool / Getty Images / Pirelli F1 Media