After the long break from round 2 in Indonesia, fans were eagerly anticipating another action packed weekend of racing ahead of the Assen round.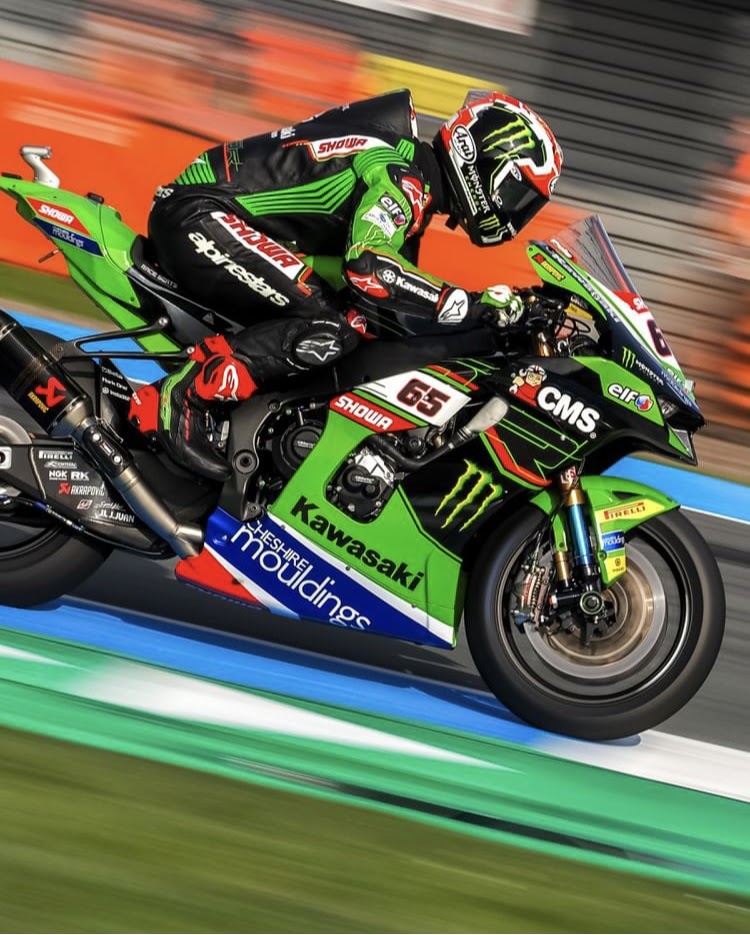 Superpole saw Alvaro Bautista (Aruba.it Racing Ducati) initially claim top spot, but he was subsequently penalised after a dangerous incident between himself and Loris Baz (Bonovo Action BMW) in the pit lane exit. Pole position was then handed to Rea (Kawasaki Racing Team WorldSBK) with a time of 1:33.5, followed by Toprak Razgatlioglu (Pata Yamaha Prometeon WorldSBK), and Alex Lowes (Kawasaki Racing Team WorldSBK) in 3rd.
Conditions were dry and mild for race 1, and most of the grid went for the soft SCX rear tyre.
Lights out then for race 1 and it was Rea with the hole shot into turn, 1 followed by Toprak and Bautista in 2nd and 3rd respectively, Lowes 4th, with Locatelli (Pata Yamaha Prometeon WorldSBK) behind in 5th. Lowes started aggressively from the off, and was soon attacking Bautista into the chicane, which he did taking 3rd. Alvaro responded however, and snapped straight back into turn 1 to retake the position.
Next lap of the 21 lap race and positions were as follows: 1. Rea 2. Toprak 3. Bautista 4. Lowes 5. Redding 6. Locatelli.
His disastrous season continued, it was another mechanical issue for former champion Tom Sykes (Kawasaki Puccetti Racing) and his race was over. Meanwhile at the front, the leading 3 were pulling out a gap to the group behind of 4 riders, which included Lowes 4th, Redding (Rokit BMW Motorrad WorldSBK Team) 5th, Bassani (Motocorsa Racing Ducati) 6th, and Locatelli 7th. Meanwhile further back current BSB champion, and rookie Bradley Ray (Motoxracing Yamaha) was in 15th and on track to score his first ever point in WorldSBK.
With 17 of 21 laps remaining, Bautista moved through on Toprak into the chicane to take 2nd. Meanwhile further back drama for Iker Lecuona (Honda HRC) who crashed out, but was subsequently able to rejoin at the back of the field. It was Gardner 8th, Petrucci (Barni Spark Racing Team) 9th and Rinaldi (Aruba.it Racing Ducati) in 10th.
With 15 laps to go, Rea held a gap of 0.2s to Bautista behind in 2nd. Further back it was Bassani 6th, and Bradley Ray was in 14th. Toprak held a gap of 2.5s to Lowes behind in 4th.
Next lap and Scott Redding got through on Lowes to move up into 4th. Next up was the turn of Bassani to pass Lowes, Lowes had now dropped from 4th to 6th in a few corners.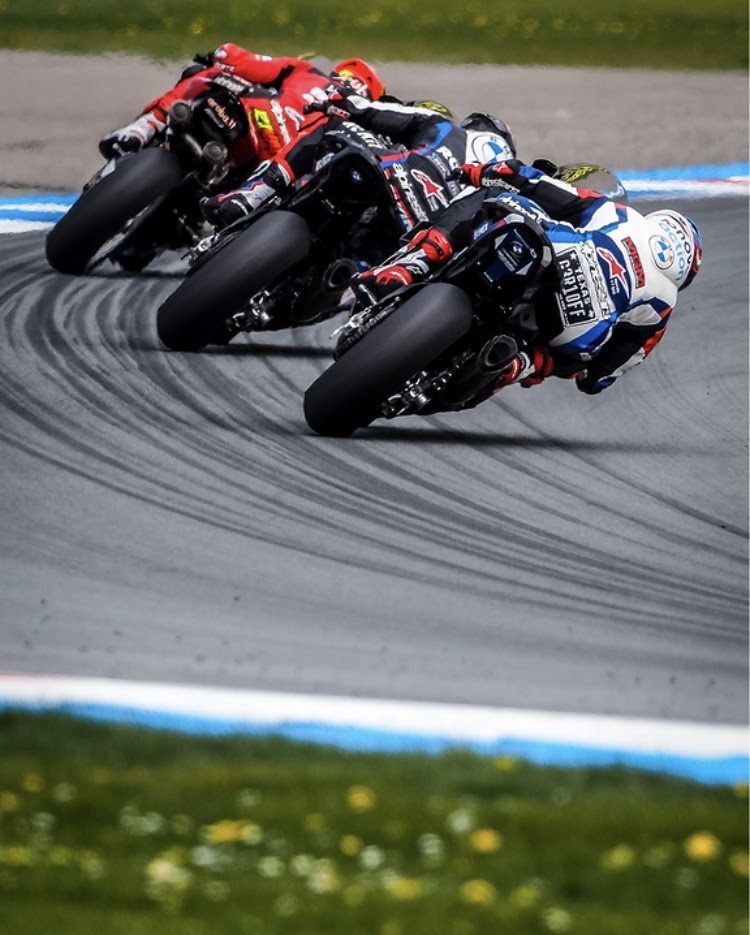 With 13 laps to go Bautista got by on Rea into the fast turn 7 to take over the lead for the first time. Rea now in 2nd, with Toprak in 3rd. The gap to Redding in 4th was now 3.0s. Unfortunately for Bradley Ray he had now dropped down to 18th. Meanwhile making the most of the clear track ahead of him, Bautista set the new fastest lap a 1:34.830.
With 11 laps remaining, a mistake for Redding saw him run wide into turn 1, and allowed a grateful Bassani to come through into 4th. Scott was now in 5th. Toprak now held a gap of 4.5s to Bassani in 4th, while Locatelli held a gap of 4.9s to Aegerter (GYRT GRT Yamaha WorldSBK Team) in 8th.
With just over half race distance covered, Rea wasn't giving up his fight for the win, and was putting pressure on Bautista. Rea held a gap of 1.1s to Toprak.
With 8 laps to go, Bautista had extended his lead to 0.3s and was slowly edging away from the grasp of 6 x world champion Rea. Toprak too was losing contact with both the riders ahead of him. Meanwhile behind the 4 way battle for 4th was still red hot between, Bassani, Redding, Lowes and Locatelli.
Next lap and Locatelli who had been eyeing up a pass on Lowes, made it into turn 5, cutting up the inside of the Kawasaki to take 6th. Further back it was team mates Domi Aegerter and Remy Gardner in 8th, and 9th respectively, Petrucci 10th, Vierge (Honda HRC) 11th, Rinaldi (Aruba.it Racing Ducati) 12th, and Brad Ray in 18th.
With 5 laps remaining, reigning champion Alvaro Bautista, had put the hammer down and had extended his lead to 1.6s over Rea. Rea had done all he could to stay with Alvaro but it wasn't enough, and he held a gap of 2.5s to Toprak who was in a lonely 3rd ahead of Bassani by 5.4s. Lowes 7th held a gap of 2.7s to Aegerter in 8th. Lowes then burst through on Redding to move into 6th, with Locatelli ahead of him in 5th.
Next lap and there was a 4 way battle for 12th between Gerloff (Bonovo Action BMW) 13th, Oettl (Team GoEleven), 14th and Rinaldi 15th. Meanwhile current SSP champion Aegerter, got past Redding to take 7th, and was showing great late race pace.
Penultimate lap and Locatelli was all over the back of fellow countryman Bassani and looking for the pass.
Last lap and Bautista took the win followed by Rea in 2nd, Toprak in 3rd. Meanwhile Locatelli mugged Bassani into turn 5 as he had done with Lowes, and took 4th, Bassani 5th, Aegerter 6th, Lowes 7th, Gardner 8th, Petrucci 9th, Redding 10th.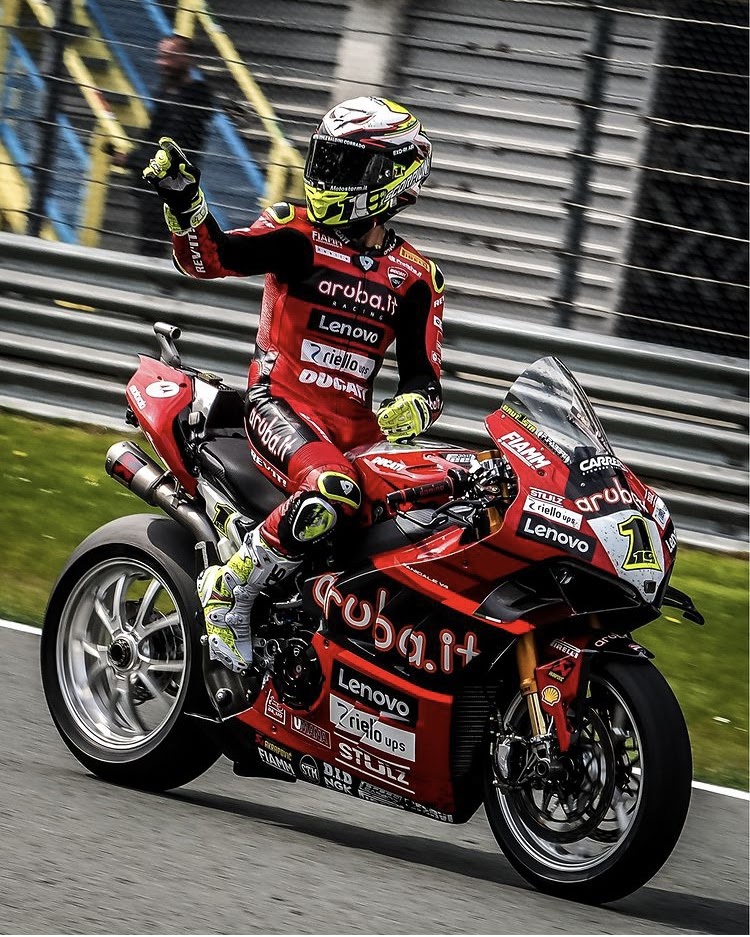 Result top 5:
Bautista (Aruba.it Racing Ducati)
Rea (Kawasaki Racing Team WorldSBK)
Razgatlioglu (Pata Yamaha Prometeon WorldSBK)
Locatelli (Pata Yamaha Prometeon WorldSBK)
Bassani (Motocorsa Racing)
Championship top 3:
Bautista – 137 pts
Razgatlioglu – 91
Locatelli – 83