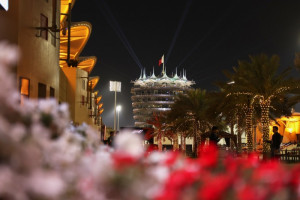 The Formula 3 Season Kicked off in Bahrain this week for the first of 10 rounds.
Qualifying
Qualifying started  the first competitive session for the Formula  3 season of 2023. In a tough battle against each other, a shock result saw Mini take his first pole in his first ever Formula 3 qualifying session in the Hitech Pule-Eight car. Bortoleto qualified P2 in the Trident with Saucey qualifying P3.
Sprint
The first race of the Formula 3 season kicked off with Colapinto on the front row and the pole sitter Mini stall on the grid and go from P12 to P26. Colapinto managed to maintain P1 but then by lap 2, Villagmonez crashed into the wall which caused a safety car to be deployed. Collapinto managed to maintain the lead after the restart. Lap 7 saw the HiTech car of Luke Browning stop and cause a Virtual Safety Car to be released. O'Sullivan then went over the kerbs on the outside of 8. Lap 14 saw Pepe Marti close in on the leader Colapinto and he makes the lead on lap 14, turn 4. Marti took his first race win in Formula 3 with Colapinto finishing P2 and Collet finishing the podium positions.
Feature
The Feature Race saw Mini start on pole after he qualified there on Friday. Saucey and Mini were fighting on lap 3 and 4 before Mini finally gets the move done by lap 4. The car of Hugh Barter picked up a puncture on lap 5 caused after a slight piece of contact with an MP Motorsport and he had to go to the pits. Tommy Smith had a spin on lap 7 which saw the safety car deployed. By the time the safety car was brought back to the pits, O'Sullivan and Aron got into a bit of a scrap further on and Montoya was able to pick up the pieces in order to get up to p10. Within laps 15 and 16 saw Goether make his way up to P3 and Browning up to P6. Montoya began to close in on Aron by lap 18 and eventually get the Prema driver by lap 19. Smith collided with another driver on lap 21 which brought out a safety car and brought the race to an end.
While Mini did cross the line first, he got a 5 second time penalty and dropped to P8. That  meant that Bortoleto took his first Formula 3 race victory in his first ever Formula 3 Feature Race. Goethe took P2 and Beganovic concluded the podium places.
Formula 3 returns to our screens in 4 weeks time for the first ever weekend behind held in Australia.