George Russell has claimed his maiden F1 race win in Sao Paulo, winning the sprint race ahead of Carlos Sainz and Lewis Hamilton. This means Russell will start tomorrow's race from pole position.
George Russell fought hard to claim his maiden victory and win the sprint race in Brazil. It took three attempts but, on lap 15, he finally bested this year's champion, Max Verstappen, to take the lead. Russell quickly pulled out a comfortable lead and left the pack to scrap for the remaining podium places.
Carlos Sainz, who started in 5th, ended the day with a 2nd place medal around his neck. Lewis Hamilton, having recently been granted honourary Brazilian citizenship, delighted fans as he claimed the final podium position.
Verstappen found himself in the lead on lap 3 when he passed pole-sitter, Kevin Magnussen, on the start-finish straight. However, as he tried to continue his clean sweep of sprint race wins this season, Verstappen struggled and eventually ended the race in 4th. Magnussen was eventually shuffled down to 8th to take the final championship point – a result he was still thrilled with.
It was a very frustrating day for Charles Leclerc, much like Friday's qualifying. After a mistake by the team left him unable to qualify above 10th, he failed to make waves in the sprint race and eventually made it up to 6th. Just ahead of him, in 5th, was his nearest championship rival, Sergio Perez.
For tomorrow's race, thanks to a grid penalty for Sainz, we will have a front-row lockout for Mercedes – their first in 2022. Verstappen and Perez will line up just behind them to start in 3rd and 4th respectively. Both Ferarri drivers will have a difficult day ahead, as Leclerc lines up in 5th with Sainz in 7th, after his penalty for an engine change. Having qualified in 11th, Alex Albon will have to start tomorrow's race in last place after spinning out of the race on lap 13.
However, there could still be movement amongst the grid as we have a number of drivers under investigation. Hamilton, Daniel Ricciardo and Zhou Guanyu, who finished in 3rd, 11th and 13th respectively, are being investigated for a start procedure infringement. This is suspected to be an issue with their position within their grid boxes. Pierre Gasly, who finished in 10th, is under investigation for driving too slowly on his way to the grid. Both Alpine drivers are also under investigation for a mid-race clash, adding further woes to their dramatic day.
The 24-lap race was packed with action from start to finish, providing a much-needed boost to the debated sprint race format. In 2023, we will have 6 sprint races with the format still yet to be decided. It is clear that today's showing will have helped its cause.
AS IT HAPPENED
As he made his way around the track for the formation lap, pole-sitter Magnussen was told by his team to "have fun", and that's certainly what he did. The Haas driver enjoyed a brilliant start and quickly pulled a nice lead ahead of the rest of the grid, who quickly started to battle hard. Verstappen, starting in 2nd, seemed to get swallowed by those around him but eventually came out on top to retain 2nd place.
One of the toughest battles on the opening lap was between Alpine teammates, Esteban Ocon and Fernando Alonso. As Alonso attempted a move for 6th place, he was pushed wide and onto the kerb. As he tried to maintain control of the car, he twitched and made contact with the side of Ocon's car. Alonso emerged unscathed whilst Ocon was left with a hole in his sidepod. The following lap saw Alonso again try a move for 6th. This time, Ocon made a very late defensive move and Alonso clipped his rear tire and broke his front wing.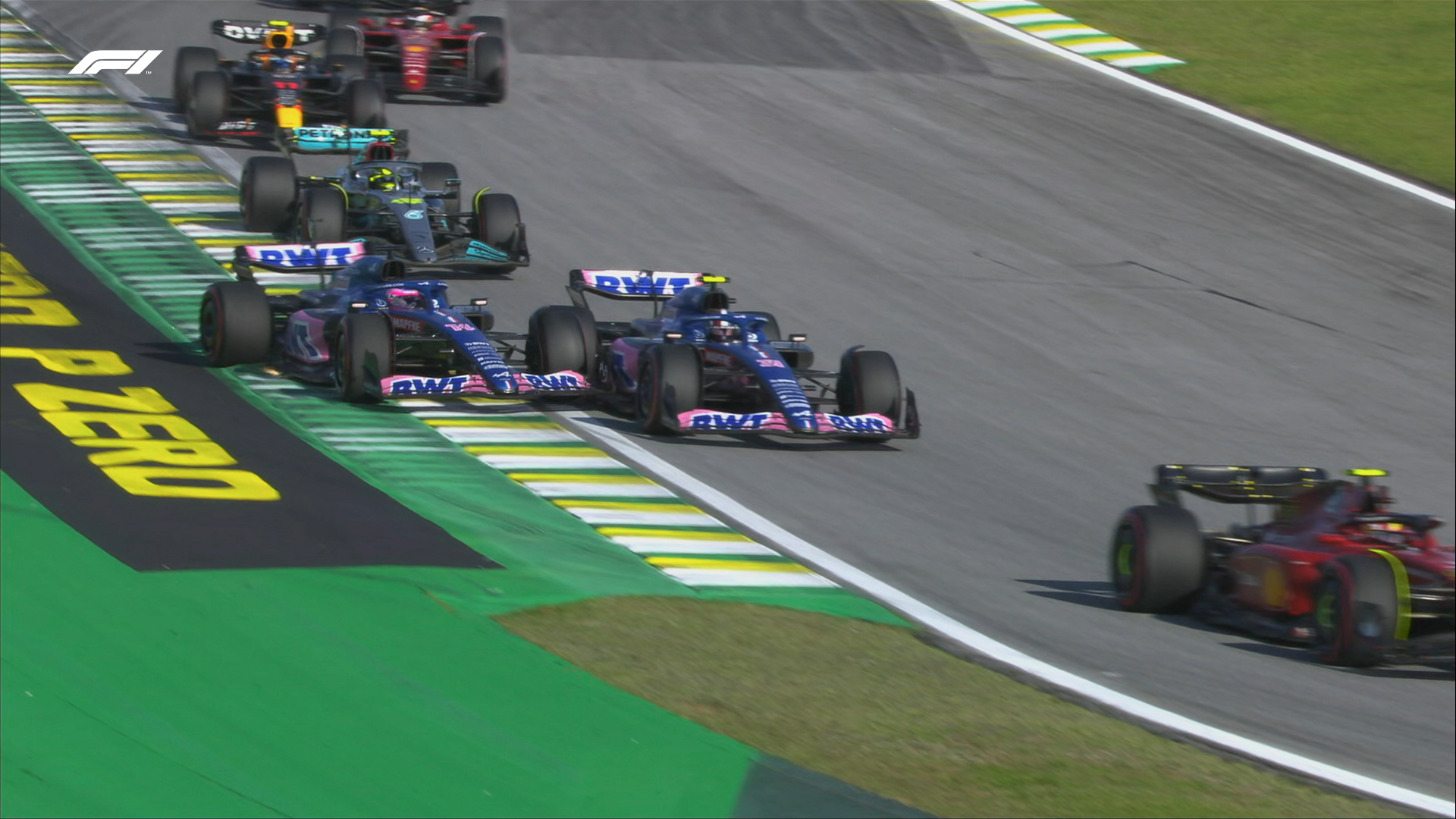 Forced to pit for a new front wing, Alonso dropped to the back of the grid and his race was effectively over. As Alpine continue its fierce championship battle with McLaren, this lack of points will be a blow for the French team.
As the pack settled into their rhythm, it was Lance Stroll and Mick Schumacher who enjoyed the best starts – Stroll gaining 3 places and moving up to 12th, with Schumacher gaining 4 places and moving up to 16th.
It seemed overtakes were happening up and down the grid, with Hamilton taking 5th from Lando Norris and Magnussen quickly dropping from 1st to 4th – he was first passed by Verstappen, then Russell and Sainz who sat in the top three, in that order, for the early stages of the race.
By lap 7, it felt like things were settling down a little, but Russell was still within DRS range of Verstappen and looking hungry for the win.
On lap 9, it was the turn of the Aston Martin teammates to start their battle as they fought for 11th. At the pitlane exit, Lance Stroll pushed Sebastian Vettel off the track and onto the grass, with an excessively aggressive move. Taking to the radio, Vettel's response was a simple "OK", but this move was quickly noted by the stewards and Stroll was awarded a 10-second penalty for a "dangerous manoeuvre".
As the pair started the next lap, lap 10 of 24, Vettel finally made his way past his teammate on the start-finish straight, to claim 11th place.
It was at the halfway point of the race that Russell started to make himself known to Verstappen. He first attempted a move around the outside of turn 1 but struggled to get ahead. The same move on lap 13 also failed to give him the lead but he continued to battle for the rest of the lap.
At this point, Verstappen took to the radio to tell his team that he has hit some debris – this is likely to have come from Alonso's broken front wing and could have caused damage to the champion's car. Shortly after this message, on lap 15, he lost the lead to Russell who quickly pulled a gap of 2 seconds.
The previous time penalty didn't seem to deter Stroll and he was soon back in action, this time with Haas driver Schumacher as the pair fought for 12th. An incredibly late and defensive move from Stroll, which almost caused Schumacher to drive into the back of him, was also noted by the stewards. At the time when the race ended, no decision had yet come from race direction on this incident.
In the dying laps of the race, with Russell now 2 seconds clear of the pack, a huge scrap started between Verstappen, Sainz and Hamilton. It became clear that Verstappen was either struggling on the medium tires or had been significantly affected by the previous debris that he hit – he was visibly struggling to keep control of the Red Bull, which was twitching as he tried to defend 2nd place.
As Sainz made his move and overtook Verstappen for 2nd, there was contact between the pair. Adding to the Dutchman's woes, his front wing end plate flew off as a result of the contact. It was then just a matter of corners until he lost 3rd to Hamilton.
On lap 21, with just 3 laps remaining, Sainz jumped on the radio to inform his team that he was "running out of tires". This prompted Mercedes to encourage Hamilton to "keep the pressure on" as he kept Sainz in view. Despite keeping with DRS range, Hamilton simply couldn't get close enough to make a move for 2nd.
Meanwhile, further down the grid, Norris took 7th place from pole-sitter Magnussen, who was now in the final points position in 8th.
With 2 laps remaining, Perez was quickly catching his teammate in 4th and he asked his engineers if he would be given the position – a fair question as his battle with Charles Leclerc for 2nd in the championship heats up. However, the chequered flag came too soon for the Mexican and he was forced to settle for 5th.
As the chequered flag fell, it was Russell who crossed the line in a comfortable 1st place, nearly 4 seconds ahead of his nearest rival.
The action wasn't just reserved for on the track, though, as Esteban Ocon's Alpine caught fire in parc ferme. This was the result of contact with his teammate in the race and resulted in the post-race interviews quickly moving to the grid, rather than the pitlane.
Feature Image Credit: Formula 1