Temperatures were scorching for the second visit to Indonesia, 36 degrees Celsius air temp, and 60 degrees track temp, amidst blazing sunshine. None of the deluge that was faced by the riders and fans last time round thankfully. Indeed the race was actually brought forward to avoid the afternoon thunderstorms.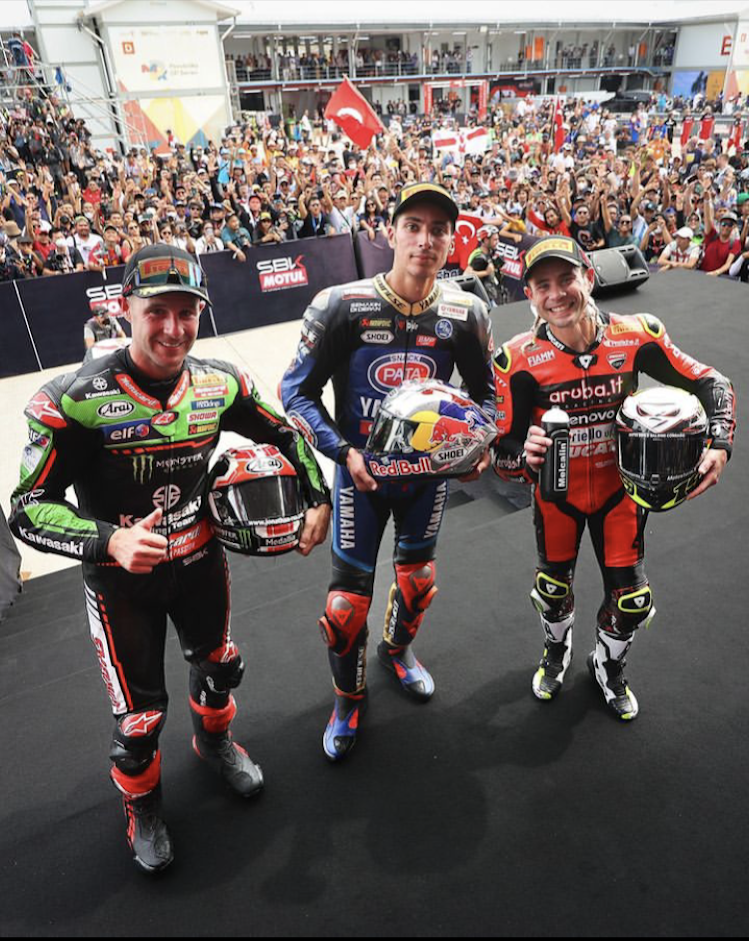 The other big news was that the track was recently resurfaced, and only had a very narrow racing line down so far. This combined with the high temperatures, meant it would be a very nervous race for the riders.
Superpole went to Toprak Razgatlioglu (Pata Yamaha), with an unbeaten time of 1:31.371, followed by Jonathan Rea (Kawasaki KRT), and Pata Yamaha team mate Andrea Locatelli. Iker Lecuona and Mahias were both ruled unfit to start the race after bad crashes in practice.
Lights out then for the 900th race in WorldSBK, and it was the pole man Toprak Razgatlioglu with the hole shot into turn 1, followed by his team mate Locatelli, Rea, and Bautista (Aruba.it Ducati). Both Lowes (Kawasaki KRT) and Redding (BMW Motorrad), suffered bad starts getting nudged off the line, and found themselves down in 10th and 19th respectively.
Next lap, and Rea was looking to make early ground, moved past Locatelli, and set the new fastest lap in the process with a 1:33.078. Positions were as follows: 1. Toprak 2. Rea 3. Locatelli 4. Bautista 5. Bassani (Motocorsa Ducati) 6. Vierge (Honda HRC) 7. Vd Mark (BMW Motorrad) 8. Rinadli (Aruba.it Ducati) 9. Lowes 10. Gerloff (GRT Yamaha). Toprak held a gap of 0.6s to Rea.
On lap 19 of 21 it was the turn of Bautista to come through on Locatelli. Toprak still held a gap of 0.3s out in front. Meanwhile further back it was Lowes 8th, Rinaldi 9th, and Gerloff in 10th.
Toprak had been quick all weekend, and put in the new fastest lap with a 1:32.886 on lap 17 of 21.
With 15 laps remaining, Toprak increased his lead to 1.2s, with Rea struggling to match the pace in the tricky conditions. Bautista 3rd, Locatelli 4th, Bassani 5th. Vd Mark had a moment and dropped back to 10th.
With 13 laps left, Bautista had now caught Rea and was looking for the pass. He made his move with a nice clean pass up the inside of Rea into the penultimate corner, Rea had no response and Bautista moved into 2nd. Meanwhile further back it was: Vierge 6th, Lowes 7th and Rinaldi 8th.
Coming up to half race distance, and Toprak had increased his lead to 3.2s over Bautista, and was looking quite comfortable. Then drama for both Oettl (GoEleven Ducati), and Mercado (MIE Honda). The former had a nasty looking crash, losing the back end in a fast corner, which sent the German flying over the front of his Ducati. Mercado had a mechanical issue, and his race was over.
With 9 laps left both Bassani and Toprak had big moments and lost places, Toprak ran off the track, and lost time to Bautista, with the gap cut down to 1.1s. Meanwhile further back there was now a three way battle for 6th between: Vierge 6th, Vd Mark 7th and Lowes 8th.
With 7 laps to go, the current positions as they stood meant that the championship would go on until tomorrow.
Next lap and Rinaldi was showing good late race pace, and moved through on Locatelli moving up to 4th. Meanwhile Toprak had recovered his pace, and had brought the gap back up to 2.3s over Bautista. Bautista of course didn't need to take any unnecessary risks at this stage in the championship, and would have his chance to wrap up the title in the next few races. Rinaldi then ran wide into a corner losing his place to Locatelli. Meanwhile further back Gerloff had joined the scrap for 6th, which had now become a four way battle.
With 3 laps left, Toprak was managing his gap which was still 2.3s and looked comfortable to take the win. Then more drama for Vd Mark who crashed out into turn 16 and his race was over.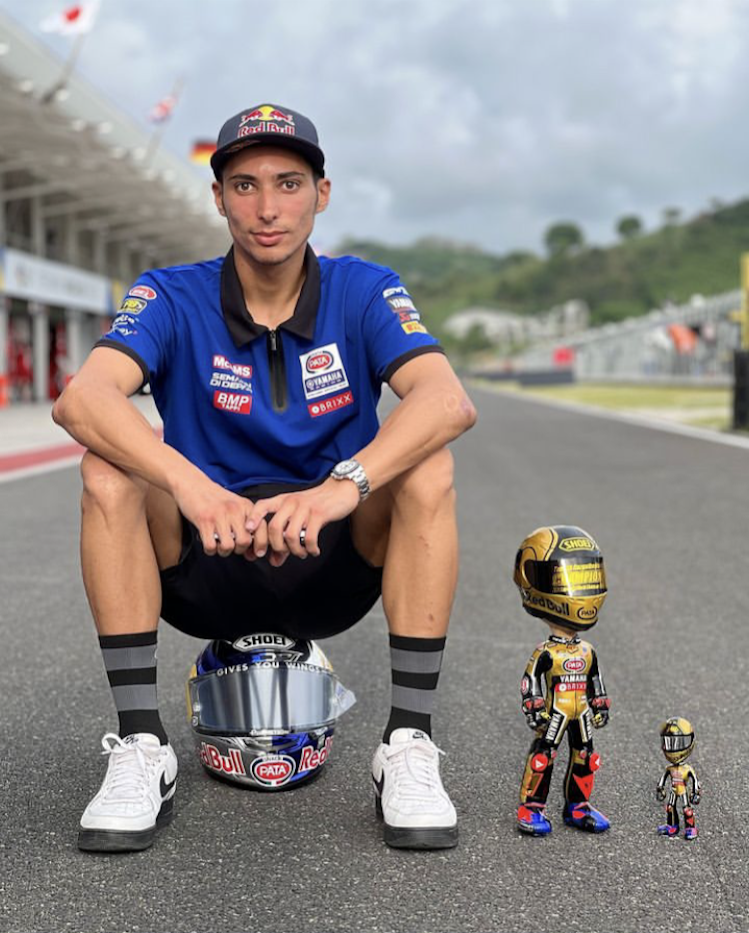 Last lap and Toprak crossed the line to take his 28th win for Yamaha, which was the all time highest currently, followed by Bautista and Rea. Locatelli 4th, Rinaldi 5th, Vierge 6th, Gerloff 7th, Bassani 8th, Lowes 9th, Baz (Bonovo Action BMW) 10th.
Result top 5:
Razgatlioglu (Pata Yamaha)
Bautista (Aruba.it Ducati)
Rea (Kawasaki KRT)
Locatelli (Pata Yamaha)
Rinaldi (Aruba.it Ducati)
Championship top 3:
Bautista – 527 pts
Razgatlioglu – 450
Rea – 425