The earlier Superpole saw Rea (Kawasaki KRT) claim top spot with an unbeaten lap time of 1:39.610, followed by Razgatlioglu (Pata Yamaha), and Lowes (Kawasaki KRT) in 2nd, and 3rd respectively.
An earlier red flagged incident in the SSP300 race, forced race direction to delay the start of race 1, and subsequently cut the laps down to 14. This was going to be a short and sharp shootout, reminiscent of a Superpole race.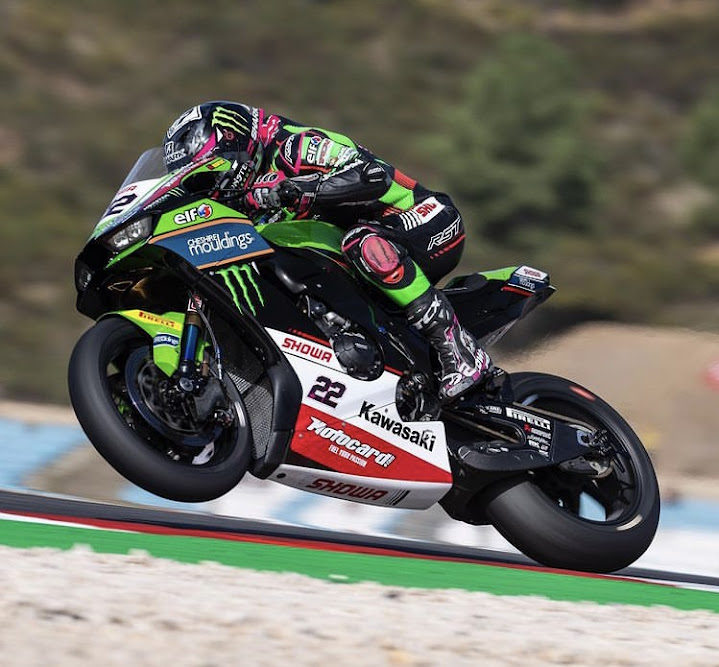 Lights out then for the delayed start to Race 1, and it was Rea with the hole shot into turn 1, followed by Lowes, Toprak, and Bassani (Motocorsa Ducati).
Next lap and positions were as follows: 1. Rea 2. Toprak 3. Lowes 4. Bassani 5. Bautista (Aruba.it Ducati) 6. Redding (BMW Motorrad) 7. Locatelli (Pata Yamaha). Further back it was Lecuona (Honda HRC) 11th, Gerloff (GRT Yamaha) 12th, and Laverty (Bonovo Action BMW) in 15th.
With 12 laps to go Rea was making the most of his good start, and was extending his lead over the reigning champion in 2nd, putting in the fastest lap of the race with a 1:40.604, and held a gap of 0.6s. After initially making a good start, Lowes now found himself down in 4th, after first Toprak, then Bassani and Bautista overtook him.
Next lap and Toprak had cut the gap to Rea down to 0.4s, and set the new fastest lap of the race in the process with a 1:40.328. Bautista was now in 4th, after coming through on Lowes, but he would have work to do if he intended on catching his title rivals out in the lead.
With 10 laps to go Rea only held a gap of 0.1s to Toprak, who in turn held a gap of 0.5s to Bassani behind in 3rd.
Next lap and Toprak makes an aggressive move on Rea into turn 1, the R1 getting out of shape and Toprak slammed under Rea, while the rear of the R1 was sideways. No love lost between the pair!
With 7 laps to go, Bautista, as was a familiar scenario this season, was finding good late race pace and passed Bassani to take over 3rd. This group of 5 riders had pulled out a significant gap to the rest of the field. Further back it was Locatelli in 6th, and Redding in 7th. Rea held a gap of 0.7s to Bautista behind.
With 5 laps to go Bautista had cut the gap to Rea down to 0.2s, and was soon going to be all over the back of the ZX10-RR.
Next lap and Bautista, after getting good traction out of turn 15, blasted past Rea down the straight and briefly into 2nd, although he over cooked it into the corner, and subsequently ran out wide, allowing Rea to retake the position. The intention from the Spaniard was clear however. Meanwhile further back it was Rinaldi (Aruba.it Ducati) in 8th, Vierge (Honda HRC) 9th, and Loris Baz (Bonovo Action BMW) 10th.
With 3 laps to go Bautista lined up Rea, and this time made the pass stick, moving into 2nd. Toprak was clear out in the lead, and held a gap of 1.5s, which you felt was enough to see him take the win. Meanwhile Lowes had found a bit extra, and was all over the back of Bassani looking for a pass.
Next lap and Lowes lined up Bassani, and made a pass, but the Italian snapped straight back into turn 5 to retake the lead.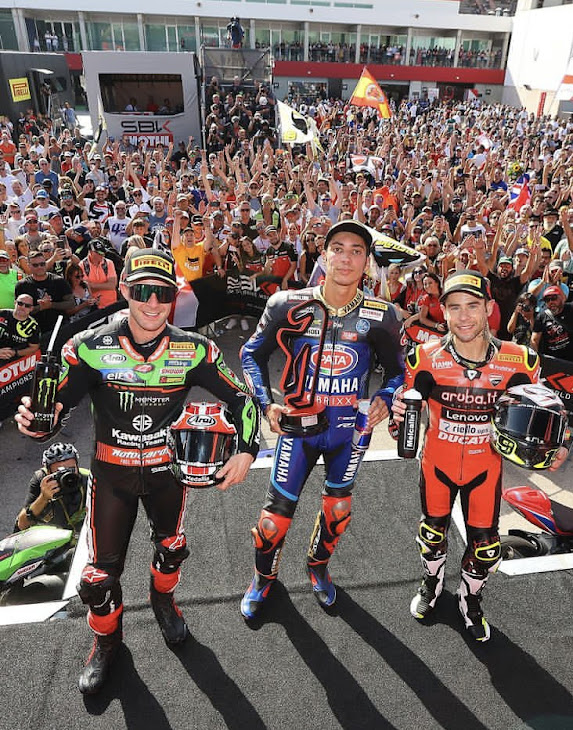 Last lap and Toprak crossed the line to claim the win, followed by Bautista in 2nd, and Rea in 3rd. Bassani 4th, Lowes 5th, Locatelli 6th, Rinaldi 7th, Vierge 8th, Baz 9th, Gerloff 10th. Drama for Scott Redding, who went down into turn 5, was able to pick up the bike and eventually crossed the line down in 18th.
Result top 5:
Razgatlioglu (Pata Yamaha)
Bautista (Aruba.it Ducati)
Rea (Kawasaki KRT)
Bassani (Motocorsa Ducati)
Lowes (Kawasaki KRT)
Championship top 3:
Bautista – 414 pts
Razgatlioglu – 360
Rea – 343