Going into the weekend with a 51 point gap over title rival, and reigning world champion, Toprak Razgatlioglu. Alvaro Bautista could put serious damage into the hopes of both Toprak, and Jonathan Rea, of closing the gap with a strong weekend.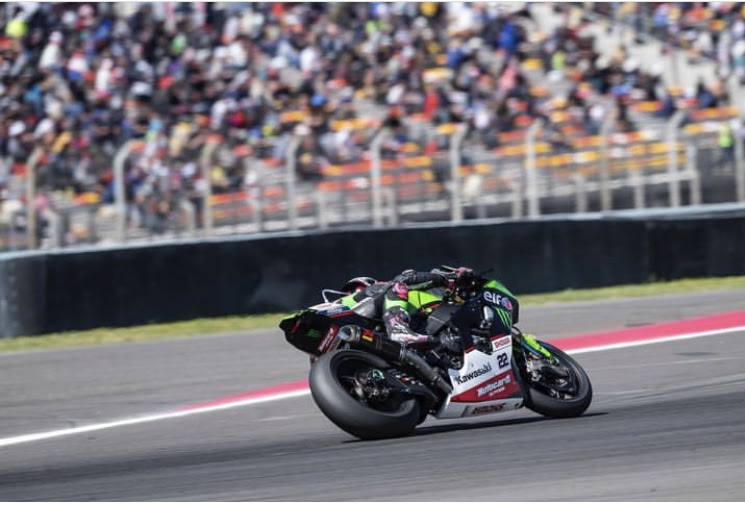 However the championship leader would have to start the race from 3rd on the grid, after Toprak (Pata Yamaha) claimed pole with an unbeaten time of 1:36.216, followed by Rea (KRT Kawasaki) in 2nd.
Ideal weather for the start of race 1 then, with the Andean sun baking down onto the track. Lights out and it was Toprak with the hole shot into turn 1, followed by Rea, Bautista (Aruba.it Ducati), and Lecuona (Honda HRC) in 4th. And then massive drama as Toprak went off line, and way too hot into turn 9, sending his R1 plunging into the gravel. He managed to pick up his bike and rejoin the race at the back of the field. A huge, and potentially catastrophic shift in the outcome of this championship now for Toprak.
With 19 laps to go, it was Bassani (Motocorsa Ducati) with an impressive start, and leading the race, setting a new fastest lap of 1:37.881 in the process. Positions were as follows: 1. Bassani 2. Rea 3. Lecuona 4. Bautista 5. Rinaldi (Aruba.it Ducati) 6. Redding (BMW Motorrad) 7. Baz (Bonovo Action BMW) 8. Lowes (Kawasaki KRT).
With 17 laps remaining, Bautista made a move on Lecuona, getting through to move into 3rd, and setting a new fastest lap in the process of a 1:37.5. The leading trio of Bassani, Rea, and Bautista were now pulling away from the rest of the field. Meanwhile further back it was: 10. Locatelli (Pata Yamaha) 11. Vd Mark (BMW Motorrad) 14. Laverty (Bonovo Action Ducati).
Next lap and Bautista was beginning to ramp up the pace, he lined up Rea, and made a clean move, and up into 2nd. Rea had no response. Further back Redding was struggling, and dropped two places down into 8th. Gerloff was also struggling, and the Texan found himself down in a disappointing 15th. Toprak was still at the back of the field.
With 14 laps to go, Bassani held a gap of 0.3s to Bautista, the Spaniard was reeling him in however, and he moved through on the young Italian a few corners later, taking the lead. Rea knew he had to stay with Bautista, and made an aggressive move on Bassani into turn 10, moving into 2nd. The move surprised Bassani, the Italian now in 3rd. Drama for Mercado (MIE Honda), who crashed out into turn 14, and the local rider's race was over. Meanwhile at the front, Bautista was increasing his lead, and now held a gap of 0.6s to Rea.
With 12 laps to go, Bassani had got back past Rea into 2nd, the speed of the Ducati again proving a decisive factor. Rea was growing increasingly frustrated, as he could once again see Bautista disappearing down the road.
With just over half race distance done, and with the lower fuel load, the Ducati was even quicker, and Bautista continued to ramp up his lead, the gap was now 2.7s. Positions were as follows: 1. Bautista 2. Bassani 3. Rea 4. Lecuona 5. Rinaldi 6. Lowes 7. Redding 8. Vierge (Honda HRC) 9. Locatelli 10. Baz.
With 7 laps to go, Rea was throwing everything he could at Bassani, but to no avail. The fight between Bassani and Rea suited Bautista, and he forged on, putting ever more time into the gap.
With only 5 laps left, Bautista put in the new fastest lap of the race with a 1:37.389. Meanwhile further back, Toprak had moved up places, and was now in 18th.
With 3 laps left, Rea finally made a move on Bassani that stuck, and he moved into 2nd. Bautista was 6s ahead, and no doubt had the win firmly sealed up.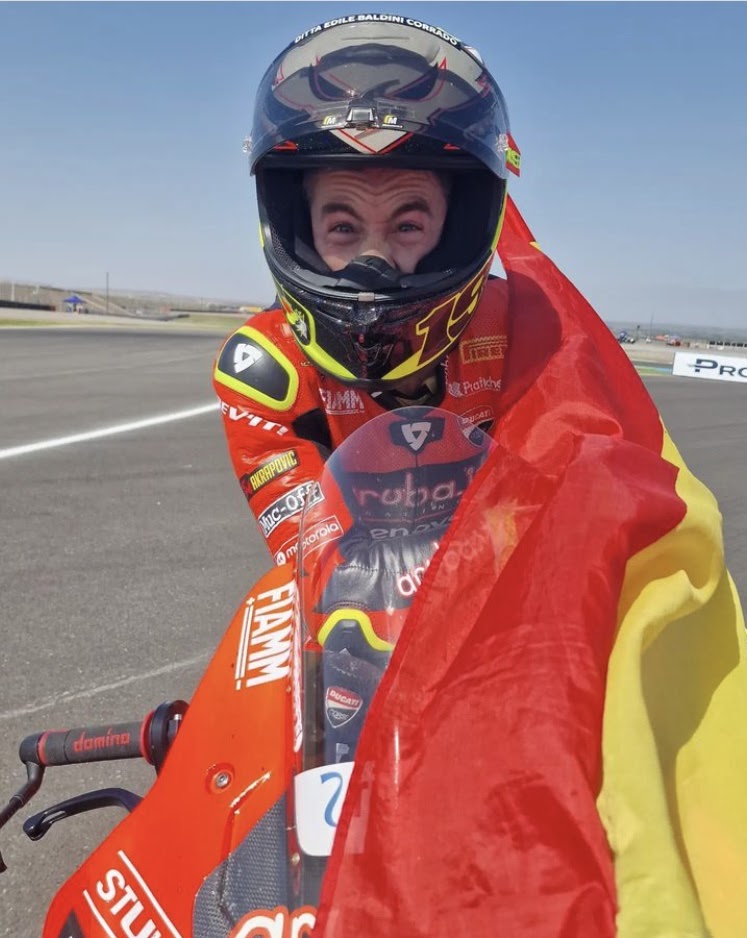 Last lap and Bautista crossed the line to take another dominant win, followed by Rea 2nd, Bassani 3rd, Lecuona 4th, Rinaldi 5th,Lowes 6th, Redding 7th, Locatelli 8th, Vierge 9th, Vd Mark 10th, while Toprak came in 15th claiming just the single point.
Result top 5:
Bautista (Aruba.it Ducati)
Rea (Kawasaki KRT)
Bassani (Motocorsa Ducati)
Lecuona (Honda HRC)
Rinaldi (Aruba.it Ducati)
Championship top 3:
Bautista – 473
Razgatlioglu – 393
Rea – 386