Who do you think is going to be the 2022 British Superbike Champion?
The Showdown is finalised and now the nail biting starts. Round 8 of the BSB season was an important one for a small group of riders. Some hoping to secure their spot in the showdown, while others hoping to snatch a spot away from their competitors. In with a chance to enter the showdown were Danny Buchan, Peter Hickman and Leon Haslam and hoping to retain their place were Lee Jackson, Glenn Irwin, Tommy Bridewell, Tarran Mackenzie and Kyle Ryde.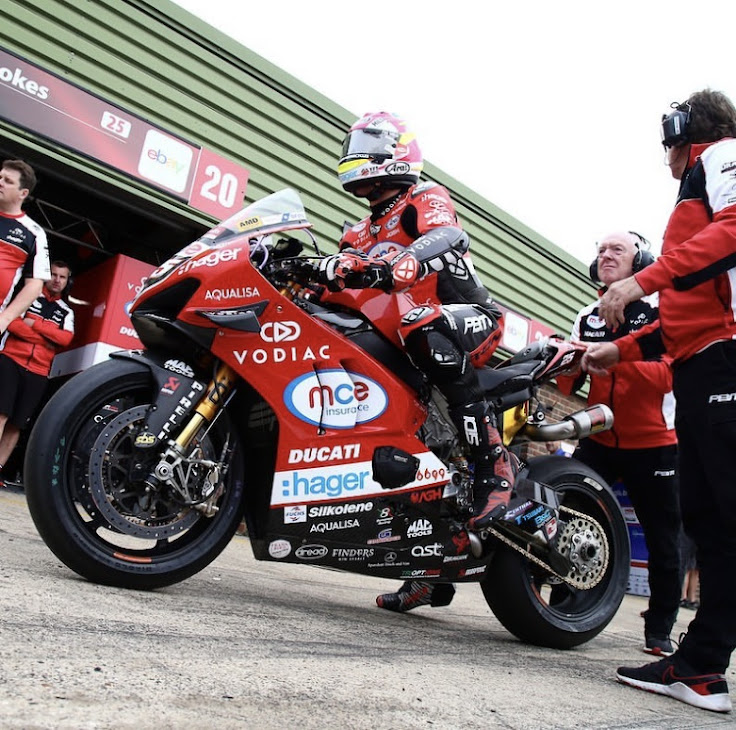 As is always the case with British Superbikes, there is a trend for riders who have struggled in the earlier part of the season to start hitting the top 10 and Round 8 was no different. A surprise podium for Kyle Ryde after a poor showing in the last few rounds, joined by Christian Iddon in 4th, who has the skillset for this position but perhaps not the backup from him machinery. Leon Haslam fought back into the top 5 again in Race 1, as he seems to be getting the Vision Track Kawasaki dialed in albeit too little, too late. Also a surprise top 10 finish from Danny Kent and Takumi Takahashi in 11th. While regular top 10 finishers Peter Hickman, Glenn Irwin and somewhat regular top 10 finisher, Tom Sykes were in the mix too.
Danny Buchan needed to have a strong round to gain a position in the title Showdown but a lap 1 pileup seemingly caused by yet another Ryan Vickers DNF took him out along with Josh Owens, effectively ending his chance to secure a position in the top 8 positions. Tommy Bridewell was also left looking at the championship standings through gritted teeth after his Race 1 DNF when his Oxford Products Ducati Panigale stopped along the start finish straight causing his retirement from the race. Eurosport's Steve Day and Jamie Whitham confirmed that Tommy had accidentally hit the kill switch on his bike and with the modern superbikes, it simply is not a case of flicking it back on. The bike needed to stop and reset the whole system, by which point Tommy was at the rear of the field.
Race 1. A dominant victory from Rich Energy OMG Racing's Bradley Ray has seen him extend his lead in the championship, but more importantly his podium credits too. A very strong 2nd place from Tarran Mackenzie sees him gain a few more points in the chase for retaining his championship, especially with their championship rival Jason O'Halloran continuing a sudden avoidance of the podium positions after a poor Cadwell Park by finishing Race 1 at Snetterton down in 12th place. His position within the Showdown is secure, but with full podium credits going to rival Brad Ray, never has it been more important for the O'Show to turn in a championship winning performance. Congratulations to Kyle Ryde. Ryde ended his recent run of poor form with a 3rd place podium finish secured his place within the Showdown and no doubt gives the young rider a huge sigh of relief, and much needed boost of confidence.
Race 1 Results: – Brad Ray, Taz Mackenzie, Kyle Ryde, Christian Iddon, Leon Haslam, Lee Jackson, Tom Sykes, Peter Hickman, Glenn Irwin, Danny Kent, Takumi Takahashi, Jason O'Halloran, Josh Brookes, Tom Neave, Storm Stacey.
Race 2 started well for Ray, Mackenzie, Ryde and O'Halloran until a wheel-to-wheel collision between Andy Irwin and Jason O'Halloran caused Irwin to crash and dropped O'Halloran down the field to 6th place. Bradley Ray and Tarran Mackenzie continued to gap the field, with Bridewell chasing hard in 3rd. The laps counted down with a steady away race after an overtake from Mackenzie into the lead, with the battles continuing further down the field. Danny Buchan putting a harsh move on Lee Jackson when trying to pass up the inside at the right-hand hairpin, with contact from Buchan's bike into Lee Jackson. Luckily Jackson was able to take the brunt of it and continue the race while Buchan moved on to attack Sykes on the MCE Ducati, which allowed Jackson to come through with him. Buchan moved on to attack McAMS Jason O'Halloran to further compound the Australian rider's frustrations, also allowing Lee Jackson past. One lap to go and Bradley Ray has done his research behind Mackenzie. Closing right up on the rear wheel they entered the last lap Bradley Ray timed his slipstream to perfection, putting his move on Mackenzie in the chicane at the midpoint leaving no way back for Taz.
Race 2 victory cemented for Ray followed by Mackenzie, Bridewell, Glenn Irwin, Hickman, Ryde, Buchan, Jackson, O'Halloran, Sykes, Skinner, Brookes, Stacey, Neave, Mizuno.
Race 3. Started in much of the same way as Race 2. Not a slugfest, no wild moves. Plenty of tyre saving going on after Taz took the lead from Ray. Storm Stacey's stricken Kawasaki brought out the safety car at the midpoint of the race. Upon resuming the race, when rounding the last corner, it seems Mackenzie had misjudged his distance to the safety car and closing speed, as by the time Tarran made his jump for rolling race restart, Mackenzie, Ray and Glenn Irwin overtook the safety car while it was still on the track, albeit just slowing down while entering the pit lane. Each rider was handed a 2 second time penalty which affected the finish positions of Race 3. Bradley Ray had enough of a gap to maintain 1st place. Glenn Irwin finished in 2nd on the track but was demoted to 4th after the penalty which put Peter Hickman in 2nd place and Tarran Mackenzie just managed to pickup 3rd on time after his penalty. A bit of a mess really and it took some time to explain to the riders what happened, but Stuart Higgs of British Superbike explained that the result stands and the rules must be applied. Tarran was later hit with 2 penalty points on his racing license as he lead the field into the early race restart.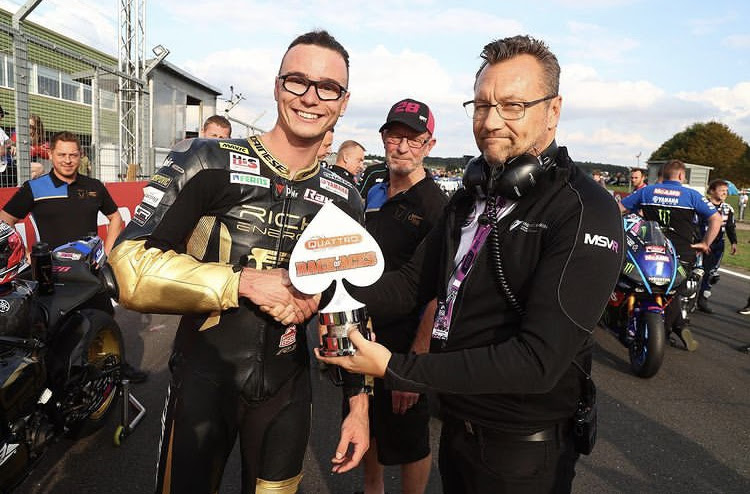 Race 3: – Ray, Hickman, Mackenzie, Glenn Irwin, O'Halloran, Haslam, Bridewell, Ryde, Andy Irwin, Jackson, Brookes, Kent, Neave, Mizuno, Harrison.
The Showdown positions have been finalised, and the podium credits have been applied and this is how the championship now looks moving forward to Oulton Park in 2 weeks' time.
1 – Brad Ray – 1061
2 – Jason O'Halloran – 1048
3 – Tarran Mackenzie – 1031
4 – Glenn Irwin – 1016
5 – Lee Jackson – 1014
6 – Kyle Ryde – 1013
7 – Rory Skinner – 1009
8 – Tommy Bridewell – 1008
Who do you think will win the 2022 British Superbike Championship?
Feature image courtesy of Oxford Products Moto Rapido BSB