Looking back at the weekends BSB action from Brands Hatch, the first thing coming to my mind is what a dominant performance from the McAMS Yamaha squad! Jason O'Halloran having taken one race victory and 2 x second places while Tarran Mackenzie opposed Jason with a second place and then 2 x victories. It was plain to see prior to the races the McAMS team had serious race pace after practice and qualifying but I for one hoped for a challenge from the other manufacturers would be forthcoming to mix things up. It wasn't a disappointment to see Yamaha dominate proceedings, but it's always fun when we have different bikes battling over wins.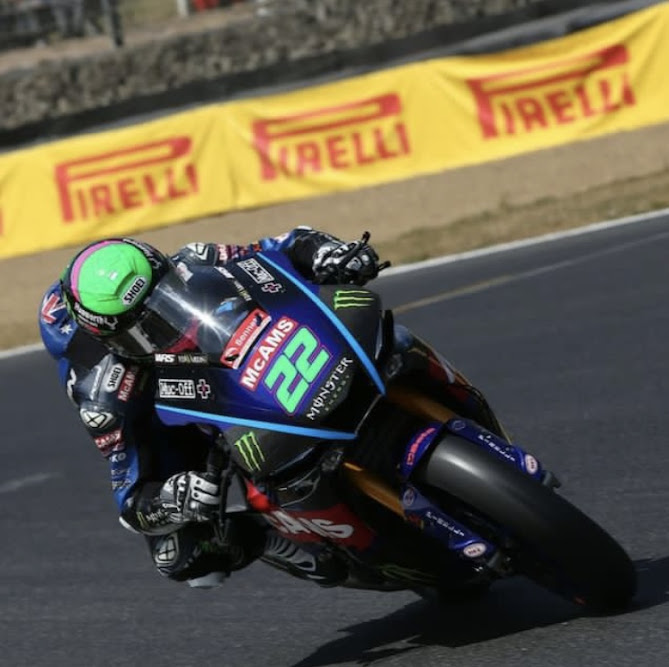 Mackenzie seemed relaxed and in really good spirits before the start of Race 1 on the Saturday. Even joking with Eurosport on the grid about how his lack of traction control on the BSB spec Yamaha had nearly high sided him to Kent! Happy to be further up and hoping to have taken another little step towards full fitness after his extra round run out at Donington Park. Tarran certainly had ambitions towards the front of the pack and climbing back towards the showdown positions.
MCE PBM Ducati rider, Josh Brookes, was optimistic saying the team and himself were focused on making progress with the bike. Landing on the podium would be a big step for the team and the Panigale V4. Honda Racings' Glenn Irwin was feeling good after a strong round at Knockhill and a good test at Donington Park, but noted that all four of the Honda riders were complaining of the same issues. Glenn had gone radical on some new settings on the CBR1000RR including reverting back to the standard Honda swinging arm. Acknowledging that Honda go well at the Brands round but not especially in the Superbike category, Glenn was hoping for a run of solid top 10 finishes. Unfortunately, not to be the case for Glenn in race 1 as he lost the front end into the Druids hairpin on lap 1, thus ending his Saturday much earlier than expected. Brad Ray was happy on the grid. Acknowledging it was his first front row start at his home circuit in the Superbike category, Brad was very much aware of the pace the McAMS Yamaha team had in their pockets. A lot was said in not so many words "I just hope we can stick it to the McAMS boys!" Jason O'Halloran's plan was simple enough. Go and win! Race 1 was an expected battle between the Yamaha riders with O'Halloran, Ray and Mackenzie within a second of each other for most of the race but the surprise addition to the party was Tommy Bridewell on the Oxford Products Ducati Panigale. Ray and Mackenzie squabbled over second place, lap after lap which allowed O'Halloran to stretch his lead to a hand full of bike lengths. Bridewell made his way forward from his starting position of 4th, having frequented the podium at Brands in 2021, it was all looking goodfor Bridewell before finding himself held behind Kyle Ryde for a handful of laps.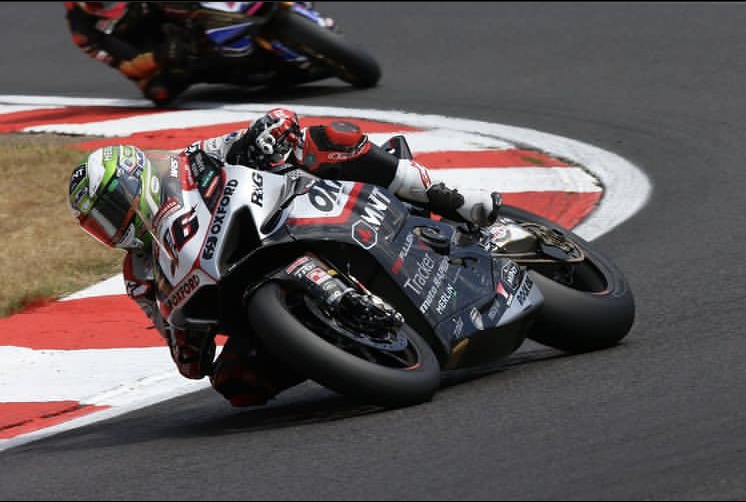 A chasing pack of Haslam, Jackson, Iddon and Vickers sat in behind and held on to the pace as the laps counted down with Brookes further back in a lonely 7th place. Bridewell continued his charge eventually passing Ryde and bridging the gap to the front running Yamahas, joining in the fight for race victory and the podium positions. It would seem though Bridewell had used a lot of tyre passing Ryde and then racing to join front pack, eventually finding himself in second place in front of Mackenzie and Ray after a flurry of position exchanges
and a bit of a moment from Mackenzie where he seemed to miss a gear coming out of Surtees. Mackenzie wasn't to be beaten to second though and after some very exciting racing, we rounded the final curve with O'Halloran followed by Mackenzie, Bridewell and Ray.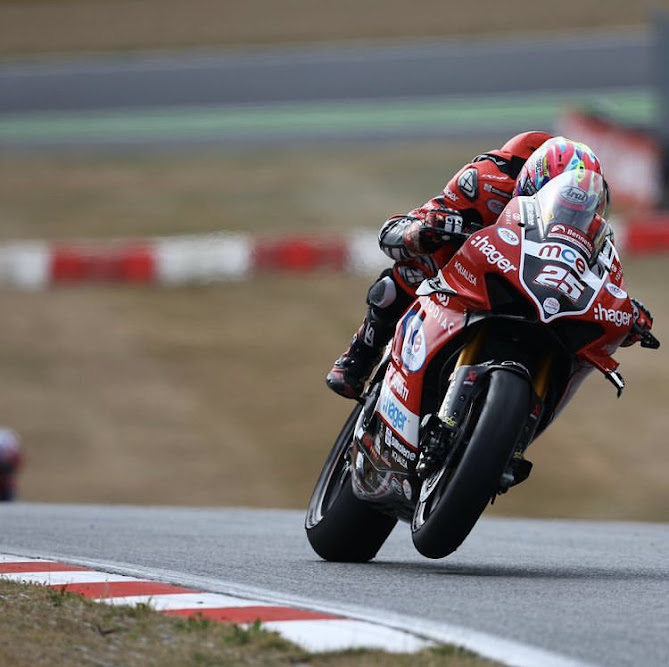 Race 1 Result :-
1 – O'Halloran; 2 – Mackenzie; 3 – Bridewell; 4 – Ray; 5 – Ryde; 6 – Brookes; 6 – Brookes; 7 – Skinner; 8 – Haslam; 9 – Jackson; 10 – Iddon; 11 – Hickman;            12 – Kent; 13 – Sykes; 14 – Andrew Irwin; 15 – Owens Race 2 lines up slightly different due to the race results of the previous day. Mackenzie on pole from Bridewell, Ray, O'Halloran, Haslam, Jackson, Ryde, Brookes, Skinner and Vickers. Vickers who managed a fastest lap inside the top 10 even with a race 1 crash, goes on to crash in race 2 which makes it his 7th crash in 9 races. Vickers was linked with the PBM Ducati team mid-season 2021 for a 2022 ride prior to the team deciding to go with Josh Brookes and Tom Sykes instead.
Glenn Irwin lines up in 17th after his first lap crash from Saturday's race. Lap 1 incidents are again present for Glenn after having to take avoiding action when brother, Andy Irwin clips Peter Hickman causing a crash for the Synetiq BMW and running both Peter and Glenn off the track and leaving a mountain to climb for both the BMW and Honda riders.
Another strange incident involved Lee Jackson when he slipped off on lap 4 with Christian Iddon seeming to crash in sympathy directly behind him, with perhaps a momentary distraction upsetting the apple cart for the Buildbase Suzuki rider following the FS3 Kawasaki off the tarmac. Josh Brookes then went on to DNF in a very similar crash to that of Lee Jackson on lap 7.
A mega fight back from Glenn Irwin put him in 10th for race 2. A strong performance from this year's reigning champion, Tarran Mackenzie ended with himself back on to the podium, ultimately taking the win over his McAMS teammate, Jason O'Halloran followed by another solid podium from Tommy Bridewell. After this result, the championship lead swings in favour of Jason O'Halloran after a very strong couple of rounds from the Australian. Race 2 Result :- 1 – Mackenzie; 2 – O'Halloran; 3 – Bridewell; 4 – Ray; 5 – Haslam;  6 – Skinner; 7 – Ryde; 8 – Sykes; 9 – Kent; 10 – Glenn Irwin; 11 – Neave;  12 – Hickman; 13 – Takahashi; 14 – Owens; 15 – Buchan Race 3 went on to start very positively for both Ray and Mackenzie. Josh Brookes cemented his weekend to forget for him and the MCE Ducati team with a lap one crash (interestingly Tom Sykes was also wheeled off the grid and subsequently couldn't start the race); while Glenn Irwin clearly had a point to prove with his up the inside move at Paddock Hill Bend to take the lead of the race on lap 3.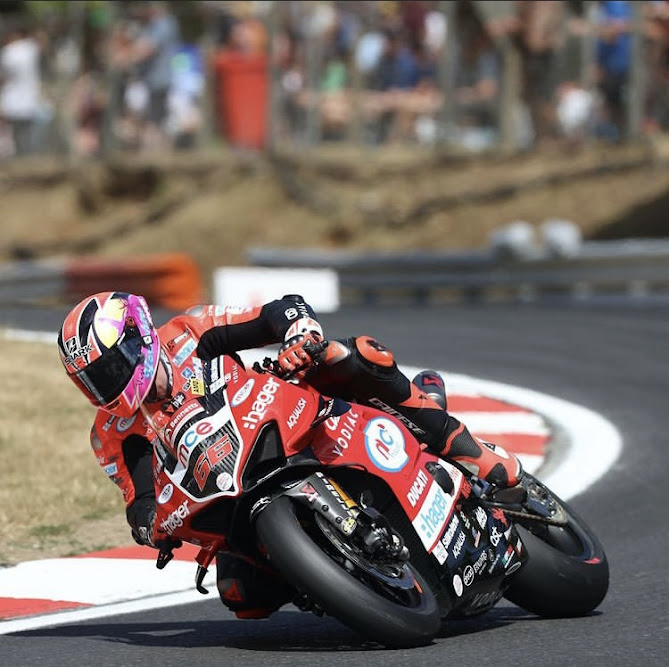 The Yamaha's spent a few laps squabbling over second place as Ray and O'Halloran exchanged overtakes but a move from Ray on Irwin ultimately handed O'Halloran the place back when Ray ran wide trying to complete the move. The interruption to Irwin's rhythm led to a loss of 2 places in the space
of a few corners which left him in third behind Mackenzie where he ultimately went on to finish. A very positive ending to a difficult weekend for Glenn but Brands has always been a bit of a bogey track for the Honda man.
Bridewell had another solid and very positive run overtaking Ray for 4th place (only to be pipped back by Ray before the finish line), while Mackenzie went on to overtake his teammate for the lead on lap 15. O'Halloran wasn't up for settling, and lined up a run into the last corner to, and snatch the lead from, Mackenzie on the final lap but in true Hopper v Hill and very typical of Brands, O'Show got the move done, up the inside of Mackenzie under braking, but ran wide allowing Mackenzie to cut back and out drag Jason to the line to take the final race win of the weekend.
This Racing Armchair predicted Tarran could easily be into the showdown positions after a good show at Brands, unfortunately this performance has come at the expense of Josh Brookes whom has slipped from the showdown spots to 11th after his double DNF. Race 3 Results :- 1 – Mackenzie; 2 – O'Halloran; 3 – Glenn Irwin; 4 – Ray; 5 – Bridewell; 6 – Haslam; 7 – Ryde; 8 – Hickman; 9 – Skinner; 10 – Jackson;  11 – Iddon; 12 – Andy Irwin; 13 – Buchan; 14 – Takahashi; 15 – Rouse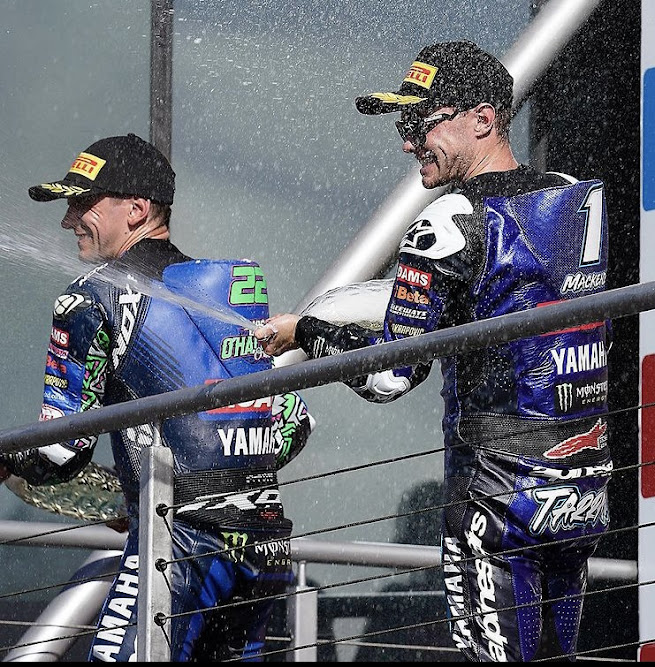 My positive of the weekend has to be Tarran Mackenzie proving he can come off a round of World Superbikes, riding on different electronics and fall back into BSB winning races. That is a massive warning shot across the bow of the other riders in the series. They have had a little break from Tarran while he worked on recovering and coming back to being fully fit. I think like busses, we have waited for one and now twelve could come at once and I think Tarran will go on now to post a series of wins. No stranger to coming from behind to win in the showdown, as he did in 2021, Tarran has laid down a glove to his competition and especially his team mate. Watch this space.
My negative is twofold. It was so nice to see Brookes smiling on the grid of race 1. The series needs people like Josh. Never afraid to speak his mind and not always playing the corporate man, Josh is still a breath of fresh air in the paddock so to see a double DNF was pretty soul destroying for me and will no doubt harm any confidence built up in the last few weeks. This links back to a story I wrote a few weeks ago about the position the Panigale finds itself in where every other manufacturer seems to have bridged the gap to the Ducati and ultimately has dismissed any obvious advantage the Panigale once had. So much so that when Tom Sykes didn't start race 3, he didn't seem particularly bothered. He seemed more relieved that he didn't have to go and wrestle a result from the Panigale V4 but thatis  just my observation. Perhaps it's just the usually level headed, pragmatic Yorkshireman not letting a dismal continuation of his first season back in BSB get under his skin. I'm sure Tom will click with the Duke soon enough. My second negative is one of disappointment for Danny Buchan. The Synetiq BMW rider has had strong finishes at Brands Hatch in the past but this weekend it wasn't to be. DNF, 15th and a 13th certainly aren't the results Danny, or the team would want. This weekend's results at Brands have dropped Buchan (as in the case of Brookes) out of the showdown at the hands of Hickman and Mackenzie. A three week break to Thruxton should give some riders time to come down to earth again and also allows other riders to pick themselves up, dust themselves down and remember they're all part of the best national championship on the planet! P.S Josh, if you fancy a pint send me a DM. No one gives better advice than The Racing Armchair! Take care everyone. @RacingArmchair