Donington Park was awash in glorious sunshine for the British round of WorldSBK, with the air temperature at 25 degrees Celsius, and a track temperature of 44 degrees Celsius. We were set for a scorcher on, and off, the track.
Rea (Kawasaki KRT) secured pole position with an unbeatable time of 1:36.080, followed by his team mate Lowes in 2nd and Toprak Razgatlioglu (Pata Yamaha) in 3rd.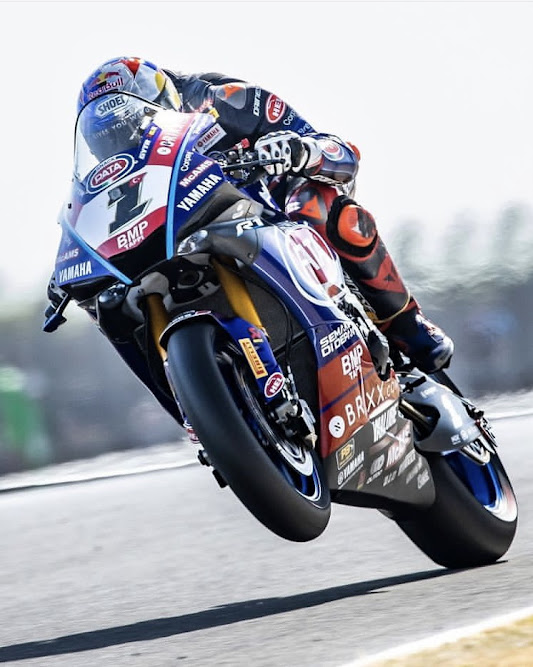 Lights out for race 1, and Toprak gets the hole shot, followed by the Kawasaki team mates of Lowes and Rea, Bautista (Aruba.it Ducati) finds himself in 4th.
Next lap and positions were as follows: 1. Toprak 2. Lowes 3. Bautista 4. Rea 5. Lecuona (Honda HRC) 6. Redding (BMW Motorrad).
On lap 3 of 23 it was Lowes with the new fastest lap of 1:27.4 and was looking good in 2nd. Meanwhile in the lead, Toprak had now pulled the gap to 2nd place to 0.6s, and was showing great early race pace. Rea was looking frustrated in 4th, as he could see his title rivals disappearing into the distance, and was desperate to make up positions.
Next lap, and Toprak was showing no signs of slowing down, increasing his lead to 0.9s. Lowes had started to slip back, and Rea was able to get past his team mate to take over 3rd, setting a new fastest lap in the process of 1:27.263. Meanwhile it was Bautista in 2nd, and was showing good pace on the Ducati. Further back positions were as follows: 5. Redding 6. Lecuona 7. Bassani (Motocorsa Ducati). 8. Rinaldi (Aruba.it Ducati) 9. Gerloff (GRT Yamaha WorldSBK Team) 10. Locatelli (Pata Yamaha).
With 17 laps to go Rea was still desperate to get past the Spaniard ahead of him. Meanwhile Toprak had now pulled the gap out to 1.6s. After showing good pace early on, Lowes had now dropped down to 5th, with Redding moving up a place. Rea tries a move on Bautista into turn 12 Goddards, but can't get it done, as the Ducati has such good acceleration.
Next lap and the Argentine, Mercado crashes out, his race is over. Rea again tries a move into turn 12, this time he gets it done cutting under Bautista to take over 2nd. Rea was now 2.9s behind Toprak Razgatlioglu, and had massive work to do to catch him. Redding was in 4th, and 2.2s behind Bautista.
Tarran Mackenzie (McAMS Yamaha), the reigning BSB champion, was having a decent ride in 12th on his debut. Further back it was a disappointing day for both Nozane (GRT Yamaha WorldSBK Team), and Laverty (Bonovo Action BMW), in 18th, and 20th respectively.
With 12 laps to go Bassani had moved up to 6th, getting past Lecuona who was now in 7th on his Donington Park debut. Meanwhile at the front, Rea couldn't shake off the intentions of Bautista who was all over the back of the Kawasaki. All of this was playing right into the hands of the reigning champion, who was continuing to pull away, and was now 4s ahead of Rea.
With 9 laps of 23 remaining, Rea ran wide into turn 12 the previous lap, allowing Bautista to come through, and retake 2nd. Toprak was now 4.7s ahead, and any chance of him getting caught was now firmly over. Then drama for Bautista the championship leader, who lost the front end into turn 12 going down into the gravel, he rejoined but later retired, giving a massive boost for both Rea, and Toprak in the points standings. Redding now found himself in podium contention in 3rd.
With 7 laps left positions were as follows; 1. Toprak 2. Rea 3. Redding 4. Lowes 5. Bassani 6. Rinaldi.
Next lap and Lowes had found some late race pace, and had caught right up to Redding, now only 0.3s behind him. Redding who himself seemed to be struggling with either tires, or the new rear swing arm, which the team had just fitted this weekend. Meanwhile the Texan Gerloff had moved up to 8th.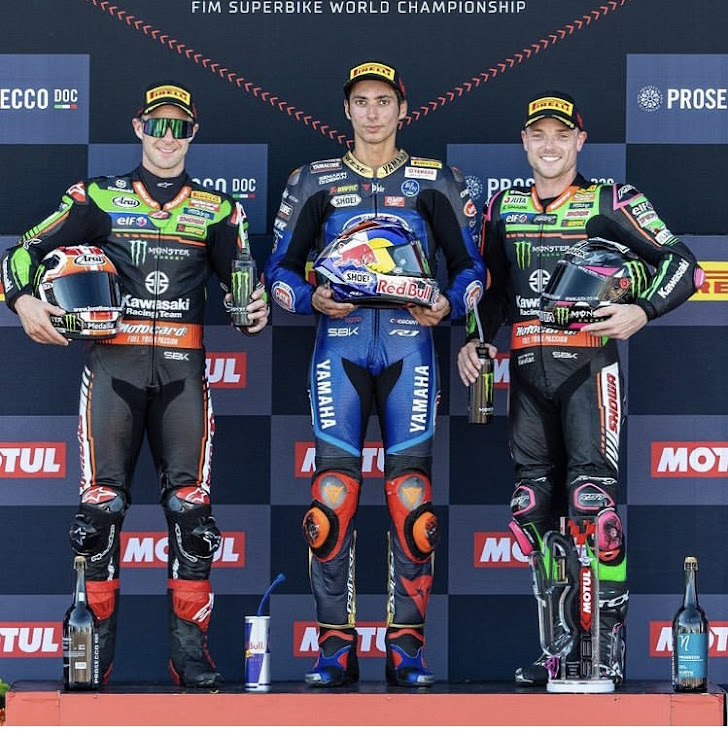 With 4 laps left, Redding was really struggling to resist the attempts of Lowes behind. Lowes finally made the right move into turn 12, and took over 3rd place. Redding fought back down Craner curves with some exciting racing for the fans, but Lowes held on to the position.
Penultimate lap, and Toprak was having fun out in the lead sliding his R1 Yamaha through Craner curves. Rea was still following, with Lowes in 3rd, followed by 4. Redding 5. Bassani 6. Rinaldi 7. Lecuona.
Last lap, and Toprak Razgatlioglu crosses the line to take his first win of the season, certainly looking more like the rider of last season. 2. Rea 3. Lowes 4. Redding 5. Bassani 6. Rinaldi 7. Gerloff 8. Lecuona 9. Baz (Bonovo Action BMW) 10. Locatelli (Pata Yamaha). Meanwhile Tarran Mackenzie finishes 14th on his debut to claim 2 championship points, while the Isle of Man superstar Peter Hickman finishes in 22nd.
Result top 5:
Razgatlioglu (Pata Yamaha)
Rea (Kawasaki KRT)
Lowes (Kawasaki KRT)
Redding (BMW Motorrad)
Bassani (Motocorsa Ducati)
Championship top 3:
Bautista – 220
Rea – 204
Razgatlioglu – 166