Day two then and this would have the longest stage of the weekend. The startlist looked like this – Loeb, Ogier, Tänak, Fourmaux, Breen, Neuville, Loubet, Greensmith, Katsuta, Sordo, Rovanperä, Evans.
First stage then, SS10 Vieira do Minho 1 – 21.57 km and the Welshman was quick out of the blocks with a stage win from his two teammates, Kalle and Taka. Thierry was fourth and climbed two positions into sixth. In fact, Pierre-Louis, Thierry and Craig all gained positions as Gus dropped back with a puncture. Its seems that if you had the soft tyres then your pace would be quite decent and those that took hard tyres were finding hard to feel the grip.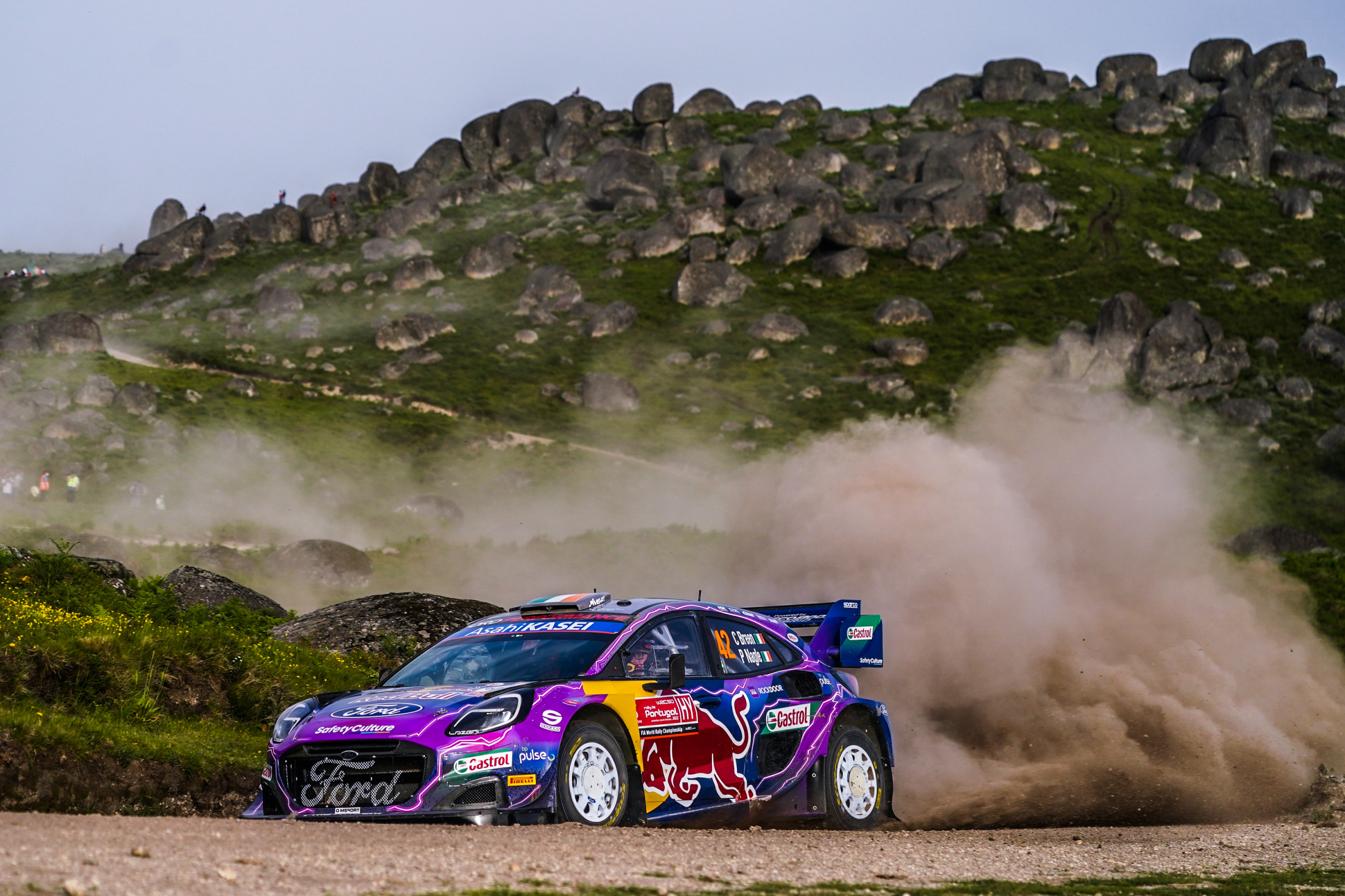 Kalle struck back on SS11 Cabeceiras de Basto 1 – 22.03 km with the fastest time from Elfyn and Taka. The Toyota crews were showing their pace out there, making the most of the road positions and their tyres choices. The Japanese driver had now closed on Dani Sordo who was holding third overall, the gap between them just 1.7 seconds. Dani's teammate, Thierry was also making up places, moving ahead of Pierre-Louis and into fifth overall.
Well, it all happened on the next one! The longest stage of the rally, SS12 Amarante 1 – 37.24 km, and Elfyn took the stage from Ott and Kalle. The Welshman's pace was a real statement in intent that he was not going to be caught, taking his lead from 10.2 seconds to 18.4. He used all of his knowledge and experience, having looked after his tyres on the middle stage. Dani lost third to Taka as the Japanese driver set the fourth best time.
After the lunchtime service SS13 Vieira do Minho 2 – 21.57 km was next. Kalle was fastest from Elfyn and Taka. Meanwhile the Japanese driver was edging away from his Spanish rival and making third place his, the gap now 4 seconds. Gus had a moment in this one, sliding wide and clipping his rear right wheel on some rocks at the edge of the road, damaging the wheel. At least it was near the end and he was able to complete the stage. However, there was more damage to the suspension and he retired the car before the next stage. There was some rain in this one which did affect the drivers.
Next up was SS14 Cabeceiras de Basto 2 – 22.03 km and Kalle was fastest from Elfyn and yes Taka again. The Finns closed the gap to their teammate to just 9.9 seconds though. The fight was on for sure. Again, rain affected most of the drivers, making the stage quite slippery.
The rerun of SS15 Amarante 2 – 37.24 km saw huge drama though! The pace was set early on by Thierry and the crews behind came through a much tricker set of conditions with the rain coming in. The Belgian set the best time and no one was getting close to his pace. Kalle was second fastest, but a full 16.9 seconds slower than the i20 crew. The big news was that when Elfyn crossed the line as the last car, he'd lost the lead and was now 4 seconds behind Kalle, the new leader.
So, to the final stage then, SS16 SSS Porto – Foz – 3.30 km and the Rally1 cars went through fastest to start with Kalle setting the best time and Dani setting an incredible time and closing the gap to Taka to just 5.7 seconds in the battle for third overall. However, this all changed as the Rally2 cars came through and, in the end, Kalle's time was only good for tenth best time.
Classification after Day Two
| | | | | |
| --- | --- | --- | --- | --- |
| 1 | K. Rovanperä | J. Halttunen | Toyota GR Yaris Rally1 | 3:13:46.7 |
| 2 | E. Evans | S. Martin | Toyota GR Yaris Rally1 | +5.7 |
| 3 | T. Katsuta | A. Johnston | Toyota GR Yaris Rally1 | +1:50.1 |
| 4 | D. Sordo | C. Carrera | Hyundai i20 N Rally1 | +1:55.8 |
| 5 | T. Neuville | M. Wydaeghe | Hyundai i20 N Rally1 | +2:25.9 |
| 6 | C. Breen | P. Nagle | Ford Puma Rally1 | +4:00.4 |
| 7 | P. L. Loubet | V. Landais | Ford Puma Rally1 | +4:14.7 |
| 8 | O. Tänak | M. Järveoja | Hyundai i20 N Rally1 | +4:40.9 |
| 9 | A. Fourmaux | A. Coria | Ford Puma Rally1 | +7:04.3 |
Let's hear from the drivers.
Toyota Gazoo Racing WRT
Kalle Rovanperä (1st)
"It has been a really good day for us. Another clean day without mistakes was really important. I felt quite comfortable in the car so I didn't need to push right to the limit all of the time, and this afternoon we were able to catch up to Elfyn, so we have to be really happy. I wasn't expecting to be able to take the lead in the way we did: To have full rain in the middle of the long stage while on hard tyres was not easy, but I tried to push and to make a difference and it worked out. Tomorrow will be tight and we will have to see how the feeling and the pace is in the morning. Elfyn was really fast on those stages last year, so we will need to push hard if we want to fight with him for the win."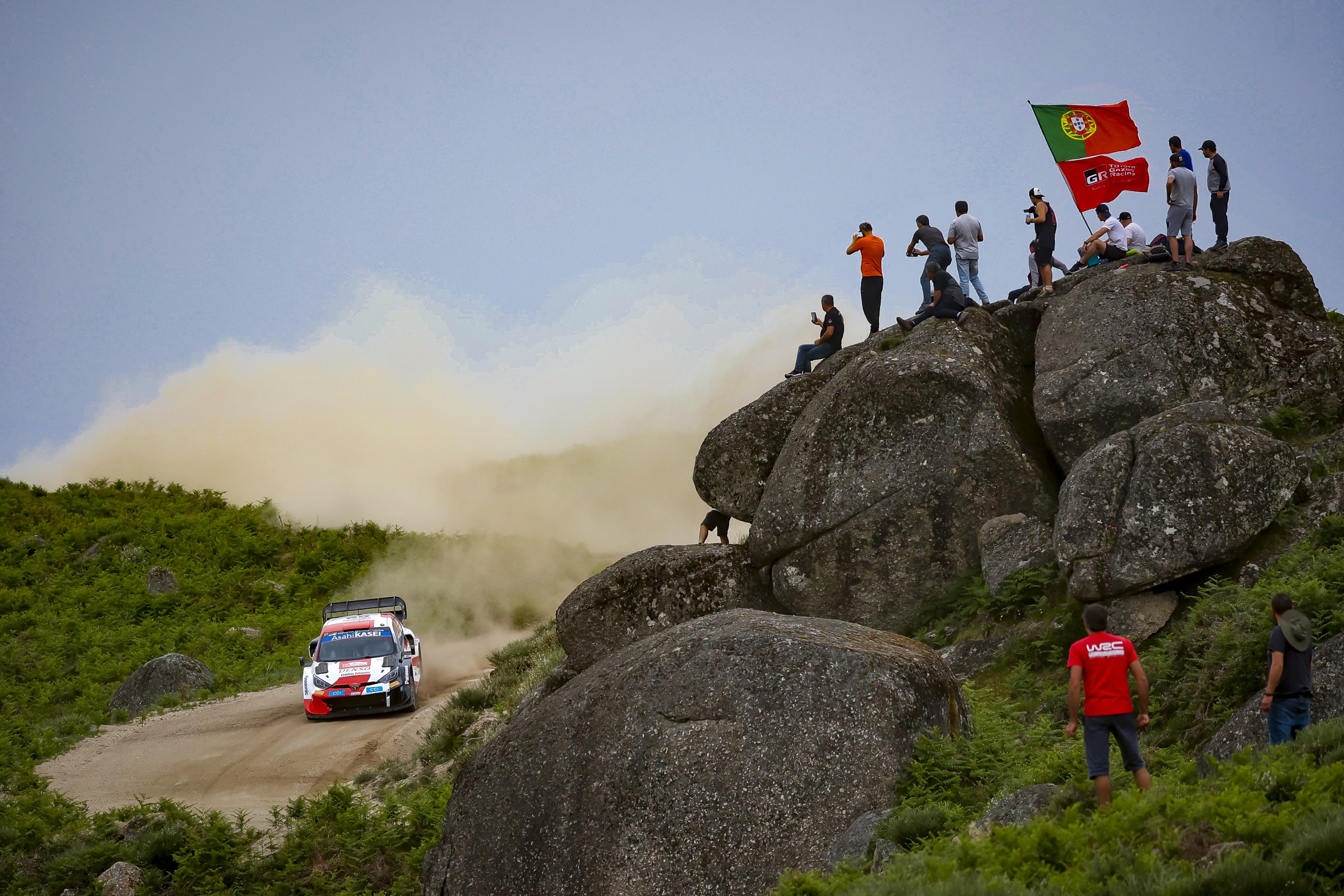 Elfyn Evans (2nd)
"The rhythm was quite good this morning and we had a nice fun battle with Kalle. He then did a really good job this afternoon, and the rain in the long stage definitely didn't help us. We faced quite changeable conditions: It was raining quite hard at the beginning and there were a few patches that were exceptionally slippery which caught us by surprise. The ending wasn't so bad but I think we probably gave away too much time early on and the damage was done. But Kalle also drove really well in those conditions, to be fair. I'm sure it will be a good fight tomorrow and I'm looking forward to it."
Sébastien Ogier (55th)
"Unfortunately, I did a mistake in the second stage this morning. I lost the concentration a bit, as we had lost the use of the hybrid system about 200 hundred metres before, and I didn't really listen to the pacenote for the next corner. So, I came a bit too fast, hit the bank and spun and got stuck. It was not worth risking any further damage by going back out this afternoon with nothing to fight for. Of course, I would have loved to use this day as a test to get some more experience with the car. But we still have some stages left tomorrow, and we'll be there as a backup to take some points for the team if needed."
Hyundai Motorsport
Dani Sordo (4th)
"I must start by saying congratulations to Taka (Katsuta) because I gave it everything today to keep hold of third place. It was impossible as he put in an amazing drive on all stages. I had a bit of bad luck in the second pass of Amarante because I had to contend with a lot of rain, which allowed Thierry to close the gap to me. It was difficult to see the road a lot of the time, so I said to myself that I would push hard on the super special. I lost a bit of time at the first roundabout, but it was good in the end, and we set a competitive time. The road was improving, of course, which was an advantage. Tomorrow is a new day, and we will try again to push hard to reclaim that third spot – and finish the rally with a podium if we can."
Thierry Neuville (5th)
"It is always difficult to prepare when you've had a setback like we had yesterday, but we never give up. It's important for us and the team to keep pushing. The morning went well, and we managed to gain two positions in the classification. It was really challenging with the tyres because we had used all our soft compounds on Friday to compensate for the road cleaning. The technical issues then changed the plan. We made it through the first loop today and caught back some time. In the afternoon, we got a bit closer to the podium. The conditions were changing throughout the Amarante stage with rain in the middle, but we had a decent run. Tomorrow, everyone knows these stages well; perhaps the weather could make things interesting, who knows? One thing is for sure: we will give everything we have."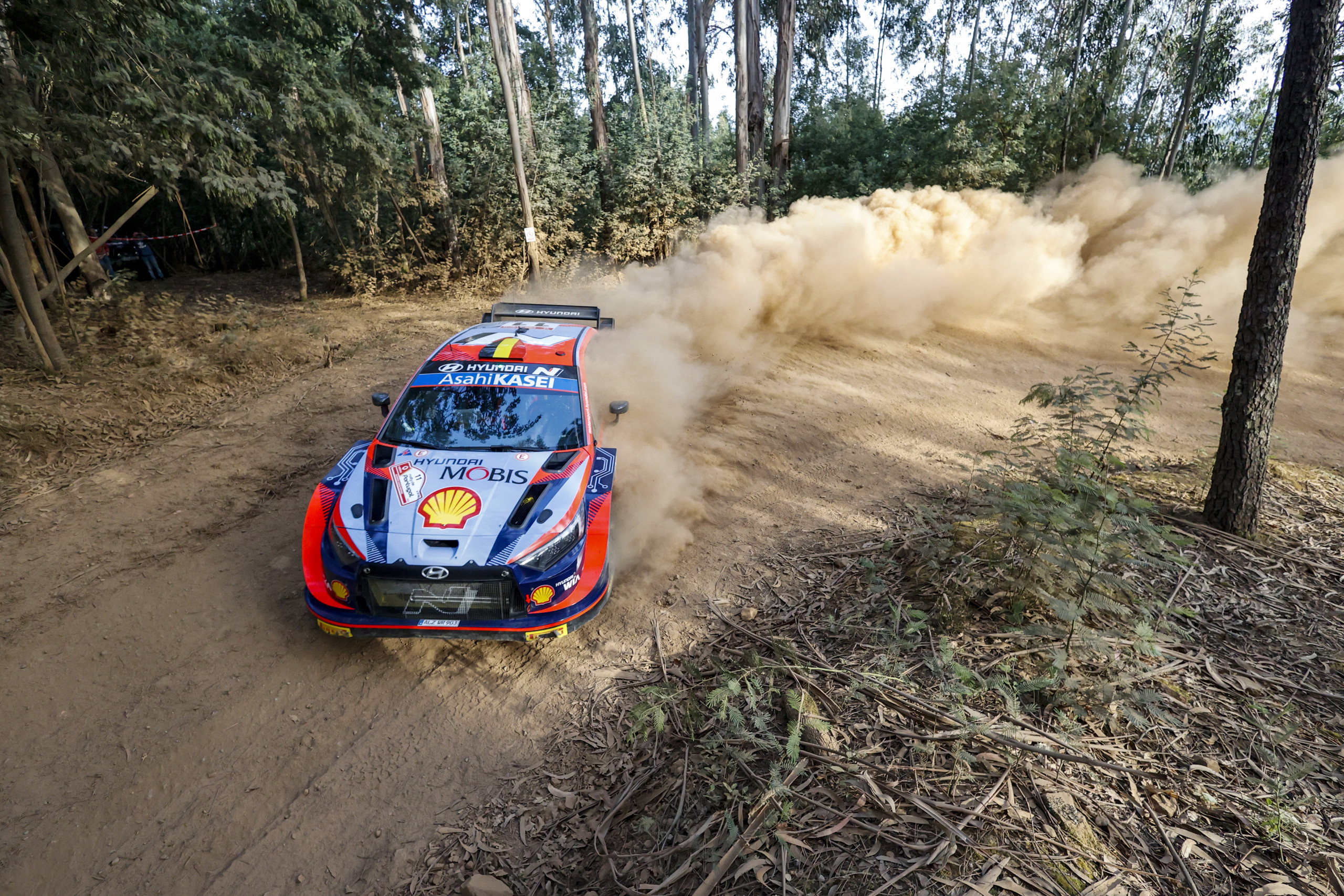 Ott Tänak (8th)
"We have had fewer issues today than we had yesterday, but that doesn't mean it was any more straightforward. Some stages were a bit more promising, while others were a bit less so. The second loop was more challenging as there was more cleaning, and with the hard tyres it was difficult to be first on the road. During the rally, there's only so much progress you can make; it's minimal. We are playing in the box which makes it a tricky game, but we still try to understand some things, how the car is behaving, and to make a good plan for the next one. It's our job that needs to be done."
Sunday
One day left then and just under 49km's over five stages. Can Elfyn do what he did last year and set the best time on the first stage and therefore retake the lead? We will find out!