The first day saw the crews tackle eight stages over 122km. The startlist looked like this – Rovanperä, Neuville, Breen, Loeb, Tänak, Katsuta, Greensmith, Ogier, Evans, Loubet, Fourmaux, Sordo.
The first stage then, SS2 Lousã 1 – 12.03 km and Elfyn set the pace and took the overall lead, whilst Puma duo, Gus and Adrien were second and third fastest. We had a British one two at this point, with Ott holding third overall. Gus was the early pacesetter before Elfyn came through with the best time. The four-minute gaps were showing how important they were, with some dust still hanging over the road sections due to the trees lining the road.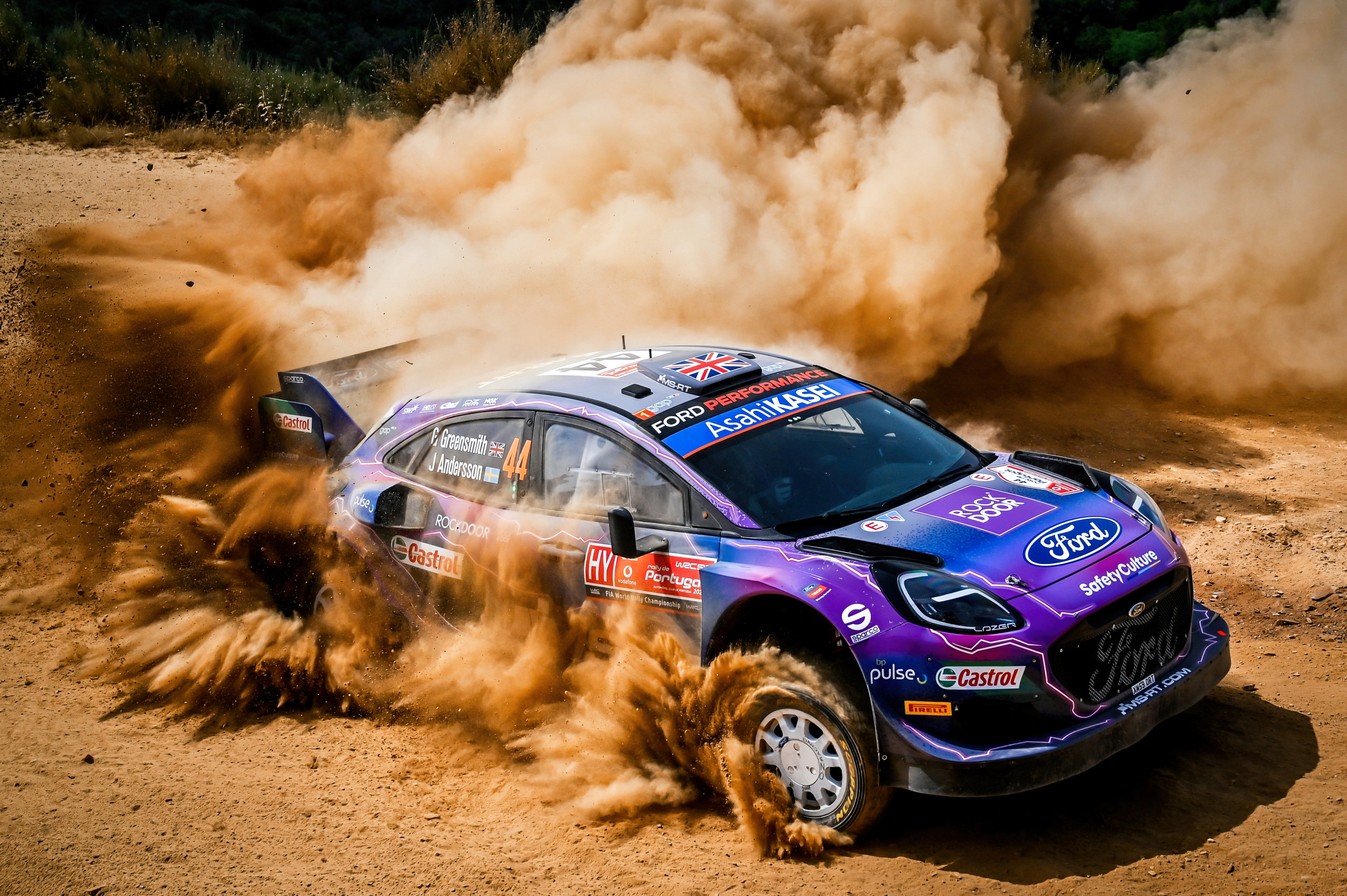 Into SS3 Góis 1 – 19.33 km then and the Welshman was quickest again from Ott and Taka third. The Estonian's time was good enough to move the crew into second overall, the gap to former M-Sport teammate now exactly five seconds. Interestingly the Japanese crew reported a lack of power in the stage, but it didn't appear to affect his time.
SS4 Arganil 1 – 18.72 km was next and it was the 9-time champion that was fastest for M-Sport, moving up an incredible six places and into the lead! Thierry and Kalle were second and third fastest. Elfyn was only half a second from the new leader and holding second overall. Thierry and Martijn's good time meant that they were now the top Hyundai crew. Further back, Kalle was also moving up and got past his teammate Seb Ogier into fifth overall.
It was time for Ogier to be fastest in the next one, SS5 Lousã 2 – 12.03 km from Pierre-Louis and Thierry third. Loeb's lead didn't last long as he went wide at the start of the stage and clipped a concrete wall, breaking his rear right suspension. He and Isabella were out. We had a new top three will Elfyn, Thierry and Seb Ogier. Ott dropped down to fifth with problems in the rough stage.
It was another stage win for Elfyn in SS6 Góis 2 – 19.33 km with another top two time for Pierre-Louis, whilst Thierry was third again. Elfyn had increased his lead over Thierry to 5.8 seconds and Kalle was now up to third overall. Seb Ogier, Craig and Ott all suffered punctures in this one and those to benefit were Pierre -Louis moving up six positions, and Gus gaining four!
Kalle won SS7 Arganil 2 – 18.72 km from Elfyn and Taka was third giving the Toyota team a 1-2-3! Elfyn increased his lead over Thierry. Dani was on the move jumping ahead of Gus and into fifth overall.
Next up was SS8 Mortágua – 18.15 km and Kalle took this one as well from Elfyn and Taka again. The Finn was now into second overall as Thierry dropped five places and into seventh overall. The Belgian suffered a driveshaft problem after losing a wheel on the road section. Dani was now third, Taka in fourth, Gus in fifth.
Just the final stage then, held at the SS9 SSS Lousada – 3.36 km rally cross venue. Elfyn was fastest from Taka and Ott. He and Adrien set the same time though. The top three overall was Elfyn, Kalle and Dani, whilst the top M-Sport Ford was Gus holding fourth overall.
Classification after Day One
| | | | | |
| --- | --- | --- | --- | --- |
| 1 | E. Evans | S. Martin | Toyota GR Yaris Rally1 | 1:25:43.3 |
| 2 | K. Rovanperä | J. Halttunen | Toyota GR Yaris Rally1 | +13.6 |
| 3 | D. Sordo | C. Carrera | Hyundai i20 N Rally1 | +44.4 |
| 4 | T. Katsuta | A. Johnston | Toyota GR Yaris Rally1 | +49.6 |
| 5 | G. Greensmith | J. Andersson | Ford Puma Rally1 | +1:00.7 |
| 6 | P. L. Loubet | V. Landais | Ford Puma Rally1 | +1:15.6 |
| 7 | T. Neuville | M. Wydaeghe | Hyundai i20 N Rally1 | +1:46.4 |
| 8 | C. Breen | P. Nagle | Ford Puma Rally1 | +1:49.3 |
| 9 | A. Fourmaux | A. Coria | Ford Puma Rally1 | +2:03.6 |
| 10 | O. Tänak | M. Järveoja | Hyundai i20 N Rally1 | +3:38.4 |
Let's hear from the drivers
Toyota Gazoo Racing WRT
Elfyn Evans (1st)
"It's been a really long and tough day, pretty hot in the car and really demanding conditions, especially this afternoon. Everything worked really well immediately in the first stage this morning. We were maybe a bit brave with our tyre choice and struggled a little bit after that, but overall, it was a good start. This afternoon it was extremely rough and a bit of a lottery but we managed to get through it and hopefully we've seen the worst of the conditions now this weekend. We maybe left a bit of a speed out there but it was a balancing act between surviving and going quickly. It's good to be in the fight but it's the result on Sunday that counts and there's still a long way to go before then."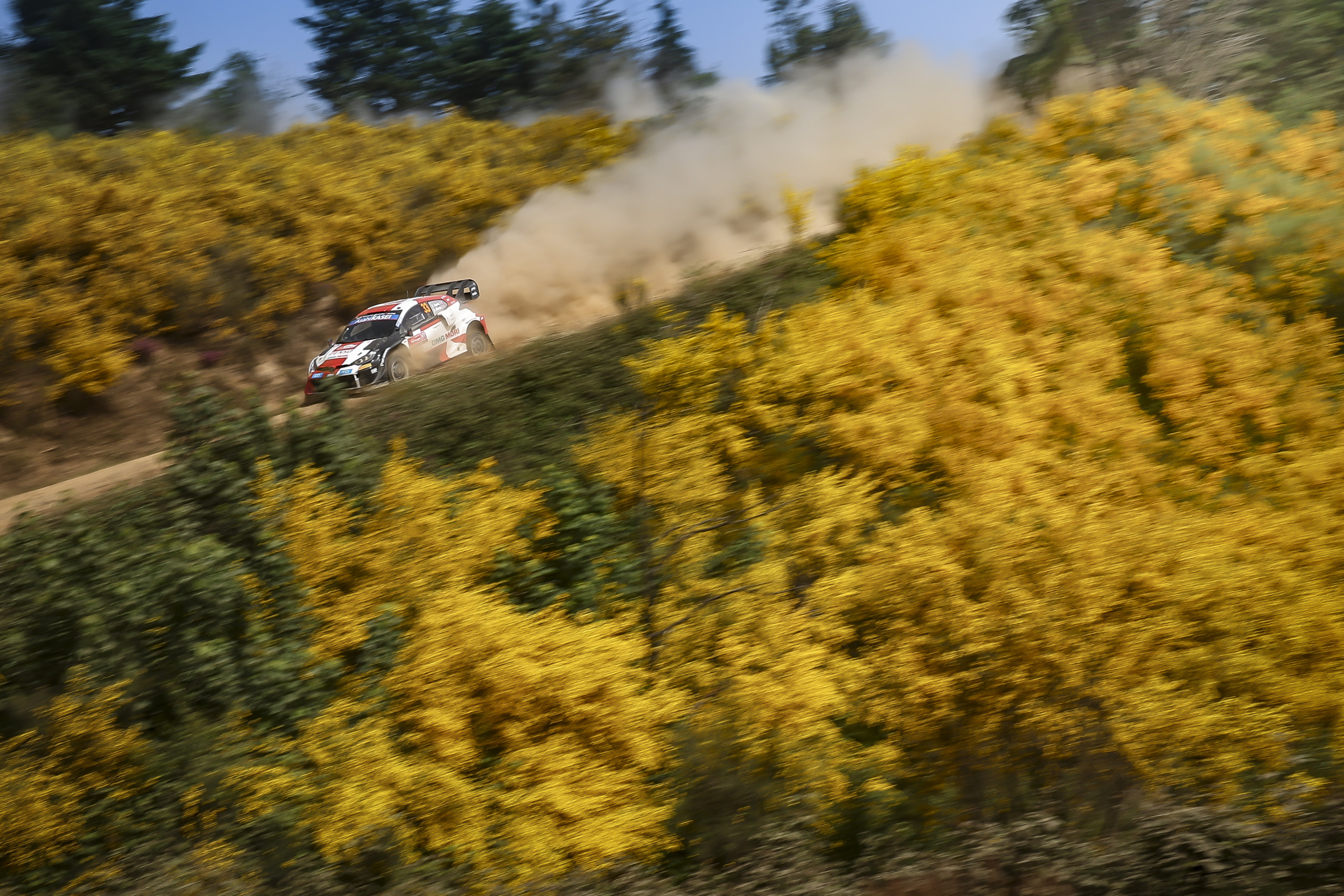 Kalle Rovanperä (2nd)
"I have to be really happy with what we did today. To be in second place is not what we expected but we did a really good job today and the team prepared the car to be strong in these tough conditions and that was important because we saw a lot of issues. It was hard to open the road, and even on the second pass we were creating a line for the others and it was really difficult but I think we were quite clever to avoid any problems. Tomorrow there are a lot of kilometres and it will be tough again but we will try to do our best."
Sébastien Ogier (45th)
"This morning I wasn't super happy with the feeling but we made some adjustments and it started to get better. The afternoon started well with a first stage win but unfortunately that feeling didn't last long. Even if we would have had another spare tyre, any hopes for a good result were gone. The stages were definitely rougher this afternoon than I expected, and although I tried to avoid every big rock, it was a bit of a lottery with so many sharp stones everywhere. Of course, it's a pity to have to stop early, as we came here to try to have fun and fight at the front. Now we need to use the rest of the weekend as a test as I don't have many kilometres on gravel with this car."
Hyundai Motorsport
Dani Sordo (3rd)
"That was a really hard day with difficult conditions, and at times I was just trying to keep the car on the road. We didn't drive flat out all the time in case we got caught out by punctures. We did not want to take any risks. Looking ahead to tomorrow, our aim will be on defending our position because it's coming on strong. I think todays were the hardest roads of the weekend. There will of course be some tricky parts on tomorrow's stages, but I don't think as harsh as we faced today."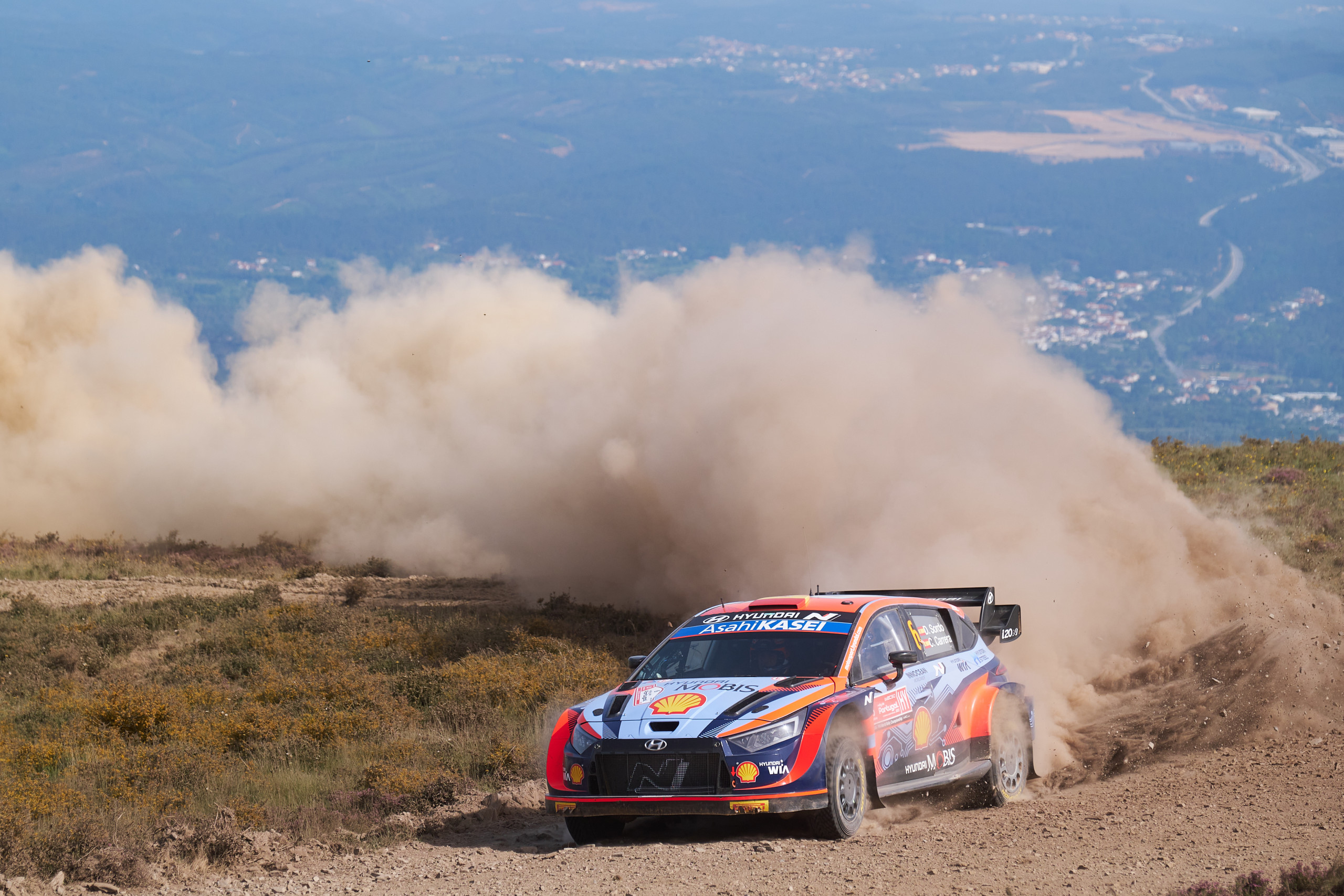 Thierry Neuville (7th)
"We could have been in the fight for the lead of this rally, but unfortunately, we have been hit again by issues. It's frustrating. The morning loop wasn't too bad; it wasn't easy with our starting position, but I was feeling comfortable with the car. We had several issues during the afternoon, but the biggest problem was that we lost the wheel on the road section (after SS7). A bolt came loose and the whole upright was gone. We tried to fix it, but it damaged the driveshaft and we had to drive the remaining stages in rear-wheel drive. It was also very hot in the car, too much actually, so there are a lot of things to which we must react quickly."
Ott Tänak (10th)
"If I had to summarise today's stages, I would say hot, rough, and very demanding. The second loop, particularly, was tough and it's quite hard in these cars. We had two separate punctures on consecutive stages in the afternoon, which cost us a lot of time. All things combined, it made for an incredibly challenging first day. Still, we made it to the end, so we'll see what we can do on the long Saturday."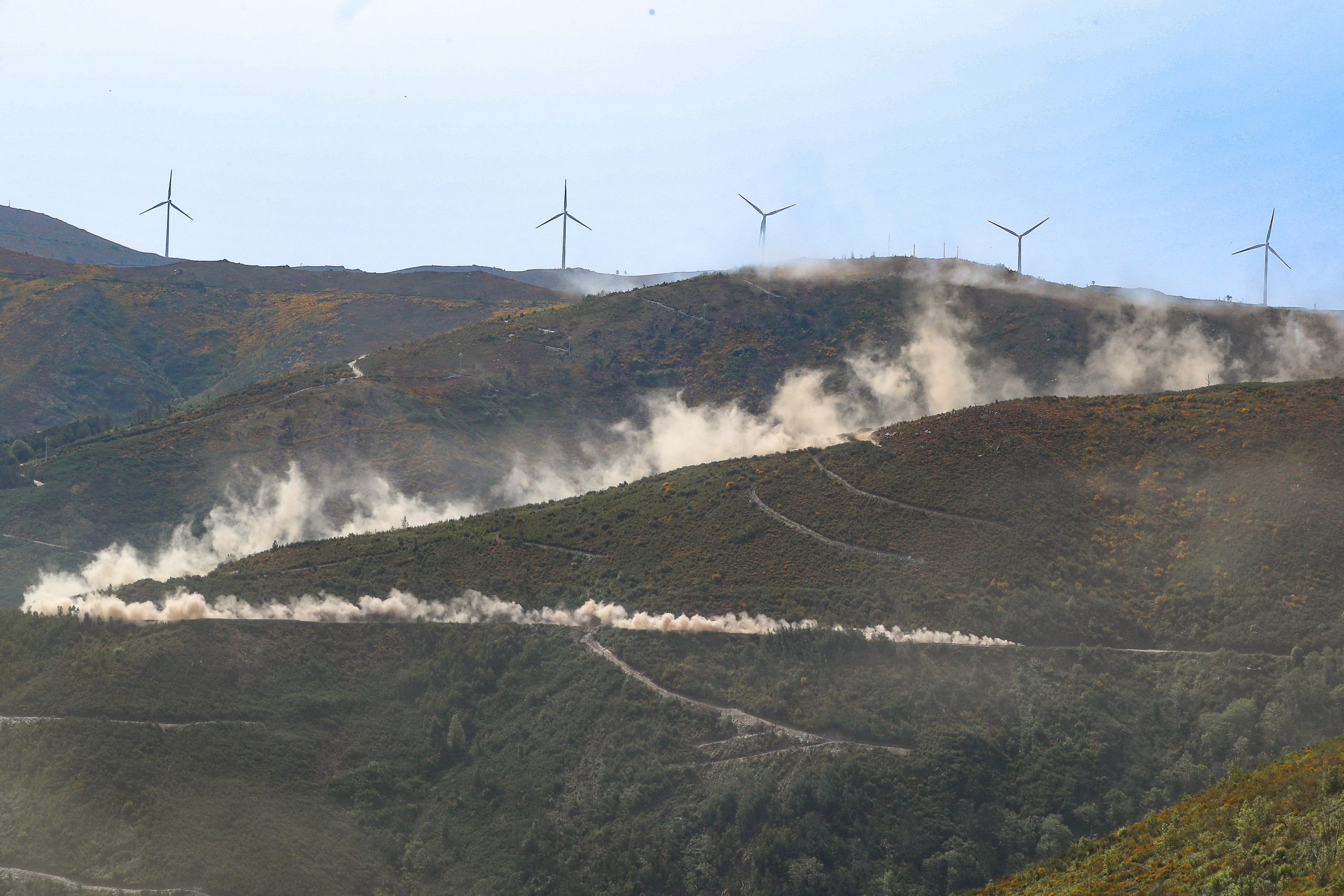 Tomorrow
Saturday sees 164km over seven stages, and with the leader running last on the road, will anyone be able to catch him? First stage is at 7:38 UK time. If you can't follow what happens, check out my Day Two report tomorrow evening.