The last day then of this autumnal Rally Finland, and with 45.7km over four stages. The startlist looked like this – Katsuta, Rovanperä, Fourmaux, Greensmith, Ogier, Lappi, Breen, Tänak, Evans.
Just a couple of things to update you on. Seb Ogier was handed a one-minute time penalty for not having his helmet strap done up properly on stage 12. Takamoto and Kalle both returned to the action for Toyota under the SuperRally rules. For the young Finn, he would be taking it easy, as he had a sore back after his off yesterday. Both drivers would be looking just to get experience of these two stages for the future.
Well, into SS16 Laukaa 1 – 11.75 km and it was a fastest time for Ott who was looking to put pressure on Elfyn. The Welshman was not having any of this though and although second fastest kept the time loss to just four tenths of a second. He didn't think it was a good stage though, saying he could have gone better in places, and that it was low grip. Craig started the stage well, but suffered a spin in a slow speed junction and did a 360 spin to get facing the right way.
The following stage, SS17 Ruuhimäki 1 – 11.12 km and the first run of what would be the power stage and Ott would be denied by Elfyn who extended his lead by a further 3.5 seconds to 12.2! Ott was second and Craig third. Kalle was taking it so easy out there that he was only eighteen quickest. The battle for the win in WRC2 continued between Teemu and Mads with the Finn pulling away a little from the Citroen driver.
What followed in SS18 Laukaa 2 – 11.75 km was amazing as Elfyn had clearly learnt from the earlier running of this stage, beating Ott's time by two tenths of a second and therefore extending his lead! Esapekka was third on the stage. Nikolay was fastest in the WRC2, but it was good news for Teemu who now had a lead of 14.1 over Mads.
The final stage then, SS19 Ruuhimäki 2 [Power Stage] – 11.12 km and as usual there was a change in the running order. Gryazin (WRC2), Linnamäe (WRC2), Prokop (WRC2), Huttunen (WRC2), Østberg (WRC2), Suninen (WRC2), Katsuta, Fourmaux, Greensmith, Ogier, Lappi, Breen, Tänak, Evans.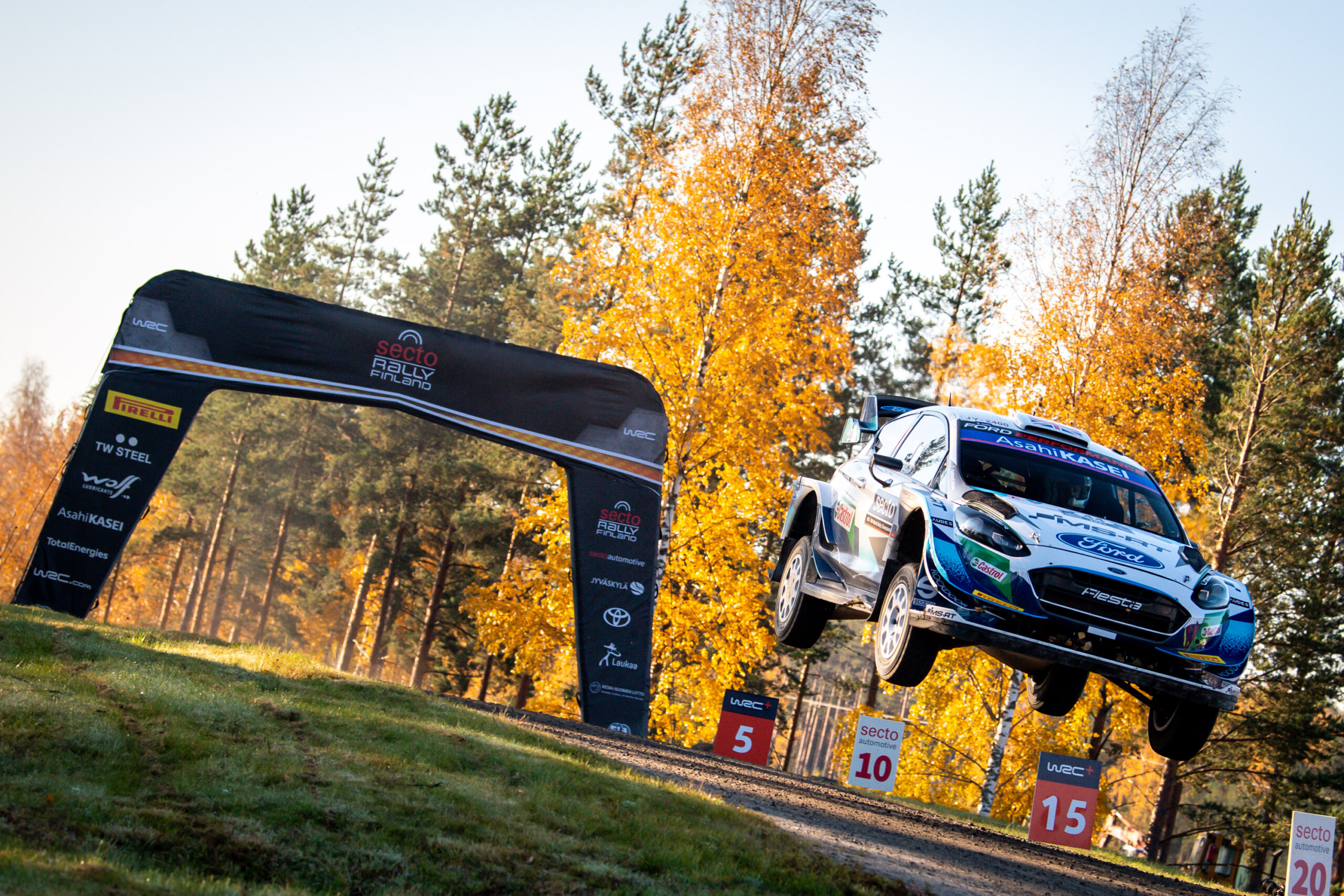 Takamoto set the early benchmark and the two M-Sport crews came through slower. What was a surprise was that Seb was slower as well! He was suffering a problem with his car and losing time! Esapekka came through and beat Takamoto's time, before Ott completed with the best time. What would Elfyn do? Would he go for the fastest time, or just settle for the points for victory? We got the first hint at the first split and the Welshman was up by seven tenths of a second. It increased to one second at the second split as well. Finally, when he crossed the line, he'd beaten Ott's time by 1.7 seconds! What a drive from Elfyn and Scott! Just amazing!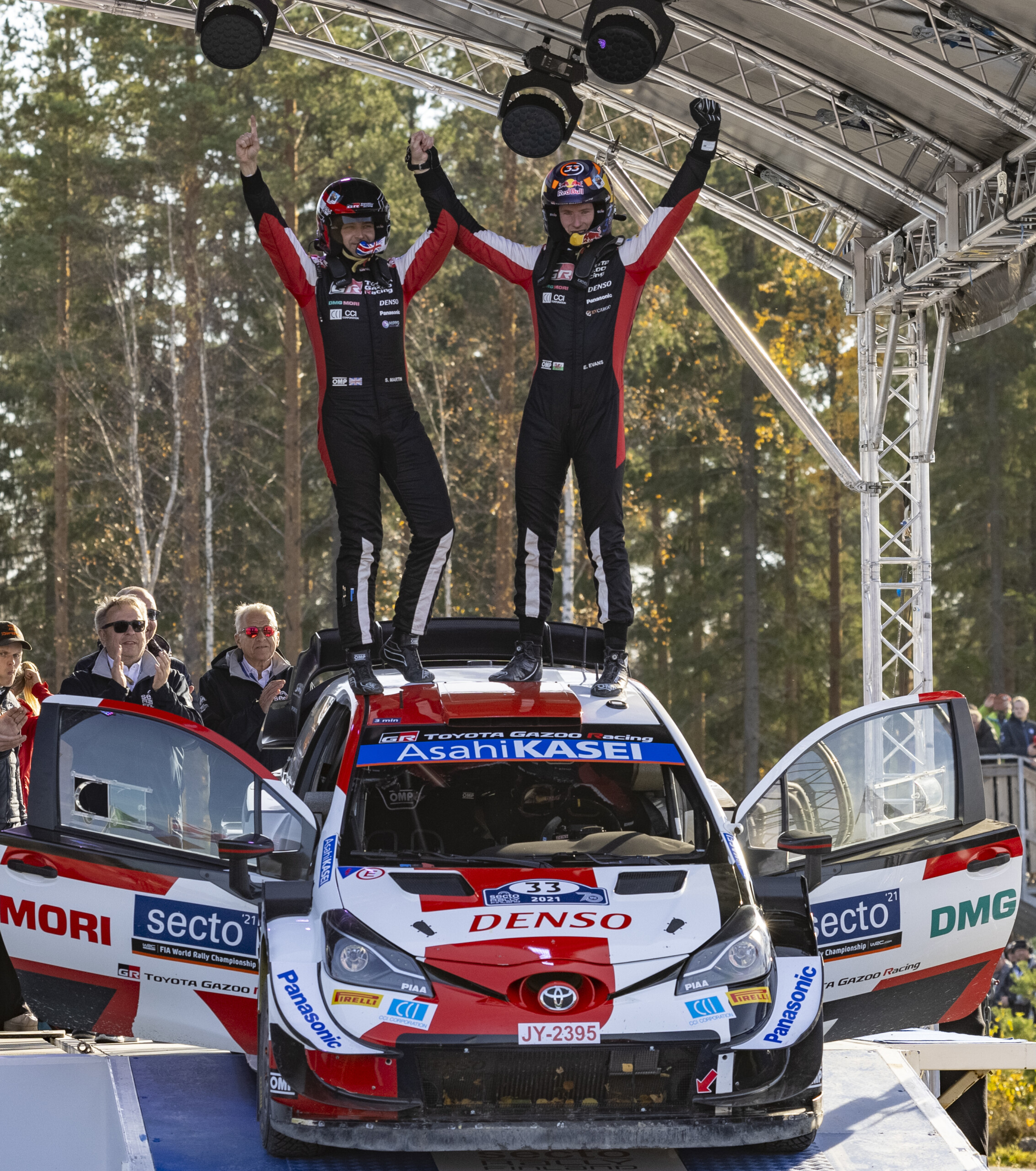 Final Overall Classification –Rally Finland
| | | | | |
| --- | --- | --- | --- | --- |
| 1 | E. Evans | S. Martin | Toyota Yaris WRC | 2:19:13.7 |
| 2 | O. Tänak | M. Järveoja | Hyundai i20 Coupe WRC | +14.1 |
| 3 | C. Breen | P. Nagle | Hyundai i20 Coupe WRC | +42.2 |
| 4 | E. Lappi | J. Ferm | Toyota Yaris WRC | +58.8 |
| 5 | S. Ogier | J. Ingrassia | Toyota Yaris WRC | +2:54.4 |
| 6 | G. Greensmith | C. Patterson | Ford Fiesta WRC | +5:02.3 |
| 7 | A. Fourmaux | A. Coria | Ford Fiesta WRC | +6:22.9 |
| 8 | T. Suninen | M. Markkula | Volkswagen Polo GTI | +9:52.1 |
| 9 | M. Østberg | T. Eriksen | Citroën C3 Rally2 | +10:07.8 |
| 10 | E. Lindholm | R. Hämäläinen | Škoda Fabia Evo | +10:52.8 |
Let's hear from the drivers!
Toyota Gazoo Racing WRT
Elfyn Evans (1st)
"It feels pretty special to win for the team on its home rally. After a difficult rally for me in Estonia on roads with similar characteristics, it feels really good and especially the way we managed to do it. We made some changes to the car in our test and I found great confidence with it pretty early on Friday. I'm really happy and thankful for the team for all their work, it's been a great weekend. I feel fortunate to have been able to drive this car on these roads, and to take the win is extra special. It's a positive result in terms of the championship. The drivers' title is still a long shot for me, but we'll keep giving our best on every event."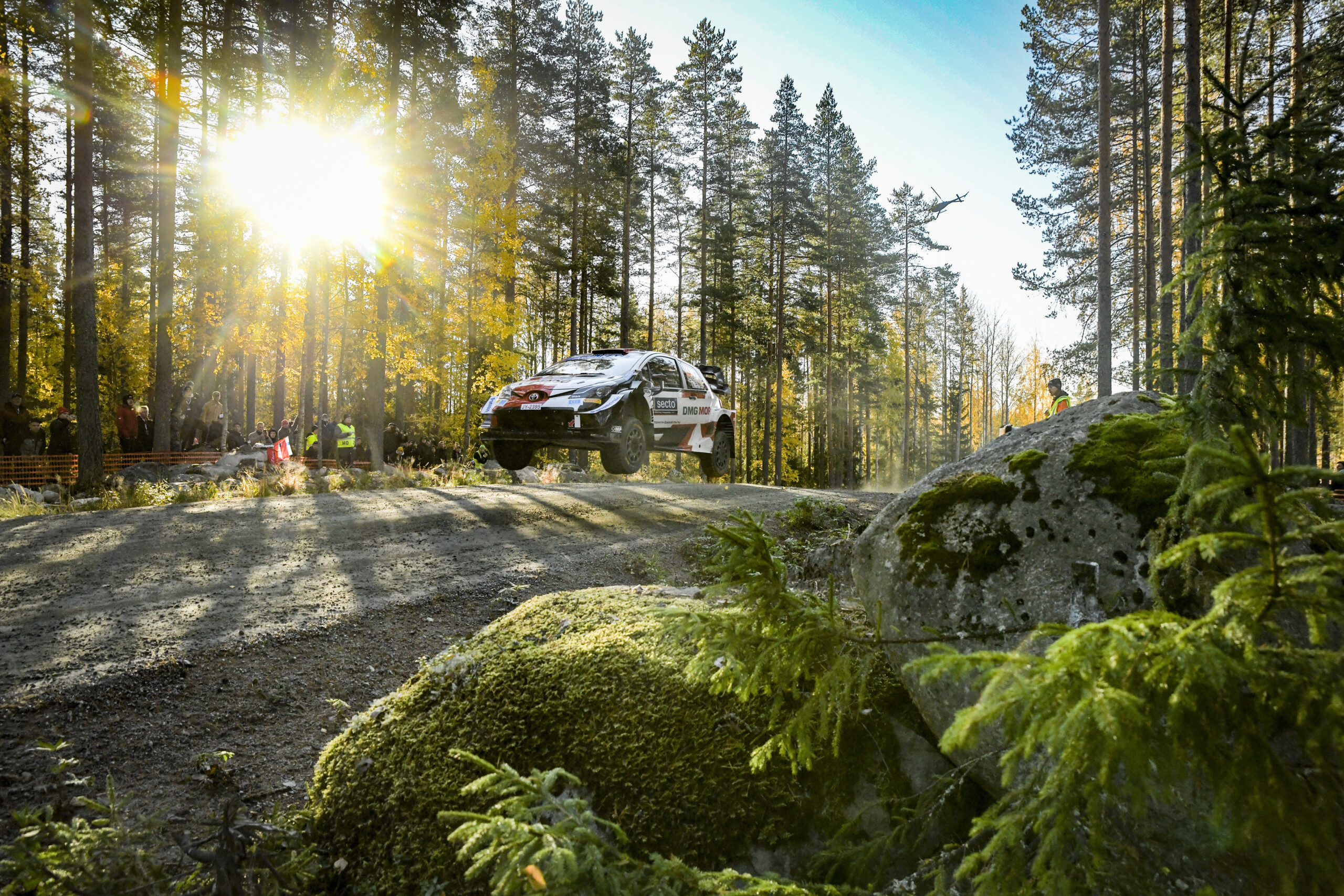 Sébastien Ogier (5th)
"Today for us was all about trying to get some more points in the Power Stage. Unfortunately, we had a problem just after the start of the stage, so we couldn't set a good time. This was not our rally but that's how it is sometimes. We have to move on. We are still in a good position in the championship and I am really looking forward to Spain and to asphalt. I know what I have to do there. Elfyn did very well this weekend, so well done to him."
Kalle Rovanperä (34th)
"For us we just had to drive through the stages today. The team did a great job fixing the car yesterday but the damage was quite big and the car wasn't a hundred percent, so we had to take care not to jump or stress the car too much. I also had pain in my back from yesterday. So we just drove through to be there to score some manufacturers' points if it was needed. Congratulations to Elfyn, he did an amazing job. For me this was a difficult weekend where we had been expecting a lot, but I'm looking forward to Spain."
Hyundai Motorsport
Ott Tänak (2nd)
"It has been great fun to be competing in Rally Finland, the first time for me on these roads with this car. Hyundai didn't have a great track record in this event in previous years, however this weekend we were fighting for stage wins and for victory for most of the event. We almost made it, but we know what we can achieve now. Coming back next year – admittedly with a new concept of car – we will try to go one better."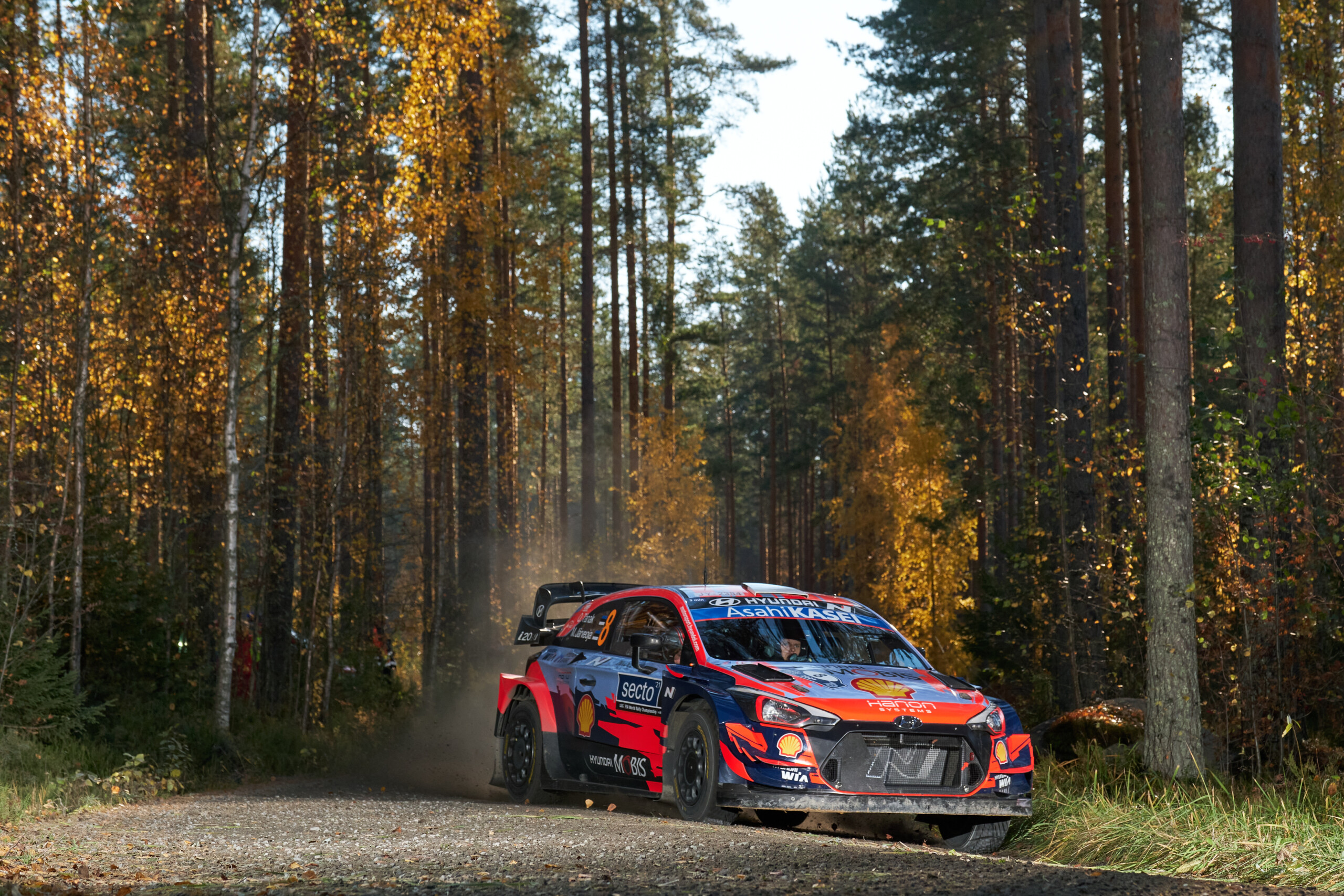 Craig Breen (3rd)
"It's a proud moment to finish on the podium in Rally Finland, and to have been part of the team's best result in this event. I can't honestly believe that we've taken three podiums in a row! It has been a really good weekend for us, and I have loved every single second. Of course, I'd have loved to have gone to that extra level, and to fight for the win. We're not quite there yet, but it's so much better than it has been."
2021 FIA World Rally Championship for Drivers' Standings
After Round Ten
| | | |
| --- | --- | --- |
| 1 | S. Ogier | 190 |
| 2 | E. Evans | 166 |
| 3 | T. Neuville | 130 |
| 4 | K. Rovanperä | 129 |
| 5 | O. Tänak | 128 |
| 6 | C. Breen | 76 |
| 7 | T. Katsuta | 68 |
| 8 | G. Greensmith | 52 |
| 9 | D. Sordo | 43 |
| 10 | A. Fourmaux | 42 |