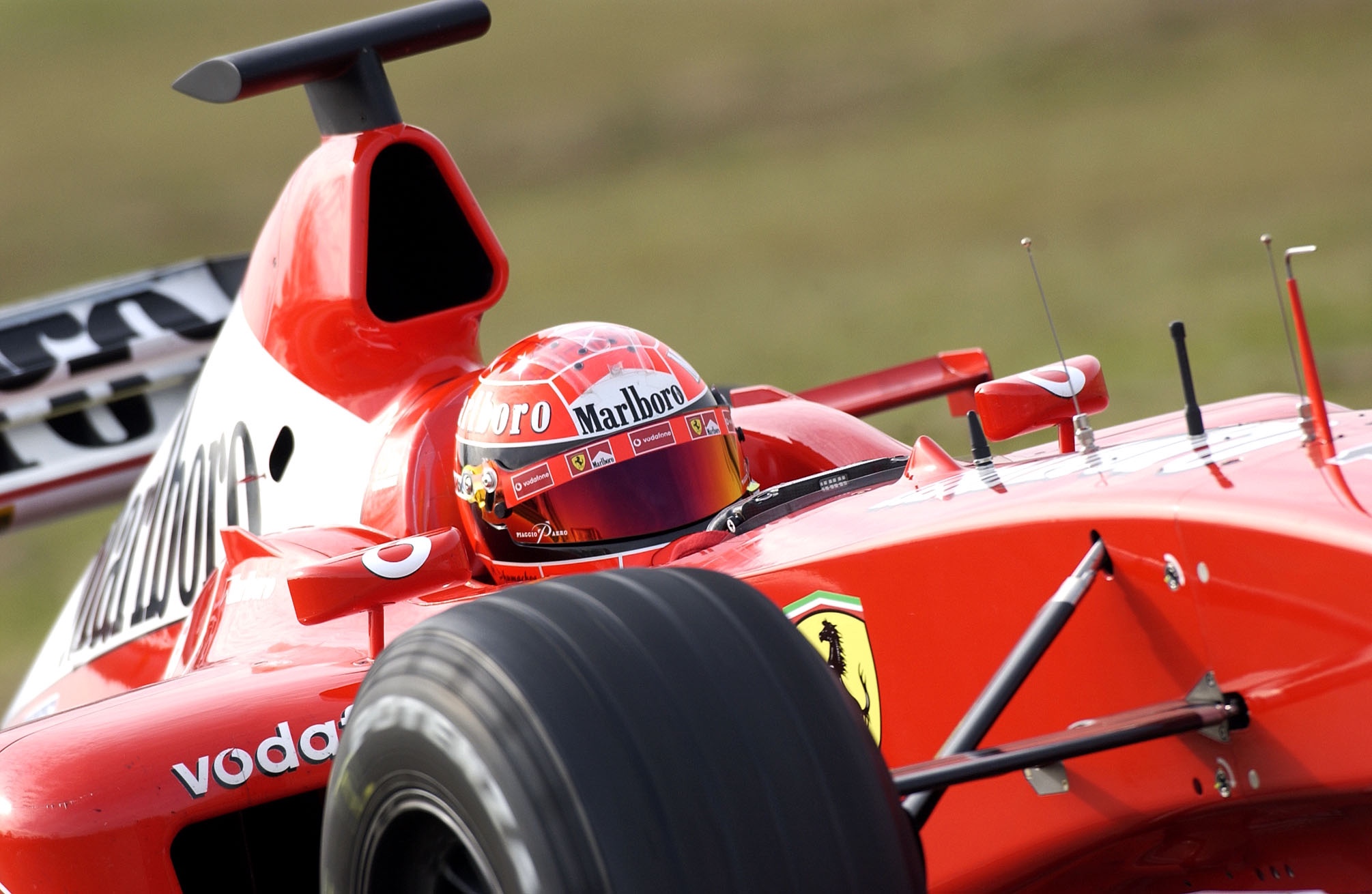 image courtesy of Scuderia Ferrari
I want to preface this review by simply stating that I am a big Michael Schumacher fan. My childhood coincided with the glory days of Michael and Ferrari, and so I had a lot of vested interest in this documentary. I'm glad to say I wasn't disappointed.
'Schumacher' is a celebration of Michael's career and an intimate look into his psyche, his will to win and his personal life from those who know him best. We get stories from his family, commentary on vital parts of his career from those in and around him at the time, and candid archive interviews from the man himself on topics such as life, death, and Formula One.
For those who watched during Michael's heyday will know he was a ruthless competitor whose hard work, determination and desire to be the best made him come across as somewhat robotic at times. But this documentary humanizes him in a way that those not close to the superstar maybe wouldn't have noticed.
There's a section devoted to how he would stay late working on the car and really making an effort to talk to each and every mechanic, as well as ensuring everyone in the team was appreciated, even the cook.
Though perhaps one of the most pertinent parts of the two-hour doc is following the tragic 1994 San Marino Grand Prix, in which F1 legend Ayrton Senna passed away following a high speed accident. Michael spoke on how his analysis of a race circuit changed. He was driving around Silverstone thinking about how he could die at every corner. Michael rarely expressed fear during his career, and this shows he is in fact human.
Schumacher was no stranger to controversy though, and this movie doesn't shy away from that. It shows the infamous incidents at Adelaide in 1994 and Jerez in 1997. Two title finales which involved collisions with Williams drivers. One working in Michael's favour, and one not. While the footage was shown, you are given insight from Ferrari's head honchos at the time; Jean Todt and Ross Brawn. Brawn even admitted that Michael could overstep the line sometimes in the pursuit of victory, and to have that insight from someone so vital in Michael's success is truly fascinating.
The highlight of the documentary is without doubt the bittersweet ending, the ending focuses on his family, who are the real stars of the piece, his wife Corinna, daughter Gina, and son Mick. It shows beautiful footage of family holidays , having fun together as a family. Days which have sadly long gone since Michael's tragic skiing accident in 2013. Since which Michael hasn't been seen and news of his condition has been minute.
A line which as stuck with me is from Michael himself about how he started to regret his Formula One comeback in 2010, and how he should now be spending time with his family. Time which sadly, he didn't really get to enjoy for obvious reasons.
But it's his son's words which cut the deepest with so many. He speaks of his regret that they can't 'speak the language of motorsport' together, and that he would 'give anything to be able to do that.' Mick is now forging his own path in Formula One competing for the Haas team this season, and you just have to believe Michael is watching somewhere and is immensely proud of his son.
His family and management have come under scrutiny for the lack of information given about Michael's current state. Unfortunately, this documentary won't give you much more of an idea, but it's clear to see why things have been sparse in the way of updates. Throughout his career he was shy, reserved, and liked to keep his family matters out of the limelight. He was reluctant to talk to press and this film illustrates that at various points.
It's clear to see and understand why the family haven't given us any information. Corinna says it best herself: 'Michael protected us, and now we must protect Michael.'
Naturally this film is going to be compared to the also-excellent documentary on Ayrton Senna, someone Michael idolised. There are some parallels between the two, both giants of the sport, both incredibly quick drivers, but sadly, both of their legacies are shrouded in tragedy. Neither are present to tell their own stories.
The best sports documentary I've seen is The Last Dance, a look at basketball behemoth Michael Jordan and his dominance with the Chicago Bulls. In this Jordan is there to give hindsight into his actions and look back on his own career. Sadly, Senna nor Schumacher have been able to do that. While that doesn't detract from 'Schumacher', it makes you upset and leaves you feeling empty that the great man isn't who he once was.
I'm proud to admit I wept at the ending; this man resonated with me as a kid sat in front of the TV watching this amazing sport, his posters on my wall. He was a big part of my childhood and listening to glowing tributes from those who knew him best and even those who fought him hardest (Mika Hakkinen & Damon Hill for example), really leaves a catch in your throat and a tear in your eye.
Is this film better than Senna? In my opinion, yes. Even for people who do not enjoy Formula One, it is a must watch. For those who do, it's a tear-jerking, bittersweet, rollercoaster of emotions and a celebration to Der regenmeister.
Keep Fighting Michael – wir sind alle bei dir.