There are talented racers in Moto GP and then there are those who seem to be born to race. Ones that stand out from the crowd. Marc Marquez is one of those riders. With his natural ability, his intelligence, understanding of racing and his wonderful family support behind him, culminate to an unstoppable force.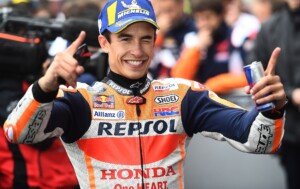 Born February 1993, in Cerevera, Spain. Marquez has always gravitated towards a career in Motorcycle racing. Thriving from his family's love and encouragement, Marc has gone on to be a phenomenon in his own right. He has shown audiences worldwide that he has the passion, courage and correct character that all great champions need.
Starting off racing competitively in the Catalan and Spanish National Championships Marquez went on to race in the 125's. Only six races into his first season he scored his first podium. Learning how to use the bike to his full advantage, he carried on this momentum into his second season in 2009. Finishing in the top 10.
2010 became the first actual taste of Marquez's true talent. Winning the 125 championship, just 17 years and 263 days old. The second youngest 125 champion after Loris Capirossi, who was just 17 years and 165 days old.
Progressing into the Moto 2 class in 2011, Marquez only took one season to learn, conquering in 2012, becoming the new world champion.
Not wishing to carry on in Moto 2, Marquez then progressed again, this time to the Premier Class. Showing his determination to be a Moto GP champion, he won his first race on the Honda, in only the second race of the season in Texas, a new track for Moto GP. It was here that he also became the youngest ever pole setter, the youngest ever race winner of the top class at just 20 years and 62 days and he completed the full set with the fastest lap, a superb achievement.
He was soon breaking all the youngest ever records and setting new ones. In only his first year he managed the impossible – winning the entire championship, by only 4 points, over Jorge Lorenzo. The first time a rookie had won since 1978 (Kenny Roberts Snr). Becoming the youngest ever World Champion at 20 years and 266 days and the youngest rider to win back-to-back Grand Prix races in the Premier Class at Laguna Seca and Sachsenring.
Putting any doubters to rest, saying that he would only be a one-time champion, he won back-to-back seasons in 2014, securing victory with three races to spare. Setting new records for the most wins in a season as well as most pole positions in a year and beating Mick Doohan's record of twelve race wins in one season. The same year saw his younger brother Alex also win a title, in Moto 3.
Winning five races and retiring in six, Marquez found himself finishing third overall in 2015, having not been able to match the consistency of Yamaha team-mates Rossi and Lorenzo. Having three collisions on-track with Rossi, controversy about his "aggressive riding style" drew criticism, yet again, from his fellow riders, namely Rossi with whom he had battled numerous times for the championship. Some racing fans turned against Marquez, even booing him on the podium, but things soon settled down again when Rossi and Marquez embraced in parc ferme after the race which followed the tragic death of Moto 2 rider Luis Salom.
Despite not winning the 2015 title, Marquez was still putting himself firmly in the history books. Becoming the first rider to win six consecutive races at one track – Sachsenring – his most successful track.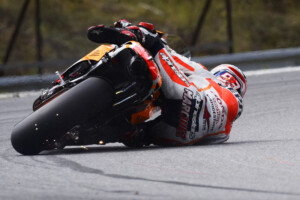 However, having this set back in 2015 spurred him on to win in 2016 and once again be crowned Moto GP World Champion, in Japan. The culmination of new Michelin tyres and new bike restriction rules saw audiences witness nine race winners during this season.
Struggling at the start of the 2017 championship, Honda decided they needed to find a suitable set-up for Marc's personal riding style. They soon found it and he went on to win the races at Germany, Czech Republic, Misano and Australia. Dovizioso, who was his closest rival that year, kept the championship alive up to the final round, but ultimately Marquez held onto his title.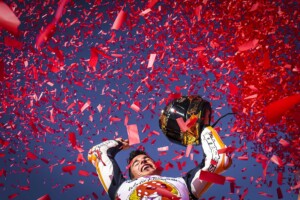 With history repeating itself the following year, Dovizioso seemed to be Marquez's main on-track rival in 2018, but several crashes ruled out his contention to be Moto GP Champion and Marquez once again won the title. This same year Dani Pedrosa, Marc's team mate decided to retire, he was replaced by fellow countryman Jorge Lorenzo.
Marquez won eleven races in 2019, sealing victory with an impressive four rounds left until the end of the season. This was now his sixth Premier Class Championship title, having only been in the top-class for the past seven years. He has become the youngest rider in the history of Moto GP to win seven World Championships and the youngest rider to have won five premier-class titles. At the end of 2019 Lorenzo also retired, leading the way for Marquez's younger brother Alex to partner up with him at Honda.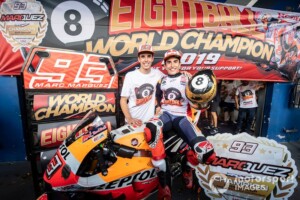 This team looked to be the perfect match, with the brothers being so close, they would share everything and hopefully bring both sides of the Honda garage together.
However, this was not to be. Having done so many impossible saves, Marc was unable to save his bike and had a very heavy crash in just the first race of the new season, in Qatar on lap 20 and broke a bone in his arm. This resulted in him having to miss the entire year. Having gone under numerous surgeries since the accident, he is determined to come back strong and fighting again in 2021.
Hopefully we will witness the same Marc Marquez we have grown to admire. With his unique racing style and positive attitude, there surely will be more records set and broken.