Red Bull's Max Verstappen set the pace as pre-season testing came to an end on day three, as Alpha Tauri's Yuki Tsunoda sprung a surprise to finish second.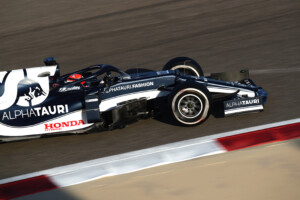 The second session on day three brought some more big names into play, with the likes of Lewis Hamilton, Fernando Alonso, Daniel Ricciardo and Max Verstappen joining the fray.
Early doors, Alpha Tauri's Yuki Tsunoda went for a spin through the chicane at turns six and seven, but left the incident completely undeterred, going on to set a an exceptional 91 laps.
Kimi Raikkonen, who completed 91 laps in the earlier session, briefly occupied top spot before being displaced once more by the scintillating Dutchman Verstappen. The Finn took his tally up to 166 for the day.
The second session saw seven drivers topple the Sergio Perez lap that led the opening three hours of the day. The slightly cooler conditions as night began to fall allowed for more ideal one-lap conditions.
The Ferrari of Carlos Sainz struggled with gearbox issues midway through the session, but recovered to put the Prancing horse into the top three, six tenths off the pace.
Aston Martin's Sebastian Vettel had to abandon a long run to allow the team to make some significant changes to the body of the car; he ended the day 17th fastest.
Mercedes' unexpected struggles persisted, as Lewis Hamilton contrived to finish the day fifth fastest overall, seemingly fighting to the tame a volatile back-end; it is an issue over which his team mate Valtteri Bottas has been outspoken during the three days of testing.
The session ended dramatically, with Carlos Sainz and Kimi Raikkonen reportedly making contact into turn 10 – an indication that nobody can wait for the real racing to get going in two weeks' time.
Final Classification:
Max Verstappen (RB) 1:28.960
Yuki Tsunoda (AT) +0.093
Carlos Sainz (FER) +0.651
Kimi Raikkonen (AR) +0.806
Lewis Hamilton (MER) +1.065
George Russell (WIL) +1.157
Daniel Ricciardo (McL) +1.184
Sergio Perez (RB) +1.227
Fernando Alonso (ALP) +1.358
Charles Leclerc (FER) +1.526
Lando Norris (McL) +1.701
Pierre Gasly (AT) +1.868
Esteban Ocon (ALP) +2.350
Car 9 (HAAS) +2.571
Mick Schumacher (HAAS) +3.093
Valtteri Bottas (MER) +3.446
Sebastian Vettel (AM) +6.081
Lance Stroll (AM) +7.140