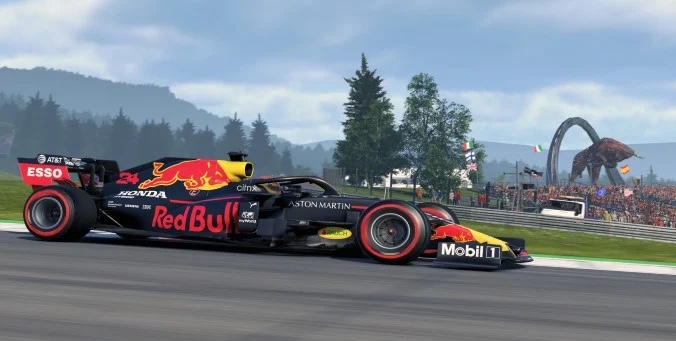 After a successful first run of virtual races during the extended off-season, Formula 1 has brought back the Virtual Grand Prix for a three-race mini championship to sustain us until lights go out in Bahrain on March 28th. The first event was held at the Red Bull Ring and featured a star-studded line-up.
Nine of the ten teams competed with their official Esports drivers from the F1 Esports Series taking to the track for a five-lap sprint race to determine the grid order for their feature race counterparts. Each team are competing for a share of a £100,000 prize pot, the better their results in the feature race, the more money they get to go toward a charity of their choice.
The line-up is as follows, with the feature race driver and then their sprint race counterpart in brackets:
Mercedes:
Stoffel Vandoorne (Jarno Opmeer)
Anthony Davidson (Dani Moreno)
Red Bull:
Alex Albon (Marcel Kiefer)
Jeffrey Herlings (Frederik Rasmussen)
McLaren:
Benjamin 'Tiametmarduk' Daly (James Baldwin)
Jimmy Broadbent (Josh Idowu)
Alpine:
Christian Lundgaard (Fabrizio Donoso)
Oscar Piastri (Nicholas Longuet)
Ferrari:
Marcus Armstrong (David Tonizza)
Arthur Leclerc (Brendon Leigh)
AlphaTauri:
Luca Salvadori (Joni Törmälä)
Vitantonio Liuzzi (Manuel Biancolilla)
Alfa Romeo:
Thibaut Courtois (Dani Bereznay)
Jack 'Pieface23' McDermott (Thijmen Schutte)
Haas:
Pietro Fittipaldi (Samuel Libeert)
Enzo Fittipaldi (Cedric Thomé)
Williams:
Alejandro 'Flowstreet' Pérez (Álvaro Carretón)
Nicholas Latifi (Alessio Di Capua)
Note: George Russell was meant to be driving for Williams alongside Latifi but due to unknown reasons, was forced to withdraw last minute. Also, Aston Martin elected to not take part most likely due to the F1 2020 game still housing their BWT-branded Racing Point livery.
Before the sprint race started, a one-lap qualifying determined the grid and it was David Tonizza who would start on pole looking to seal that slot for F2 driver Armstrong. The race got underway and Tonizza held off the advances of Mercedes' Dani Moreno and Red Bull's Marcel Kiefer.
Further back it was carnage as Williams' Álvaro Carretón was sent into a spin after he tapped Alfa Romeo's Dani Bereznay, and AlphaTauri's Manuel Biancolilla also got caught in an incident and both subsequently went to the back of the field. The very fast and rapid Red Bull Ring being only 2.7-miles long meant the race was over with quite quickly but it didn't stop there being battles.
2017 and 2018 F1 Esports champion Brendon Leigh who has just moved to Ferrari for this year, pulled off an incredible move on Marcel Kiefer on the last lap by going round the outside at turn four, and holding his line into turn five to guarantee Arthur Leclerc a third place start behind Davidson and Armstrong.
Now onto the 36 lap feature race. The race began with predictably some chaos, as Motocross champion Jeffrey Herlings either forgot to calibrate his brake pedal or just decided to not brake, and he collected a few drivers in the process. Meanwhile, the Ferrari academy drivers got away well but Davidson in the Merc seemed to be suffering from some technical issues as his car was all over the place.
But Jimmy Broadbent starred in the opening laps. Thanks to the efforts of Josh Idowu, he lined up fifth on the grid and opted to start on the mediums, and was up to third when he dispatched of the lag-strewn Davidson. As Armstrong and Leclerc established an early lead, it was Broadbent ahead of a group featuring the Fittipaldi brothers, Vandoorne and Courtois.
Up at the front, no team orders were holding back the Ferrari drivers. Arthur Leclerc put a move on Armstrong for the lead, and then Enzo Fittipaldi passed Broadbent to take third which would prove pivotal later on.
Rather inevitably, drivers would begin to rack up penalties due to track extending, with the only exception being Formula 3 champion Oscar Piastri. It got so bad, former F1 driver Vitantonio Liuzzi even got disqualified for racking up so many penalties. This would also play a part in deciding the eventual winner.
Leclerc was the first to bite the penalty cherry of the leading group heading onto lap 11, which put Armstrong in a good position to take advantage. A few laps later, Leclerc was in to the pits and held off Enzo Fittipaldi who had stopped a few laps prior to Leclerc, but when Armstrong pitted to cover off his team mate, he didn't slow down in time for the pit entry line and got a five second penalty. To add insult to injury, he not only rejoined behind his team mate but also Enzo Fittipaldi.
Stoffel Vandoorne was heading the field having started on the medium tyres and would come to pit on lap 22. This began a charge from Vandoorne propelling him past Pietro Fittipaldi and Marcus Armstrong.
Heading into the last ten laps, Enzo Fittipaldi tailed Arthur Leclerc and it was hotting up between them. The pin was pulled on lap 28 as Enzo tapped Leclerc in the rear heading into turn three and sent the Ferrari driver wide, and he took quick advantage. Three laps later, Leclerc repasses him at the same corner.
He would later rack up another track extension penalty which meant up until that point when Leclerc and Enzo Fittipaldi both had the single three-second penalty, the Ferrari driver now had two of them. This was immediately followed by a wheel banging tussle from the start of the lap all the way up to turn four, and they continued to battle all the way up until Leclerc attempted an extremely over-optimistic move into turn three on the last lap which sent him wide.
That left the Haas driver to take victory, Leclerc followed him home but due to penalties, lost second-place to Stoffel Vandoorne who had caught up to the pair of them incredibly and had the race gone on for an extra lap, he could very well have won with the pace he had.
Alex Albon was classified fourth ahead of Pietro Fittipaldi, Marcus Armstrong, Oscar Piastri, Anthony Davidson, Luca Salvadori and Thibaut Courtois who also scored an extra point for fastest lap.
An immensely entertaining race and there's more where that came from! The Virtual Grand Prix racing will return this Sunday at Silverstone, and then the finale will be Interlagos the Sunday afterwards. To watch, check F1's official social media channels (Twitch, YouTube, Facebook) as well as your appropriate F1 broadcast channels in your country at 6pm UK time to watch the rest of this virtual madness.