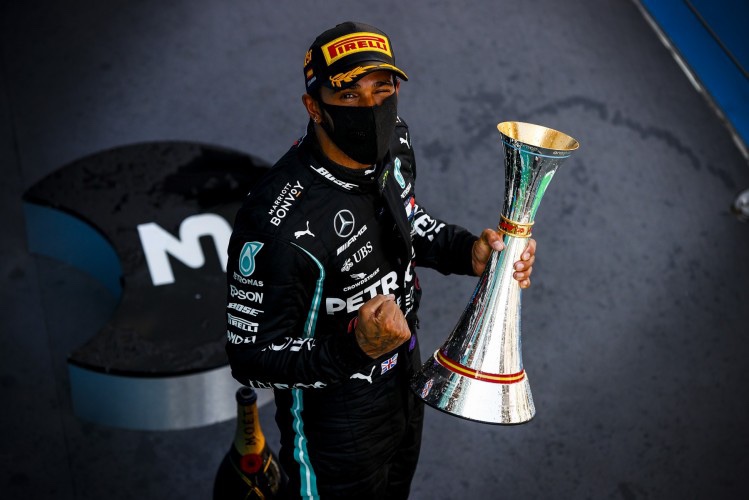 📸 Pirelli Motorsports
Lewis Hamilton absolutely demolished the competition on Sunday afternoon in Spain to take his 88th grand prix victory in what was a very straightforward race for him. The Englishman got off to a brilliant start off the line and never looked back after and now has the most f1 podiums to his name at 156. His teammate Bottas however would be ruing his fortunes after failing to make a decent start which left him on a recovery mode for the rest of the race. The Finnish driver managed to make his way on to the podium which happens to be the 50th of his career.
Max Verstappen had yet another amazing race weekend considering this is the best result that Redbull could have hoped for given the pace of the Mercedes but the Dutchman got off to a good start jumping the Mercedes of Bottas into 2nd place and then managed to hold on to it to the end of the race. His teammate Albon finished 8th after stopping twice and the Thai driver would not be overly pleased with his raceday considering he started 6th but unfortunately found himself in the thick of the midfield battle.
Racing Point managed to convert their good qualifying result into the race result as well after Lance Stroll finished 4th after he got off to a good start and drove a good race from that point. Sergio Perez put in a great show after returning from illness and finished 5th behind his teammate despite finishing 4th on the track. The Mexican driver was penalized by the stewards for ignoring blue flags which meant that 5 seconds were added to his time.
Ferrari's mixed fortunes continued long into this raceday as well after an electrical failure saw Leclerc retire around lap 40 after the Monegasque driver was just beginning to put on a charge and head for a points finish. A disgruntled Vettel on the radio showed up with a few laps to go after the German driver was asked to push his dying soft tyres to the end of the race. He managed to get on with it however and finished 7th by making the one stop strategy work, which would be a welcome result after a dismal last couple of weekends at Silverstone.
Carlos Sainz finally had an incident free race at his home grandprix after the Spanish driver finished a decent 6th following an aggressive McLaren strategy which saw him put on soft tyres twice followed by mediums to the end. His teammate Norris however could not make the most of the strategy and got caught in traffic and ended up at 10th.
Pierre Gasly continued his impressive form this season after he finished 9th today. The French driver had to fend off early pressure from the Ferrari of Leclerc during his first stint which he did well and managed to achieve a points finish. His teammate Kvyat finished exactly where he started at 12th and also picked up the same 5-second penalty as the likes of Perez for ignoring blue flags.
Renault would like to quickly put this weekend past them after Ricciardo and Ocon managed to finish 11th and 13th out of points despite starting off aggressively. The team would be looking to get things into order quickly with them losing ground in the constructors championship to the other midfield teams. Kimi Raikkonen had a great weekend after the Finnish driver managed P14 where he drove a pretty quiet race apart from an early battle with Ocon.
Both the Haas drivers finished their races with Magnussen at 15th and Grosjean at 19th with the latter having to make quite a save at turn 4 after he lost the back end and risked ending up in gravel. He somehow managed to keep the car on track and finish the race. Both the Williams finished with Russell at 17th and Latifi at 18th after a quiet showing for both the drivers. Giovinazzi of Alfa Romeo just finished above both the Williams at 16th. The Italian would be somewhat happy with that after starting dead last on the grid.
Hamilton is now perfectly poised to take his 7th world driver's championship after extending his lead over Max Verstappen to 37 points by the end of this race with his teammate Valtteri Bottas sitting a further 6 points behind the Dutch driver. The midfield battle seems to be heating up as we progress further into the season with Racing Point at 63 points, followed by McLaren at 62 and Ferrari at 61.