Lewis Hamilton put his Mercedes on pole by 0.059 seconds on a hot Saturday afternoon in Barcelona. Valtteri Bottas seemed to be on a mega lap during his second Q3 run but fell short in the final sector and has to be content with second. This pole means Hamilton now has 92 pole positions and 150 front row starts in Formula 1, and the Englishman will be looking to sign it off with a win tomorrow.
Last weekend's race winner Max Verstappen put his Red Bull in third and will be hoping for a repeat of the last race. However the Dutchman does not have the luxury of a different strategy this time around with both him and the Mercedes cars set to start on the soft tyres. His teammate Albon will have to be content with starting on the 3rd row after he managed to put a lap together to be placed 6th on the grid.
Racing Point will be happy with the qualifying this afternoon as Sergio Perez is set to start on the second row alongside Verstappen in fourth after missing out the last two races and Lance Stroll starting at fifth alongside Albon on the third row. The team would have definitely liked to be closer to Verstappen but will have to be content with fourth and fifth despite showing promising pace throughout the weekend.
Ferrari's dismal year looks set to continue after Leclerc only managed 9th place after some complaints with the car in the second run of Q3 and with Sebastian Vettel crashing out in Q2 yet again but this time by just two milliseconds. The Italian team will only be looking for a points finish tomorrow with anything more than that looking like a distant possibility.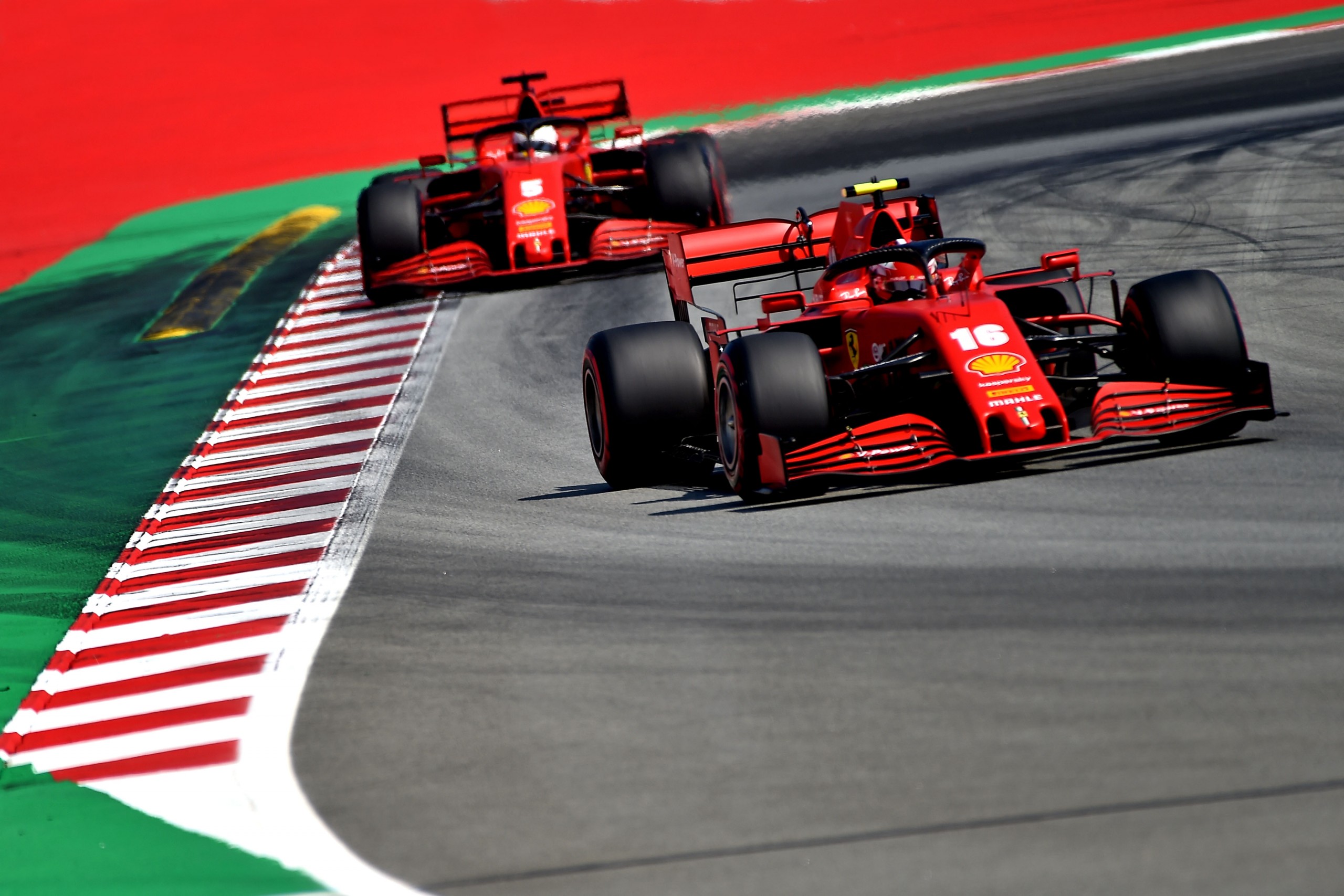 McLaren look set to have a better weekend than last time around as they have locked out the fourth row with Carlos Sainz in 7th and Lando Norris in 8th. The team will be aiming for a double points finish tomorrow and with this being Sainz's home Grand Prix, the Spaniard will be hoping for a change in fortunes this time around.
Another team that will be happy with qualifying is Alpha Tauri with Gasly managing 10th after a decent qualifying and Danil Kvyat managing 12th place. Gasly will definitely be eyeing another strong points finish given the French driver has been having a much better year compared to the last one.
Renault would be looking to salvage something out of Sunday after a poor showing today with Ricciardo in 13th and Ocon in 15th as the French team just seemed to have been lost for pace. Ocon would hope his situation changes tomorrow after the Frenchman crashed into the wall during FP3 after a poor judgement call followed by a poor qualifying.
A surprise name in Q2 today was Kimi Raikkonen who finally managed to end his streak of exiting in Q1 this season. His teammate Giovinazzi is set to start 20th on the grid after a poor showing in Q1 and damaging his floor during the first run in Q1.
Both Haas cars are set to line up with Magnussen in 16th and Grosjean in 17th with both the drivers admitting they could've put together the better laps. George Russell might be bemoaning about him not being to able to score points on social media but his qualifying game seemed on point as he managed to keep his perfect record over teammate Latifi with both the Williams cars set to start in 18th and 19th respectively.
With Mercedes locking out the front row yet again at the Spanish GP, Hamilton is in with a great chance to edge closer to Schumacher's win record unless his teammate takes the fight to him on Sunday. Max Verstappen might also be in with a chance if Redbull have a strategy masterstroke up their sleeves yet again. Racing Point would not rule themselves out from an unlikely podium but they will have to work for it.
*The Grid:
Hamilton                     Bottas
Verstappen               Perez
Stroll                             Albon
Sainz                             Norris
Leclerc                        Gasly
Vettel                           Kvyat
Ricciardo                    Raikkonen
Ocon                             Magnussen
Grosjean                     Russell
Latifi                             Giovinazzi
*Subject to change after investigation of a turn 2 incident between Kvyat and Magnussen