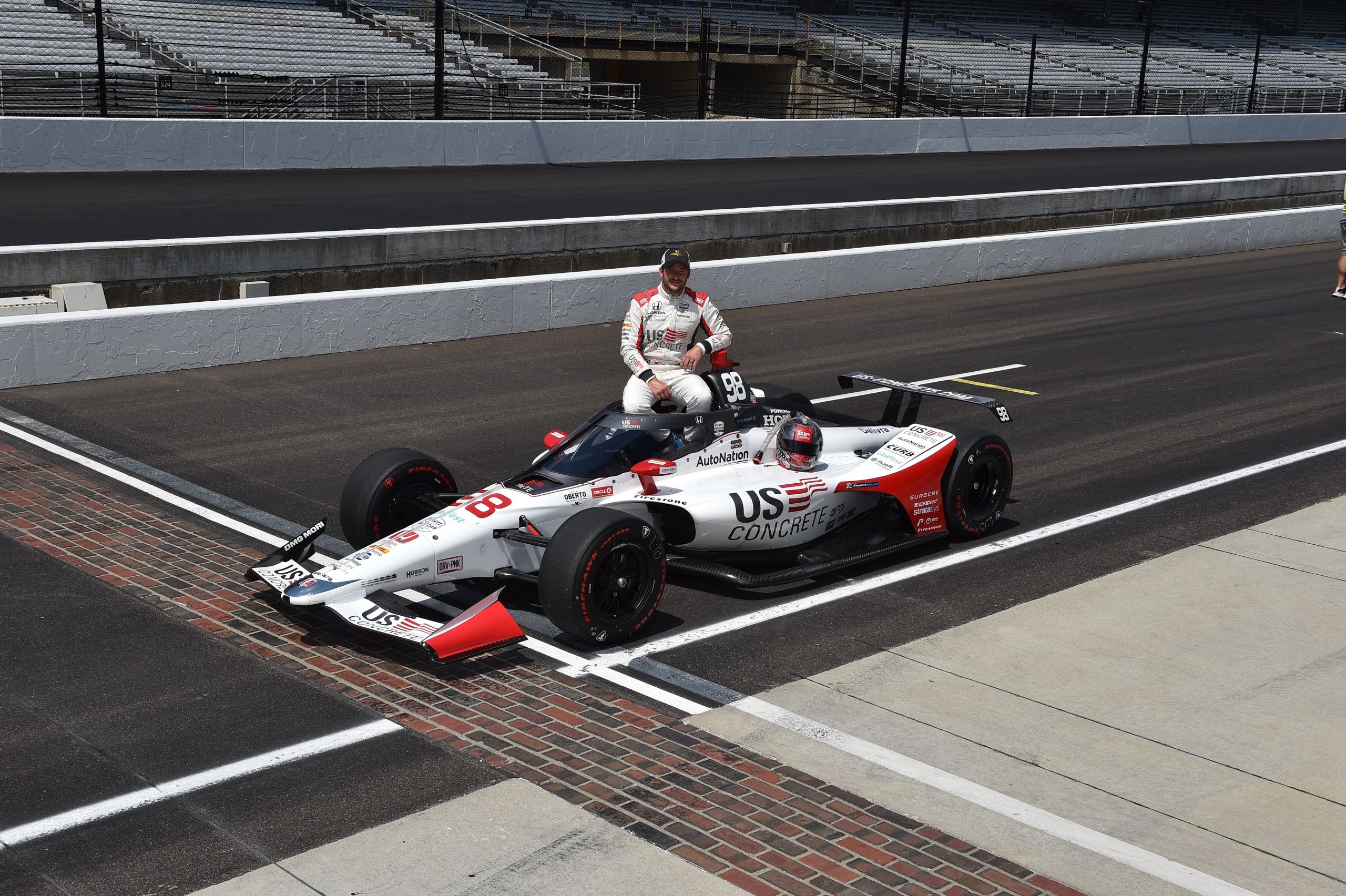 image courtesy of IndyCar
Marco Andretti will start on pole position for the 2020 Indianapolis 500.
Marco, the grandson of Mario Andretti beat five-time world champion Scott Dixon by less than two hundredths miles per hour. Miraculously it will be the first time since the 1987 Indianapolis 500, thirty-three years ago that an Andretti has sealed pole position at 'The Greatest Spectacle in the World'.
He was also able to set the fastest time in Saturday's qualifying session, an utterly dominant weekend for the American. His father, Michael had famously never started on pole position or won the Indy 500.
"Actually, I thought of him because today when I walked out of the motorhome it was pretty windy," Marco iterated of his grandfather. Sunday's qualifying session was held in a crosswind. "He has a famous quote 'within us. He doesn't say it to many people, but he says, 'the wind will scare you but it will never crash you.' So today, he was right."
Marco's highest finish at the 500 was back in 2006 where he came second.
Starting alongside him will be championship leader Scott Dixon in the Chip Ganassi and Takuma Sato in the Rahal Letterman Lanigan Racing. All three will complete the first row on the grid.
Ed Carpenter Racing rookie Rinus Veekay qualified in fourth; he was the only Chevrolet powered car in the Fast Nine. His first season in IndyCar has been mired with bad luck with flashes of brilliance for the young Dutchman. He has often been overshadowed by the likes of Palou and Askew. But if you look back at young Rinus's record in European single seater racing, this may not come as a surprise to many.
Completing the second row on the grid in fifth and sixth place are Andretti Autosport teammates Ryan Hunter-Reay and James Hinchcliffe. This will be Hinchcliffe's highest Indy 500 start since his famous pole position in 2016.
Another standout performance was the Dale Coyne Racing rookie Alex Palou who qualified in seventh place. The young Spaniard has enjoyed a magnificent rookie season so far and will be looking to compete for the Rookie of the Year title.
Completing the third row are Rahal Letterman Lanigan Racing's Graham Rahal in eight and Alexander Rossi in ninth who will be disappointed to be outqualified by his Andretti Autosport teammates.
Indy 500 Provisional Starting Grid:
Row 1: Marco Andretti (231.068 mph); Scott Dixon (231.051 mph); Takuma Sato (230.725 mph)
Row 2: Rinus Veekay (230.704 mph); Ryan Hunter-Reay (230.648 mph); James Hinchcliffe (229.870 mph)
Row 3: Alex Palou (229.676 mph); Graham Rahal (229.380 mph); Alexander Rossi (229.234 mph)
Row 4: Colton Herta (230.775 mph); Marcus Ericsson (230.566 mph); Spencer Pigot (230.539 mph)
Row 5: Josef Newgarden (230.296 mph); Felix Rosenqvist (230.254 mph); Pato O'Ward (230.213 mph)
Row 6: Ed Carpenter (230.211 mph); Zach Veach (229.961 mph); Conor Daly (229.955 mph)
Row 7: Santino Ferrucci (229.924 mph); Jack Harvey (229.861 mph); Oliver Askew (229.76 mph)
Row 8: Will Power (229.701 mph); Tony Kanaan (229.154 mph); Dalton Kellett (228.88 mph)
Row 9: Simon Pagenaud (228.836 mph); Alonso Fernando (228.768 mph); James Davison (228.747 mph)
Row 10: Helio Castroneves (228.373 mph); Charlie Kimball (227.758 mph); Max Chilton (227.303 mph)
Row 11: Sage Karam (227.099 mph); JR Hildebrand (226.341 mph); Ben Hanley (222.917 mph)
The Indy 500 will be live on Sky Sports F1 on Sunday 23rd August.