This weekend was supposed to be the first round of the FIA Formula 3 championship, supporting the F1 and F2 rounds at the Bahrain Grand Prix. However, due to obvious health concerns, there has been a delay to proceedings.
We here at The Pit Crew Online wish everyone well during this time, and we respect that the health of everyone should be the foremost concern above anything else, including motorsport.
Anyway, today I want to talk about a certain driver who is going to be participating in the F3 championship this year, which was previously known as GP3.
The FIA's rebranding of GP3 and the subsequent disagreements among the motorsport community as to what is rightfully an F3 championship have all been major talking points. This is especially so because it led to the demise of the beloved former F3 European Championship that raced alongside DTM, from where the likes of Max Verstappen, Charles Leclerc and Lando Norris all came from.
Irrespective of how you feel about F3, I'm of the opinion that having the F3 name alongside F2 and F1 during Grand Prix weekends is a great thing, and I think we can all agree that the 3.4-litre naturally aspirated V6 is a sound to behold. Not only that, but the grid quality this year is extremely high!
The dominant Prema team have signed Oscar Piastri, Frederik Vesti and Logan Sargeant, the first two being the reigning champions in Formula Renault and the European F3 Regional series, whilst the latter took an amazing podium finish at Macau last year. Beyond Prema, we have the team that nobody expected to hold a slight candle to them, Hitech Grand Prix.
After Red Bull junior Jüri Vips gave the Prema trio of Robert Shwartzman, Marcus Armstrong and Jehan Daruvala some competition whilst racing for Hitech last year in F3, Red Bull seemed to conclude that Hitech was the best place to have two of their juniors. They've moved Liam Lawson over from MP, and promoted Norway's Dennis Hauger from F4. They'll be joined by Renault junior Max Fewtrell, who raced last year for ART Grand Prix.
Speaking of ART, they are housing another exciting talent jumping up from F4: 16-year old Théo Pourchaire, who denied Hauger the chance at being the first driver to win both the German and Italian F4 championships in the same year. Then there's Enaam Ahmed, David Schumacher, Sophia Flörsch, Enzo Fittipaldi and Jack Doohan, so there are many drivers to get excited about for this season of F3.
However, none of them may generate more headlines than Igor Fraga.
Fraga was born in Japan back in 1998, to his Brazilian father and his Brazilian-Japanese mother. By the age of three he was already driving karts and did his first championship race aged five. It didn't take him long to begin racking up championships – he won seven karting championships in Japan and also the Asian Karting Open Championship in 2008, but it was after returning to his native Brazil when it became clear that things would not be plain sailing.
When he was 15, he began competing in entry level formulae. He competed part time in Formula 1600, in which he took a victory, pole and fastest lap, as well as two races in Formula Vee which netted two podium finishes.
That got the attention of Prop Car Racing, who entered him into the Brazilian F3 championship's secondary class, in which he won four out of 16 races and finished third in the standings.
Fraga then attempted to move to the primary class of F3 Brazil for the following season, but due to factors outside of their control and despite Fraga's best efforts – which heralded a podium finish – they couldn't continue in the category and pulled out after just four races.
After sitting out the rest of 2016, Fraga returned to Brazilian F3's secondary class for 2017 and it was well worth the wait. Fraga took 10 wins, 13 podiums and seven poles in 16 races on his way to the secondary class championship. Prop Car knew Fraga had potential, so they decided to put in the effort to ensure Fraga could compete in the Mexican-based NACAM F4 Championship between September 2017 and June 2018.
Being outside his native Brazil, Fraga did all that he could to learn the tracks, including the Mexican Grand Prix circuit. How did he go about doing that? By buying the most recent F1 game installment by Codemasters of course!
It was around this time that I first heard about him, as he entered the inaugural F1 Esports Series and qualified for the semi-finals in London, which took place in early October.
Fraga was up against now two-time F1 Esports champion Brendon Leigh as well as a lot of other highly-rated racers. He finished fourth in the first race at Silverstone and second at Interlagos, and as a result he had qualified for the final, which took place alongside the Abu Dhabi Grand Prix.
By participating in this, Fraga missed one of the NACAM F4 rounds – would it be worth it? Unfortunately, he did not do too brilliantly. He finished 18th out of 20, failing to score in the first two races and then only picking up points in the final race when the points were changed to allow every classified driver to score.
Back in the world of physical racing, Fraga completed his NACAM F4 campaign as runner-up, over 100 points behind champion Moisés de la Vara. Fraga, however, was already concentrating on primary 2018 campaign.
He attracted the attention of former F1 and IndyCar driver Roberto Moreno, who invited Fraga to stay at his place in America and personally invested his own money to help him get a drive in the USF2000 Championship, the first step on the Road To Indy program. Racing for the Exclusive Autosport team, Fraga took home three podiums on his way to fourth in the final standings. His big moment, however, was yet to come.
He once again saw an Esports opportunity when he entered into the inaugural FIA-certified Gran Turismo Championships Americas regional final. He got a top two finish in his split, guaranteeing him a place in the World Final before going on to become the Americas regional champion with a crushing dominance in the last race on the Interlagos circuit. This set him up as one of the favourites heading into the World Final in Monaco.
He won his split in the semi-finals and qualified for the Final's four races. He won the first race, held in road-going sports cars, and was leading the second race at Interlagos in GT3-style cars when a late charge by a rival forced Fraga into a mistake on the last lap. He tumbled down from first to fourth at the line.
Race three was even more of a nightmare. Held at Monza in Le Mans prototype cars, Fraga tumbled from fourth to tenth which meant he was to start tenth for the final race, which was worth double the points of previous races. It was not going to be easy.
The last race's car of choice was the fictional Red Bull X2014, and they would do battle on the Circuit de la Sarthe. I remember watching this race live and being convinced that Fraga would find a way to win, and what happened next just beggars belief.
In the Nations Cup races, drivers have to use every compound of dry-weather tyre. Fraga had tactically put the slowest tyre type on first and due to the high-speed nature of the circuit, he remained in the slipstream of the cars ahead and was lapping as quick if not quicker than the frontrunners on the best tyres. By the time they all made their stops and used every type of tyre, Fraga was now on the best compound and amongst the leaders, who were now on the worst compound.
He got up to second and already had enough points to seal the world championship, but that didn't deter him. He went for the lead and he won the race and with it, became FIA Gran Turismo Nations Cup world champion. Fraga was on top of the world, and he wasn't done yet.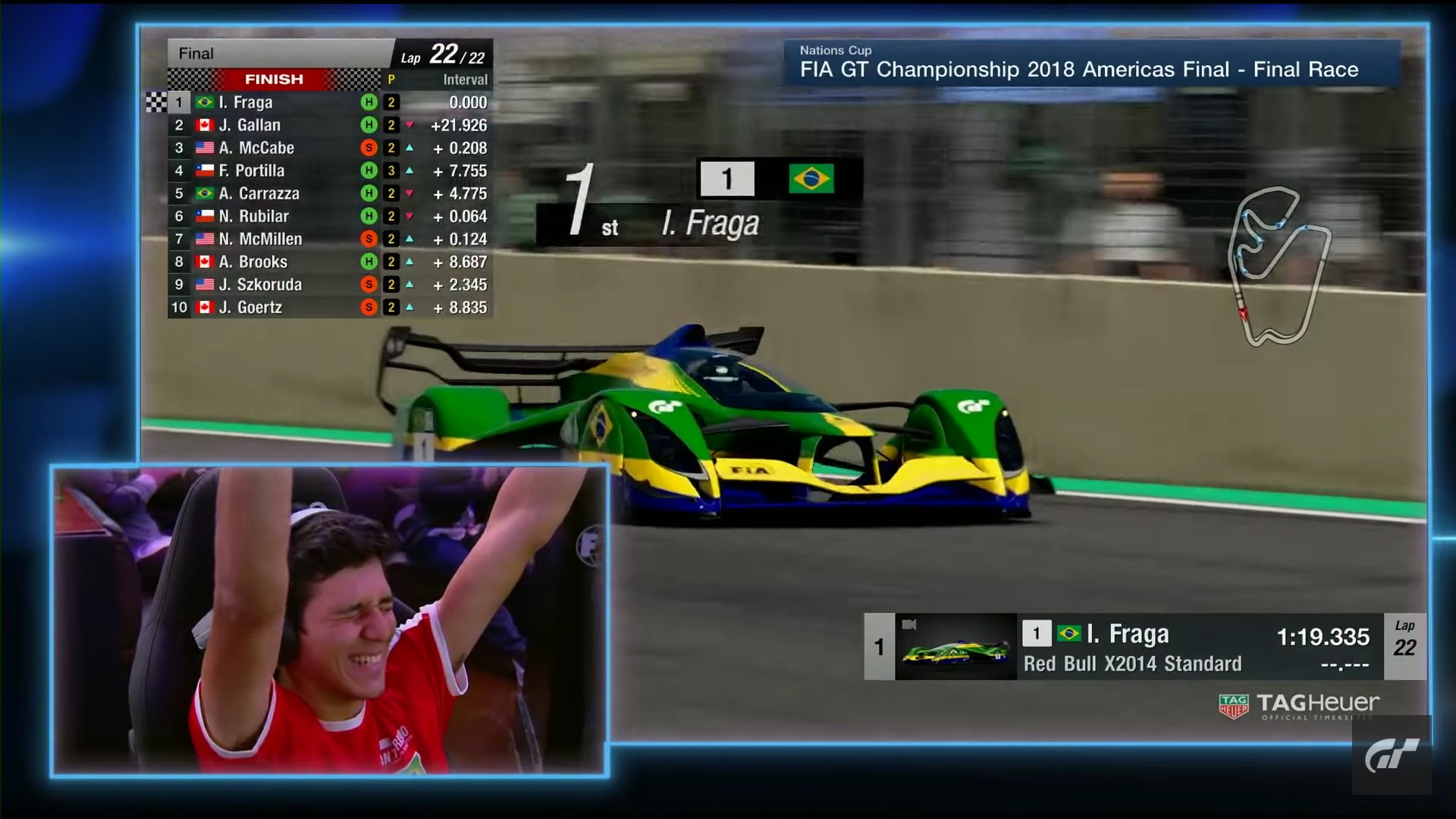 Only two months later, Fraga once again competed in an Esports competition. McLaren held a unique event where seven drivers who had qualified through a variety of different platforms would go head to head in a cross-discipline set of races consisting of sim racing, console driving, virtual reality and mobile gaming. All of this would determine which one of them would become a member of the McLaren Shadow Esports team.
Not only would Fraga and his fellow Shadow finalists be racing on a variety of racing games, they'd also be put to the test in a real-world McLaren GT4 car, the top-secret McLaren simulator, and human performance analysis to test physical and mental strength.
In this unprecedented format, the finalists competed on various virtual platforms, racing different spec cars at various circuits on iRacing, Forza Motorsport 7, Real Racing 3, Project CARS 2 and rFactor 2.
Unbelievably consistent, Fraga racked up points and eased into contention. He was easily in the top three, and competed in the race that would decide who would earn the place in the Esports team. The final decider was held on rFactor 2 and Fraga won with ease.
Fraga began 2019 on the back of becoming the first FIA Gran Turismo World Champion and earning a place on McLaren's Esports team. As a result of this, both Gran Turismo and McLaren Shadow agreed to back his real-world racing campaign that year. So as a direct result of Esports, Fraga had become a very well-known name in the motorsport world and was now able to fulfil his dream of racing in Europe.
[Featured image – Gran Turismo]