Teen British driving sensation Emily Linscott has been making waves in the motorsport world since she began karting less than 4 years ago. Fresh from wins in the Britcar GT4 as well as podium finishes in the US Lucas Oil series, she has made bold moves both on and off the track. 
 Speaking to the PitCrew Online earlier this month, Emily described how a trip to a karting session with her father, ignited her passion for motorsport saying, "the adrenaline rush you ger from driving round on the limit is amazing…the feeling I get from the sport is like no other". 
 Despite this, every day off track considerations come calling forcing Emily to make difficult decisions to "sacrifice time with family and friends and work harder than anyone else". The one thing she could not sacrifice however, were her exams which she put ahead of the opportunity she had to race aboard. We asked Emily how tough a decision it was, "obviously turning down racing anywhere is hard as it's a passion, but I've been taught and understand that if you want to play hard you must work hard". She acknowledged that it is tough for every participant to establish a full-time motorsport career that would be lucrative enough to that they can rely on without a backup qualification and that it was "the right thing to do" to write her exams, which she passed. 
 One of the proudest moments of her flourishing career is the back-to-back wins she took at the hallowed Brands Hatch finale in 2019. Describing it as an "incredible weekend", Emily said the wins, which were her first in cars, were even more special due to the "toughest conditions" that weekend. They were wins that she credits to her teammate. However much of Emily's success can be attributed to her off-track training and preparation which allows things a more "natural" feel on the track.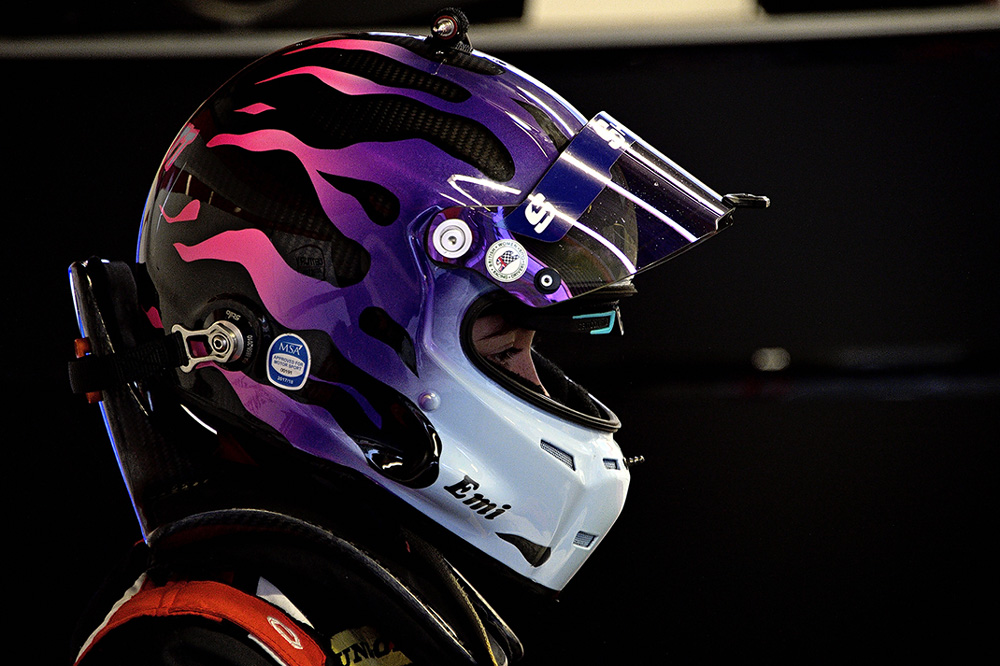 While Emily says that her father is one person that she admires most in motorsport for the advice and support she has been given over her career, she has recently been given the opportunity to work with Indy 500 driver Pippa Mann. Emily describes working with Mann as "…one of the most inspirational times of my career, she's so forward thinking and positive that some of her personality is rubbing off on me".
 She credits Mann with changing how she approaches motorsport and life. Their collaboration has extended to their #GetInvolved campaign which has been helping support Emily's racing in the USA in 2020, "It's a great way to get my supporters more involved in my racing". The campaign aims to get Emily on track by supporting her career and in turn, supporters can own her limited-edition merchandise such as her Bell Helmet, Torq race suit and Walero base layers. The campaign launches 1 February 2020. 
 Emily has much in store in 2020 with an exciting special announcement soon involving her new sponsors FASTR, which we are looking out for on their social media channels. 
 Emily ultimately aims to take her racing as far as she can, winning championships and inspiring more females to take up motorsport by overcoming their fear of not being able to achieve success in what has been a traditionally male sport. 
 Emily is currently inspiring her community in Essex who have backed her from day one and whom she hopes will keep backing her as she attempts to fly the Essex flag at F1 or Indy Car someday. 
Make sure that you follow Emily:
Website: emilylinscott.com
Twitter: twitter.com/emily_linscott
Facebook: facebook.com/emilylinscottracing
Instagram: instagram.com/emi_racing_