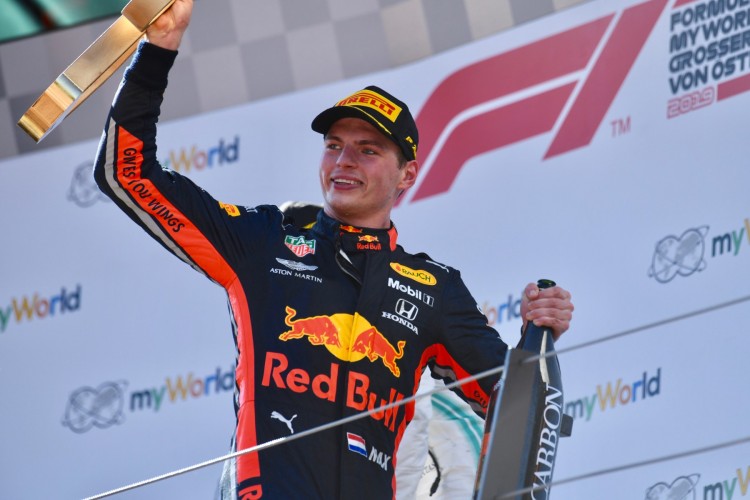 Max Verstappen showcased that a Honda-powered Red Bull is capable of winning, even in the 9th race of their collaboration.
Honda is a colossal company, an immensely powerful player in the automotive industry, immune to the 'group trend' that other manufacturers have gone into. Since its return in F1, though, back in 2015, it has been hit year with multiple reliability problems, publicly blamed for the misfortunes of the McLaren collaboration, to the point that nobody thought it could be able to stand back on its feet and rise to the challenge in this hybrid era.
The move to Toro Rosso in 2018 was a crucial one for Honda and its F1 plans, because it gave them the opportunity to make a fresh start, with a team that has minimal aspirations, fighting for the best possible result in the midfield battles. McLaren is a team that is used to be a front-runner, Fernando Alonso is a driver who wants to be the protagonist, not a bystander, and that played a huge role in the McLaren-Honda relationship through that 3-year spell. Toro Rosso, on the other hand, have been just the sister team of Red Bull, the first step for young Red Bull Academy drivers to make their way into F1.
Now, Honda had its chance to make everything the way it wanted it to be. No pressure, no strings attached.
Effort and grind run in the Japanese people's blood. Japan is known for its commitment to work hard, trying and succeeding. And Honda does represent that mindset in the best of ways.
When the Red Bull-Honda collaboration was announced during last year's French Grand Prix, it became apparent almost immediately that this is not a project that could give a championship in its first year – not even in its second.
Even though RB had all the essential data regarding the Japanese power unit from Toro Rosso, it was crystal clear that this is a long-term relationship, planned out thoroughly, with patience and determination to succeed.
"When they came back into the sport they had a very tough time in the years that they were with McLaren," said Christian Horner.
"They then moved to Toro Rosso last year and they had some time to get their house in order and start to progress.
"All we have seen is a real dedication and determination, and that is why having won that race, Tanabe-san went to collect the trophy for the constructor.
"After all the effort that they have put in, it is great to see Japan represented up there and Honda picking up the constructors' trophy."
This has always been the right path for Honda in this era of F1, with the complexity of the engines playing a big part in a team's success. McLaren didn't realise that when it mattered, and the rest is history. Red Bull did understand that time would be needed for Honda to make the difference and bring back the championship to Milton Keynes.
The Austrians have built a well-run organisation, where people understand their role in the company, and fully commit to the goal, whichever that is. It is no coincidence that, even during the adversity with Renault over the last 5 years, they were able to win races and fight for podiums consistently.
This is the case in 2019, too. Honda has started a new cooperation with a team that can really help them propel their growth and get the coveted land as soon as possible.
Winning in Austria, in their home race, with hundreds of thousands of Verstappen fans cheering for him, is really the stuff of dreams. It is certain that Red Bull targeted that race, and took all the necessary measures to be able to fight for the victory in Red Bull Ring – the first with Honda.
Verstappen himself stressed the importance of the timing of this win:
"I'm just very happy that it happened today and it just gives us a lot of confidence as well to the boys and maybe a few doubts are going away because of it."
The Dutch driver is the noncontroversial leader of this outfit, and that's very positive for them. Last time there was an alpha-dog in that team was the Sebastian Vettel era and they won 4 consecutive world titles.
They have a clear path if Max decides to continue believing in this team and this project, because he is a driver that can be the star of this sport for the next 15 years. He is a talented young driver, a proven winner, and having him as their leader, it just makes everything easier for them and their road to a title.
It is really fortunate for Red Bull (and Honda, subsequently) that Verstappen does support this collaboration, despite his comments about the power of the engine, or his surprise that he was able to win in Austria. He just puts pressure on them, but not in a negative way.
Having said that, it's necessary to remember that this project is not short-term. It's a five year planned out cooperation, and no one stops either side to extend that contract and 2021 is going to be their breakthrough year.
Even if the new regulations don't provide many changes to the technical side of the sport, Red Bull and Honda understand that this is the best timing for their push to a championship-winning campaign. They will try their hardest to keep Verstappen, and if they do, they will have all the ingredients to get to that trophy.
Red Bull has that reputation of a team that can exploit every change in the regulations every time they change drastically (namely, 2009), and Honda will by then have an even better PU to provide to them, better suited to their needs.
F1 is all about long term commitments, plans that run through the next 4 or 5 seasons – it's the only way a team can reach the top.
Honda understands that, Red Bull does, too. No one can guarantee that they will get their chip fast or easy, but they will be contending.