---
Zandvoort is back, and with a bang, we must say.
Sure, it was not the race that we were waiting for, since it lacked the chaos, Safety Car outings and red flags that were anticipated, but it provided a good story up front, with Max Verstappen and the two Mercedes scrapping in a strategic battle, and a mesmerising, yet utterly unsung, performance from Pierre Gasly.
Although the win never seemed out of hand for Max Verstappen, Mercedes' pitwall did what it could to turn their fortunes around, and get advantage of their 2-to-1 battle for the lead. With Sergio Perez down in the last places of the grid after a pitlane start, Lewis Hamilton and Valtteri Bottas could cooperate and win the race (for the Briton, of course), by strategy.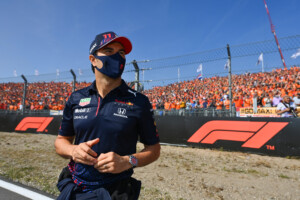 The Dutch circuit proved as difficult to overtake on as teams and drivers predicted, so everything had to be done through the undercut: both times, Mercedes pulled Hamilton for a pit stop, in order to get ahead of Verstappen, when he would stop for a fresh set of tires. However, both times this plan failed, for two different reasons.
On lap 20, Peter Bonnington gave Hamilton the 'box' message, Hamilton obliged, and the plan was for Verstappen to actually get stuck behind Bottas, whom Mercedes did not call for a pit stop immediately. Red Bull responded to Hamilton's stop one lap later, and after 10 laps, the Dutchman got behind Bottas. Mercedes hoped that he would lose time to the Finn, allowing Hamilton to get closer and take advantage of the situation, to pass for the lead.
Max had other plans, though, and passed Bottas easily into Turn 1 on the first time of asking. The Mercedes driver did not defend, nor tried to block his (and, mainly, his teammate's) opponent, making life so much easier for Verstappen and Red Bull.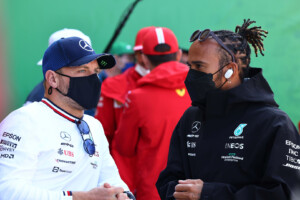 Christian Horner, Red Bull's team principal, highlighted the importance of this overtake in his post-race remarks:
"The crucial part of the race for Max – because the two-stop was the faster race – was to make sure that we re-passed Valtteri immediately. And he did that. That then opened up opportunities to make the second half of the race much more manageable, whereas if he'd have spent a lot of laps behind Valtteri, that could've opened us up to an undercut."
On the second time Mercedes tried to do the undercut, they did not have Bottas as a bulwark, and they made a crucial mistake: they got Hamilton out on track behind a queue of drivers who -mind you- were not out of place. So, he lost precious time behind them; Red Bull called up Verstappen and got him with a fresh set of hard tires, and off he went, leading the race.
I would go as far as to say that Mercedes did the wrong thing not to put Hamilton on the hard compound for his last stint. The 32 laps remaining from his last pit stop up to the end of the race were a few more than what the mediums could do in a competitive pace.
What that shows is, Mercedes knew this race was not theirs to win, even with the numbers game on their side. Verstappen and Red Bull had a great car and a lot of support to win the first Dutch GP after 36 years. And it must go without saying that RB targeted that particular race, which in return produces consistently great performances by them.
That does not mean that a Hamilton win, his 100th, was totally out of cards. They had two opportunities to make that happen, but the gaps were marginal and the chances not on their side.
As far as Pierre Gasly is concerned, it is a great shame that this driver had one more uneventful, yet amazing race near the front pack.
When Gasly and AlphaTauri click just right at a track, they seem an unbeatable combination in the midfield pack.
He matched his best qualifying performance, starting the race from P4, and from the 'go' he built a substantial gap between him and his opponents, mainly Leclerc and Alonso.
With the latter he had a brief battle, too, passing him around the outside at the Tarzanbocht, bravely and decisively. It may not have been a difficult overtake, and he was on fresher tires, but he pulled it off.
Perfection from @PierreGASLY as he swoops past @alo_oficial 👌👀#DutchGP 🇳🇱 #F1 pic.twitter.com/GDAylvec2M

— Formula 1 (@F1) September 5, 2021
And that is the gist of Gasly's performances this year: he does the job quietly and effectively. AT is not the best team in the midfield, it rarely tops it and surely it gives its battles with one driver, since Yuki Tsunoda has been in a prolonged slump in his performance.
Zandvoort proved once again that Gasly is at his peak form, one year on from his first win at Monza. He has found himself once again, completely overcoming the nightmare that his half-a-season tenure at Red Bull was, and -maybe- getting ready for a return at Milton Keynes in 2023…
Main image courtesy of Pirelli Media