This weekend the MotoGP World Championship heads to Germany and the Sachsenring for round nine of the 2019 season and the last race before the 'summer break'.
Marc Marquez (Repsol Honda Team) is unbeaten in Sachsenring since 2009 when he was sixteenth in the 125cc race. Since 2010, he has taken pole position and won every race at the Sachsenring, and since 2013 each of those has come in the MotoGP class. It is a run of remarkable dominance for a rider and a bike which, theoretically, shouldn't work at the German track.
Sachsenring is unique in that it contains a period of thirty consecutive seconds per lap with the rider on the left side of the tyre: no turning right, no period with the bike straight up-and-down, no period with the gas wide open for thirty seconds. Additionally, there are no long straights in Sachsenring, although a bike which is strong on corner exit is useful out of the final corner and up the steep hill out onto the start/finish straight. Furthermore, there is only one big stop, and hard braking, particularly hard trail braking, is Marquez' biggest strength.
On paper, Yamaha and Suzuki should have the edge in Germany but, even before Marquez, Honda have won every race in Sachsenring since 2011, with Dani Pedrosa winning that year and 2012, with Marquez taking over from the following year. Yamaha's last win in Germany came with Jorge Lorenzo in 2010, a year on from defeat to Valentino Rossi. Suzuki, on the other hand, haven't won in Sachsenring since Kenny Roberts Jr. in 1999, before four-stroke Grand Prix bikes and probably before Alex Rins (Team Suzuki Ecstar) knew what a Suzuki was.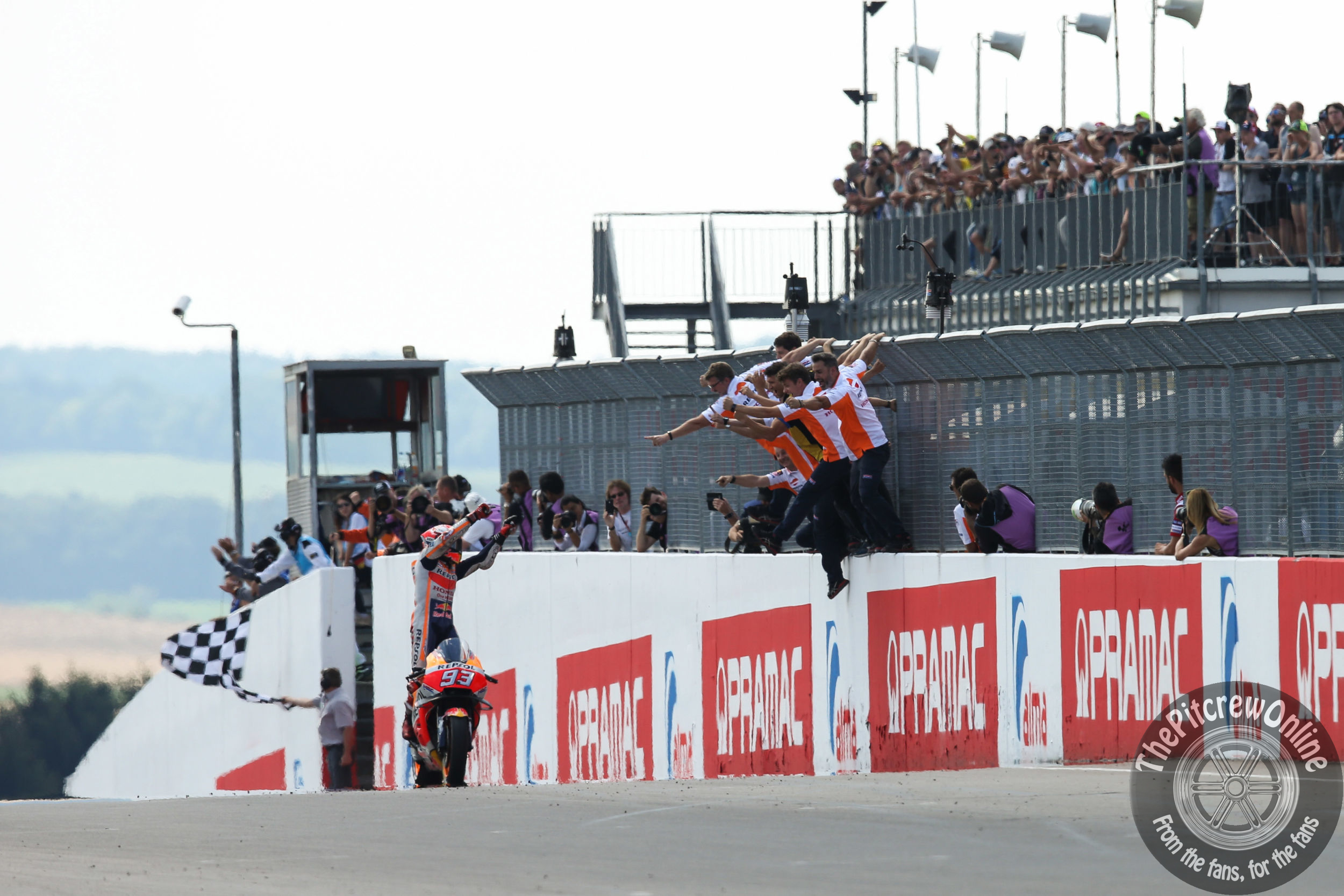 Honda is fast in Sachsenring because their bike likes to slide, historically, and so have their riders – especially Marquez. Whilst Yamaha and, since 2015, Suzuki make their time in long corners by leaning on the edge of the tyre, the Honda makes its time in the same corners by rotating the bike with the throttle. This works in Sachsening because so much time is spent, all at once, on one side of the tyre, so to spend all of those thirty seconds ride on the very edge of the tyre can lead to it overheating more than by coming slightly off that edge, and using the power to turn. This is especially handy for Marquez, who spends his time away from the MotoGP paddock turning left and going sideways on a flat track.
Despite this, especially Yamaha will fancy their chances of taking it to Marquez this weekend. The #93 has won 50% of the races so far in 2019 (Argentina, Spain, France, Catalunya), three more than anyone else, making it hard to envisage the 'King of the Ring' being defeated this weekend, but Yamaha go to Germany in a good moment.
Maverick Vinales (Monster Energy Yamaha MotoGP) won just one week ago in Assen with a dominating margin of almost five seconds over Marquez at a track where the seven times World Champion has won five times. Vinales has not won in Sachsenring before, but seems to be back to the kind of form and confidence that saw him win three of the opening five races in 2017, and if that translates here he could end Yamaha's nine-year wait for a German win, whilst extending the run of Spanish winners in Germany to ten successive years.
Similarly, Fabio Quartararo (Petronas Yamaha SRT) is in a strong moment of his career, with two podiums in the last two races. In fact, Quartararo has as many podiums this season as either of the factory M1 riders. Saturdays seem to be where Quartararo is particularly shining at the moment, though, as the Frenchman has taken two poles in succession and three this year. Perhaps Marquez is out of reach over thirty laps on Sunday, but Quartararo could end the Spaniard's German pole record the day before.
It will be interesting to see what Suzuki do this weekend after Alex Rins' crash out of the lead last week. The Spaniard had a good shot at winning before his hard front tyre let go at turn nine of the Dutch track. Now, in Germany and with Yamaha in a good moment, it will be important for Rins and for Suzuki to beat the M1s this weekend in the battle of the inline-fours.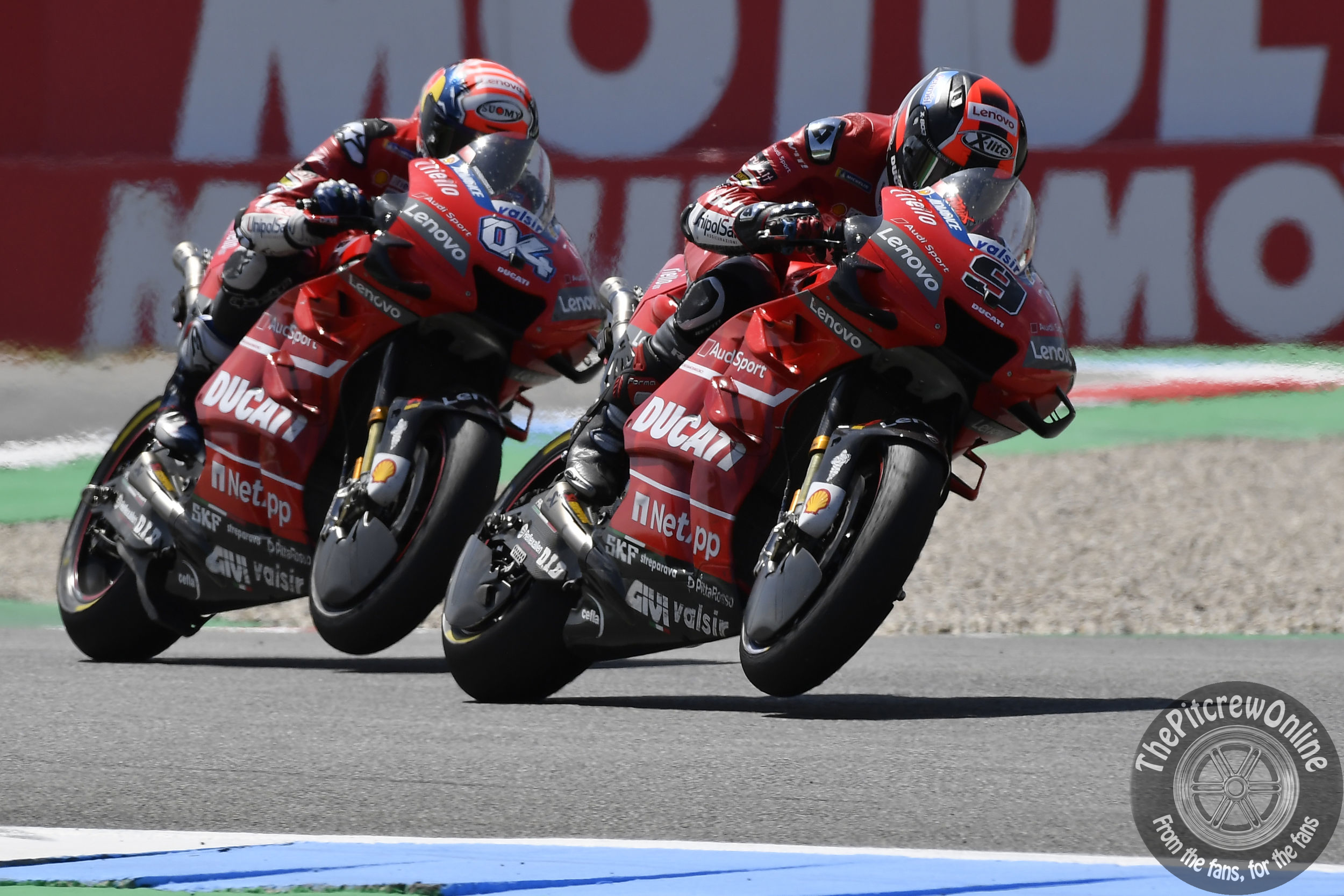 Ducati face a difficult challenge this weekend, like in Assen where they missed the podium. Ducati have never won a dry Germany Grand Prix, with their only win coming in 2008 when Casey Stoner won after Dani Pedrosa crashed out of a mammoth lead at turn one on the Honda. Additionally, Ducati's only podium in Germany in the 1000cc era (since 2012) came in 2016 in the flag-to-flag race when Andrea Dovizioso (Mission Winnow Ducati) finished third. Dovizioso's last dry weather podium in Sachsenring came in 2012 when he was on the Tech 3 Yamaha, and Ducati's last dry weather podium in Germany came in 2010 when Stoner beat Rossi to third place on the Italian's return from a broken leg.
Danilo Petrucci (Mission Winnow Ducati) led the Ducatis last year in fourth place on the satellite Pramac-run machine. This year, on the factory bike, it will be interesting to see whether the #9 can take it to the machines better suited to Sachsenring over race distance.
Jorge Lorenzo (Repsol Honda Team) is missing this weekend after his practice crash in Assen last week. The Spaniard is being replaced by HRC test rider Stefan Bradl who gets his first outing in Repsol colours.
Featured image of Box Repsol