Lewis Hamilton has admitted that Mercedes were 'very, very lucky' to claim a 1-2 at the Bahrain Grand Prix, with Charles Leclerc's power unit issue putting a stop to what was otherwise a very dominant performance by the Monegasque.
Hamilton had started the race in P3 but fought his way past Sebastian Vettel on lap 38 to claim P2. Then, with under fifteen laps to go, the other Ferrari of  Leclerc developed a power issue that cost him roughly 30mph in speed on the straights; in just two laps Hamilton had wiped out Leclerc's nine-second lead and passed him with ease to take the 74th Grand Prix victory of his career.
"It was very tricky out there today," Hamilton said, "and I had to give it everything I had. We were very, very lucky to get this 1-2, Ferrari outperformed us all weekend.
"Ultimately you want to have a real fight and want to pass someone because you're quicker, so it feels a bit weird and you can't quite believe your luck in these scenarios."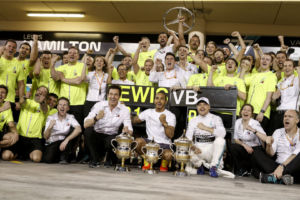 Hamilton praised Leclerc for his performance nonetheless and offered some words of consolation to him in the post-race cool down room. He is under no illusion about Mercedes' pace relative to Ferrari, and is bracing himself for some tough races to come.
"I have been in similar situations [to Leclerc] and I know how it feels, but Charles did a great job all weekend long and has a beautiful, bright future ahead of him," he added.
"We've only had two races; one where we were rapid and far ahead, one where Ferrari had the upper hand. It's hard to say how the next races are going to pan out, but I anticipate that it will be a tough fight and that it will be a back and forth between the two teams.
"We need to keep working hard to see where we went wrong this weekend and to see where we can improve the car. But as we saw today, reliability also plays an important role, so we need to keep working on all areas.
"We'll take the points we got today and move forward to China."
[Featured image – Steve Etherington]