Toro Rosso rookie Alex Albon said he was 'very happy' to pick up his first ever points in Formula 1, thanks to a ninth-place finish in what was a very dramatic Bahrain Grand Prix.
He admitted that a certain amount of luck played into the result, having been promoted a couple of positions thanks to the retirements of both Renaults ahead of him.
"That was a busy race – I felt like I was always fighting with someone at some point, there was always something to do!" Albon said. "I didn't have the best start as I was a bit shy into the first corner, but after that, I put my head down and got on with it.
"We had a good strategy and decent pace on the prime tyre. In the end, we got a bit lucky with the retirements, but I'll take it!"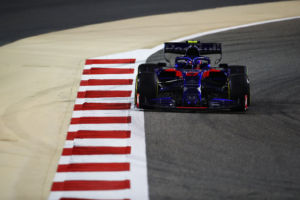 He also spoke of the difficult nature of the race, highlighting a mix of the weather conditions and the roughness of the circuit on the Pirelli tyres.
"It was so tricky with the wind out there and it made the car unpredictably, but we were quite strong in the race, it's just a shame about the start. It was a challenge to overtake because when you get close to another car the tyres overheat and you get a bit stuck.
"However, I enjoyed myself out there and it was good to get that experience. I'm very happy to pick up my first points in Formula 1 and I hope we can carry this pace into China."
[Featured image – Getty Images / Red Bull Content Pool]