The Argentinian Moto3 Grand Prix was typically maniacal, with the general order of the day being 'pass or be passed'. Jaume Masia (Bester Capital Dubai) took his debut win, from Darryn Binder (CIP Green Power) and Tony Arbolino (VNE Snipers) who completed the podium.
The race took the form of a typical Moto3 race, a large group with many lead changes, riders not spending a great deal of consecutive time at the front, some arriving at the front before dropping back, others remaining in the very top positions for the majority of the race, and others able to make little progress with so many riders around.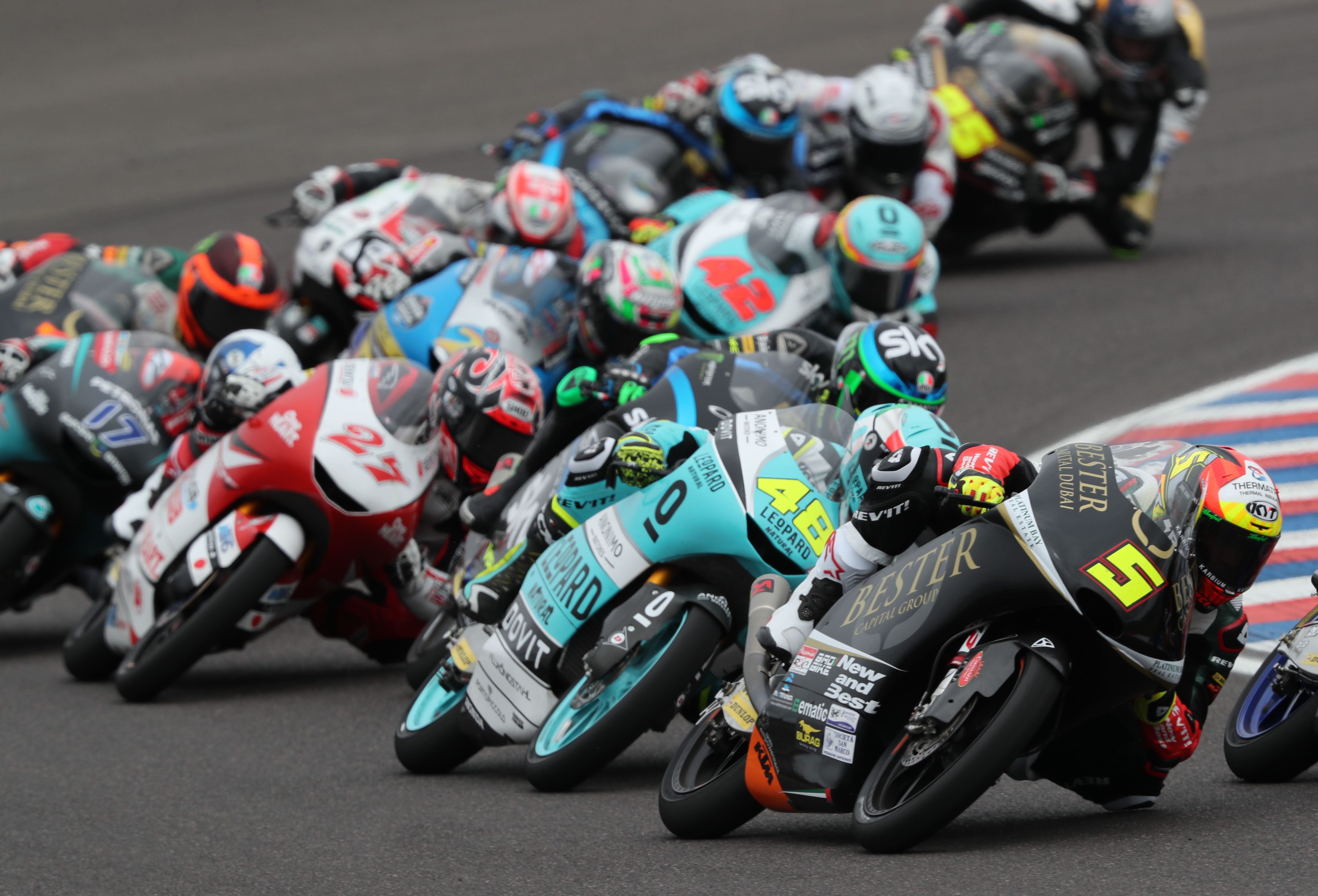 It soon became clear, though, that Darryn Binder was out on the attack, making big, bold moves at every opportunity. He was slow on the straight, but had a few yards on is competitors on the brakes, an area where he is almost always at an advantage compared to his rivals.
Also making his presence known in the front group was Gabriel Rodrigo (Kommerling Gresini Racing) who, in his home Grand Prix, was prepared to accept nothing other than a win, which in the end cost him a podium.
The final lap began with Lorenzo Dalla Porta (Leopard Racing) in the lead, but by turn five he was out of contention, having been pushed wide by the melee going on around him. It was unfortunate for Dalla Porta. He did nothing wrong, but that's Moto3.
Whilst Dalla Porta was out of contention, Rodrigo had taken the lead, only for it to be snatched away from him in turn seven by Masia with a nice out-braking move. Masia had been pushed back in the pack earlier in the race but fought hard to arrive back in victory contention by the final lap.
Once Masia had the lead, he just had to hang onto it. He out-braked everyone in the final corner, and there was the chequered flag, waiting for him, as he took his first career victory. Following the disappointment of a DNF in Qatar, the young Spaniard proved he is a force to be reckoned with, and will look to back this performance up in the coming rounds, and identify himself as a championship contender.
Darryn Binder had looked slightly over-aggressive all weekend, but he harnessed that in the race to give himself second place. Once he arrived in the top positions, he didn't leave them, something which is difficult to do in Moto3, but his prowess on the brakes meant it was difficult for anyone do to anything about him.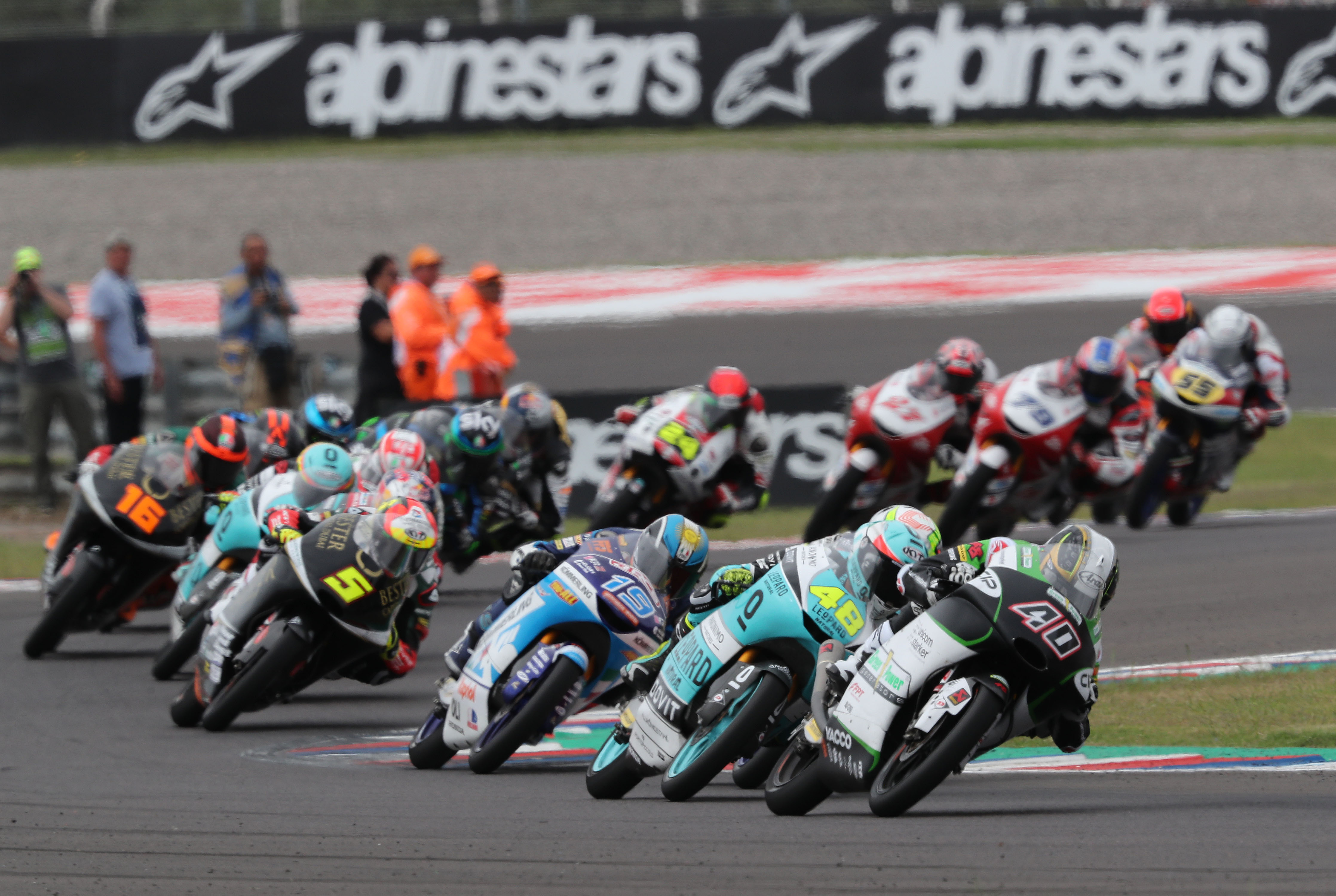 Since this race last year Tony Arbolino has been awaiting a podium. He was leading comfortably in Valencia last year before he crashed, and he led in Qatar, but finally the Italian has his first podium in Grand Prix racing, something which he will be hoping to build on in the coming races, especially in Jerez, a circuit in which he has gone well in the past.
Niccolo Antonelli (SIC58 Squadra Corse) started the race incredibly well, leading for periods and spending a lot of time in the front positions. He got forced back in the group mid-way through the race but fought back well to finish fourth, his best result since his podium in Motegi back in 2017.
Missing direct access to Q2 yesterday put a dampener on Ayumu Sasaki's (Petronas SRT) weekend, but fifth place in a chaotic race represents perhaps his best performance since he arrived on the GP scene in 2017. As with the podium finishers, this is a result which the Japanese will be hoping to build on.
Gabriel Rodrigo entered turn thirteen on the final lap in second place but he exited it sixth, having spun the rear tyre on the exit, allowing four riders past. It was a shame for the home rider, who finally put together a good weekend in Termas at his sixth attempt.
Despite leading into turn one on the final lap, Lorenzo Dalla Porta managed only seventh, ahead of Dennis Foggia (Sky Racing Team VR46) who made a good recovery after a difficult qualifying to finish in the top ten, ahead of Marcos Ramirez (Leopard Racing) and round one victor Kaito Toba (IDEMITSU Honda Team Asia), who was sent out of the group for being caught up in an incident with John McPhee (Petronas SRT) and Alonso Lopez (Estrella Galicia 0,0) which saw the Spaniard retire.
Andrea Migno (Bester Capital Dubai) had a strong race, especially in the middle portion, but finished only eleventh in the end, ahead of Aron Canet (Sterilgarda Max Racing Team) who spent most of the race at the front but disappointingly fell back at the end. Thirteenth went to Tatsuki Suzuki (SIC58 Squadra Corse), who was ahead of Celestini Vietti (Sky Racing Team VR46) and Raul Fernandez who completed the points finishers.
Featured Image courtesy of Gold and Goose/KTM