Ferrari Team Principal Mattia Binotto has labelled the reliability issue that cost Charles Leclerc a victory at the Bahrain Grand Prix as 'unacceptable' and something that the team are investigating to prevent from happening again.
Leclerc had dominated the Bahrain race weekend, finishing top of the timing sheets in FP1 and FP3 and claiming his first ever pole position in F1 on Saturday by almost three tenths.
He slipped back to third at the start but recovered to retake the lead by lap five and dominated thereafter. That was, until he developed a power unit problem with just fifteen laps to go, one which cost him several seconds per lap. The two Mercedes of Lewis Hamilton and Valtteri Bottas caught and passed him, but Leclerc was saved from losing any more positions by the safety car brought out to recover both Renaults. He came home third, his first podium in F1 but one tinged with disappointment.
Speaking of the power unit issue, Mattia Binotto said, "It was a shame for Charles. He was in the lead for much of the race and showed that he was particularly comfortable here in Bahrain, also setting the race fastest lap.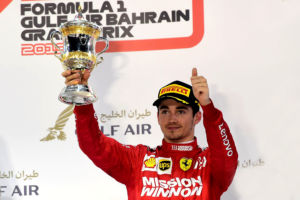 "He deserved to win and it was only the reliability problem, which we must now investigate, which prevented him from doing so. That is something unacceptable from us and it shows how important it is to get every last detail right in order to win."
Leclerc added, "It's part of motorsport, we know that. Sometimes it's not your day to win and today wasn't ours. In the final part of the race we had an issue with the power unit and I had to slow down.
"It's a shame because the race seemed to me to be under control. The team is disappointed and I am disappointed but there are a lot of positives to take home from this weekend.
"These things happen in motorsport: we took the best out of it anyway. It's my first podium even if I'm not enjoying it as much as I wanted. It's life, it happens, we'll come back stronger".
[Featured image – Ferrari Media]