International Womens Day gives us the opportunity to pause for a moment and appreciate just how far we have come and the wonderful progress that's been made in the last few years towards encouraging more women to join the world of motorsport.
It's a chance to recognise those who have been leading the way before us and defying all the odds in what has long been a male dominated industry. As women we too have just as much to offer the industry we love so much. We thank the women who came before us, who knew the challenges they were facing but did it anyway. There are now remarkable women throughout all corners of the industry from engineering to hospitality, from the pitlane to the factory, breaking down stereotypes and encouraging others to do the same.
As a 44yr old wife and mother of three children, I never dreamed I'd start working on a project within the realms of Formula 1, let alone doing it alongside my 18 year old daughter Rachel. She is obsessed with F1 and like me, has followed the sport for as long as she can remember. I think it may have begun when she realised she shared her birthday with Lewis Hamilton! She is gifted in maths and is the only person I know who gets genuinely excited at complex equations! From around 11 years of age, she started to become aware that she could take her love of maths and apply it to the sport. She began to research people like Adrian Newey, to understand the study path he had taken, to try and figure out how to become an aerodynamicist.
We spent hours, days and months on a quest for knowledge but the information was so hard to find. All the careers advisors we spoke to either didn't take Rachel seriously about wanting to be a motorsport engineer due to her young age and gender, or just didn't have a clue what an aerodynamicist was! It was a stressful time not only because information and understanding was so lacking, but she was trying to make the right study decisions that she knew would impact her future.
We eventually stumbled upon something called Dare to be Different (D2BD), which is an initiative founded by Susie Wolff and the Motorsport Association to encourage more girls to consider a career in motorsport. D2BD has a group of ambassadors from all across the world of motorsport – from journalists like Rosanna Tennant and Senior Strategy Engineers like Ruth Buscombe, to inspirational drivers like Nathalie McGloin and Maria Costello MBE. These women who have come before us are really leading the way in helping girls to realise that they can make their own unique mark in this exciting and rewarding industry.
D2BD gives us access to a supportive Facebook group of likeminded girls, and the ability to attend networking events where we can meet the D2BD Ambassadors. These meet-ups are always inspirational and you go home feeling like anything is possible! It's thanks to initiatives like D2BD that girls are beginning to see a career in motorsport as an equal opportunity from a young age and are more willing and able to follow this passion growing up, just like Rachel has.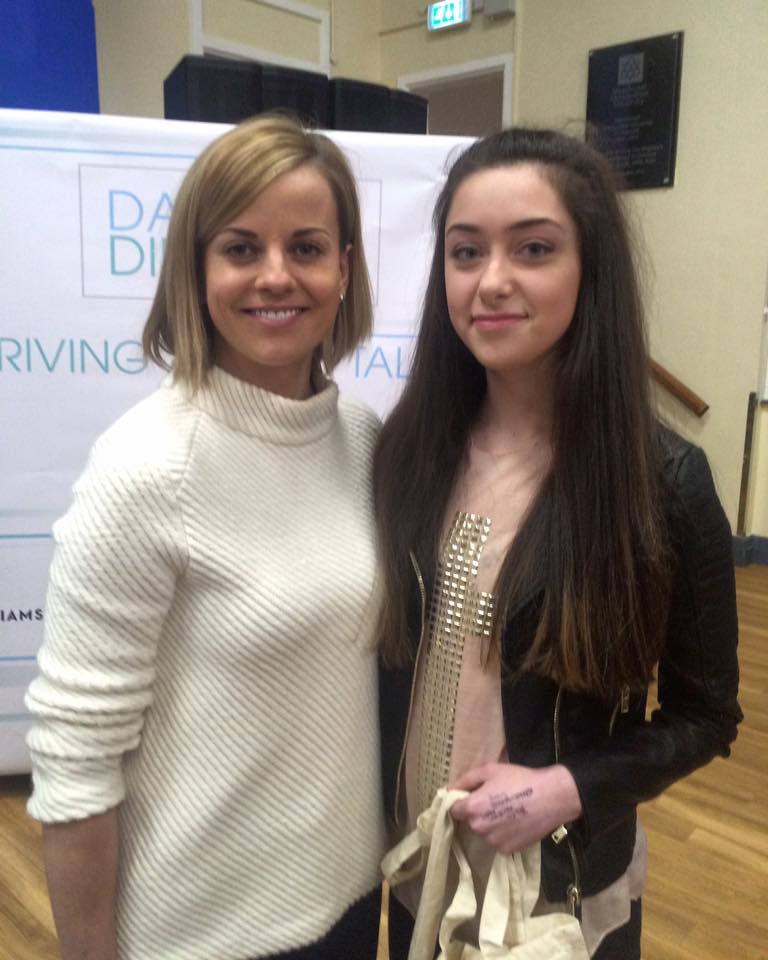 Being a part of the Dare to be Different community really inspired us and gave us the confidence to see our own project to fruition. We really wanted to help those students still in school and college who were struggling like Rachel, to make it easier for them to find the information about study paths into the world of Formula 1. On our journey we'd learned not just about study options, but about things like the importance of hobbies and work experience, networking and cv building, and all the events and opportunities up and down the UK that not many people know about! And so the idea of Formula Careers was born, a website to house all the information that a student would need to give them the best chance of working in F1.
No-one can predict the path that will lead to that dream job, sometimes it twists and turns in unexpected ways you could never imagine, and so it's always best to stay flexible. But at least if we can give students a good foundation to work with, they will be more confident in the decisions they make for the future. We want students to realise they are not alone, that we know it's a difficult and stressful time, that there's help and support there if they need it from people who understand. To realise that they can take the gifts they have and match them up to the industry that they love!
Being able to speak with the D2BD Ambassadors was really important to us, and so we tried to figure out a way to do that for others and bring students closer to those already working in the roles they dream of. Myself and Rachel set about contacting and persuading as many people as we could from the world of F1 to share their own stories about how they got into the industry. We know these little case studies will really inspire the next generation and show them that with dedication, self belief and passion, it really is possible to have a career in Formula 1.
Formula Careers gives us the opportunity to make our own contribution to the world of F1, so if we can do it then anybody can! It has been an absolute delight to be able to work with my daughter on something we are mutually passionate about. It's not only brought us closer together, but given us the opportunity to create relationships with key people in the industry. I think people are surprised that we are a mother and daughter team, but I think that makes our project stand out in a good way!
We still get the occasional strange glance when we tell people what we are doing because many still see it as a male dominated industry! But each conversation is a chance to educate others on the exciting changes happening for women in motorsport. It's thanks to initiatives like Dare to be Different and the amazing, brave women who have come before us that we can move forward with confidence and achieve our own career goals.
On International Women's Day, we are reminded that all things are possible, and that no matter our circumstances we have the ability to go out and make our dream careers happen.
www.formulacareers.com
www.linkedin.com/in/louise-m-279239138
www.linkedin.com/in/rachel-mcgrath-12a7b1139
www.twitter.com/formulacareers
www.facebook.com/formulacareers