Ask any motorsport fan to name a successful woman within the sport, and usually, Susie Wolff will be amongst the names they provide. The first woman to take part in an F1 weekend in 22 years, Susie is now the team principal of the Venturi Formula E who scored their first podium of the seasion in the Mexican ePrix a few weeks ago, as well as the co-founder of the Dare to Be Different initiative, a non-profit organisation committed to change viewpoints and inspiring young girls and women to participate within the motorsport industry.
Sarah Jarvis: You've had time to become much more comfortable within your new role as team principal. Was the transition period as challenging as you thought it would be?
Susie Wolff: Yes, it's definitely been challenging with plenty of changes and improvements to make, but to be honest I've relished the opportunity to get stuck in. We've made really great progress after a difficult start to the season. In motorsport, ultimately all that matters is performance and, with our first podium of the season in Mexico, I think we've demonstrated that we're on the right track.
SJ: The FE in-season test featured nine female drivers competing in cars as part of the FIA Women into Motorsports Initiative. Did that feel like a significant step forward in promoting the movement of women into motorsport?
SW: Yes, I do feel like it was a significant step forward. I also think it clearly demonstrated Formula E's commitments both to the promotion of women in the sport and also their desire for diversity within the series. The all female in-season test also served as a fantastic reminder of the female talent out there – that's an incredibly positive thing in my book.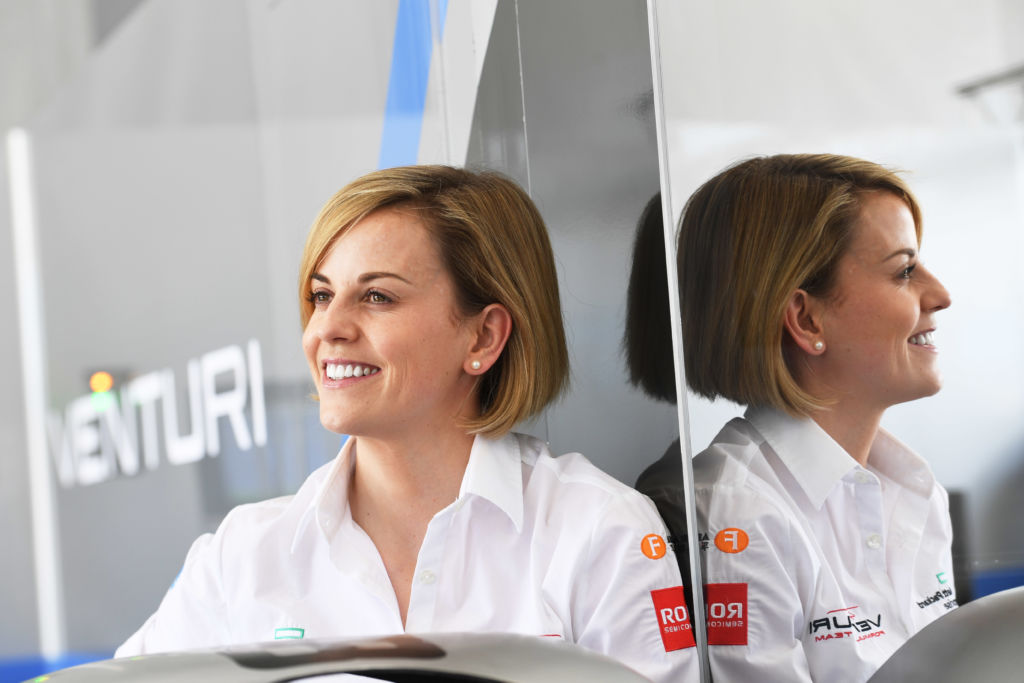 SJ: With your increased involvement in Formula E, there is an intensity of D2BD initiatives at these events. How important are these events to display at such a vastly popular sport? Are they changing the opinions and viewpoints of young girls?
SW: The D2BD events are really important and now that we have the official collaboration with the FIA's Girls On Track initiative, we're widening our reach even further to a bigger, global audience. Having our launch event in Mexico at the ePrix was a major milestone for the initiative, it also clearly demonstrated Formula E's commitment to the promotion of grassroots activity for young women. The launch was met with great enthusiasm, not just from the motorsport community but also the local fans who came and participated in the activity, there's simply no substitute for hands on experience. One of the major additional benefits of teaming up with Formula E in this way is that we have the benefit of some incredible city centre race locations, this goes a long way towards helping raise awareness and generate interest in the activity.
SJ: Is it imperative to gradually add more racing events to the D2BD calendar for exposure? Are there certain avenues such as F1 and MotoGP that you want to pursue further?
SW: Now that we are a joint venture with the FIA, we're not focused on volume of events or trying to be the biggest. What we want to do is foster strong and lasting relationships with the ASNs (the local motorsport authorities) to ensure that the activation is strategic, meaningful and leaves a lasting impression on the young ladies who participate. The impact we have from an inspiration and education perspective is the most important thing to me.
SJ: With the introduction of the W Series aimed strictly at a female demographic, do you feel it is a positive step towards better representation of women in motorsport?
SW: Any championship that gives the opportunity to young women to compete is a positive thing. In my view though to become a truly world class professional driver and earn a living in motorsport, you need to compete with the best in the world regardless of gender. Ultimately, motorsport isn't segregated so I think in the long term, we need to really focus our efforts on bringing more female talent in to the sport across the board so that the best can rise to the top.
SJ: What advice would you give any young girls or women wanting to break into motorsport, whether it be driving or engineering?
SW: My advice would be the same whichever field they were looking at: believe in yourself. Find out what it is that you feel passionate about and go for it. Don't be scared to stand up for yourself and be seen and heard. Work hard, push yourself and never, ever lose the belief in your abilities. Use initiatives like Dare to be Different to connect and widen your network. We have an incredible line-up of ambassadors who provide mentoring and education to the next generation. But above all else, don't wait for doors to open for you, knock them down.
For more information on the Dare to be Different initiative: https://www.daretobedifferent.org/