McLaren have announced the continuation of their relationship with double world champion Fernando Alonso, naming the Spaniard as a McLaren Racing ambassador.
They also revealed that Alonso will drive alongside Carlos Sainz and Lando Norris in selected tests over the course of the 2019 season to aid in the development of this year's car, and also of the 2020 design.
"Becoming a McLaren ambassador is a true honour," Alonso said. "It is a special team, and despite the challenges we have endured recently, it remains so. I said before I stopped racing in Formula 1 last year that I see myself with McLaren for a long time to come, so I am delighted at this new role and the ability to stay closely involved with the team I feel is my spiritual home."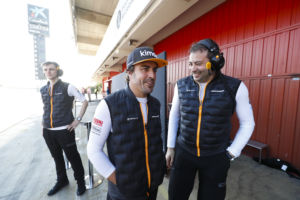 Speaking of the announcement, McLaren Chief Executive Zak Brown said, "For any race team, having someone of Fernando's class on hand to provide support through his experience is of huge value. His insights and perspective will be welcomed by both our drivers and engineers alike, while his stature and character remain highly appealing to our partners and fans."
Alonso retired from F1 at the end of last year with two titles and 32 race wins to his name, four of which came during his first stint at McLaren in 2007. He rejoined the team in 2015, where an underwhelming Honda power unit put a stop to any hopes of adding to his tally.
As part of his pursuit of motorsport's Triple Crown, Alonso will make his second Indy 500 appearance later this year, having first competed at the event with McLaren in 2017.
"We have the Indianapolis 500 in May of course, which I am looking forward to immensely," Alonso said, "but this is just the beginning of many things we can do together. I am particularly passionate about nurturing young talent, whether that's with my own team or helping the new generation of Formula 1 drivers at McLaren unlock their true potential. This is important to both the team and myself, so will be an especially rewarding part of my role."
[Featured image – Steven Tee/McLaren]