Williams' George Russell has described the first day of the second pre-season test as "a huge relief" for himself and for the team, completing all the planned running with no issues.
"It was a good day," Russell said. "Our plan was to get as many laps on the board, make sure we had no issues and that's exactly what we did. We have learnt so much about the car on lower fuel and higher fuel which gives us a good indication moving forward into the next few days.
"All in all, it was a huge relief to have a day like today and we completed our test plan as intended."
Russell posted the ninth fastest time of the day using the C5 tyre – the softest compound available – and also completed 119 laps, the third most of the day.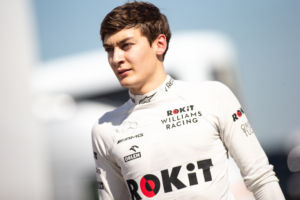 It comes after a less-than ideal first test for Williams, which saw delays with the production of parts for the car force the Grove-based team to miss the first two days of running.
Chief Technical Officer Paddy Lowe added, "It was a good day of testing with George driving the car. We completed 119 laps without any significant reliability issues, so we achieved the entire programme that we had planned from the start of the day.
"Well done to the team, a great job by everybody to get a car that can do the laps without incident to make a solid start to the second test."
[Featured image – Williams F1]