Ferrari launched their 2019 contender this morning at a car launch event at Fiorano. 
In attendance was Scuderia Ferrari team boss Mattia Binotto, Sebastian Vettel, and Vettel's new team-mate Charles Leclerc.
With the updated regulations in force, the stunning SF90 sports a freshly designed matte-finish red and black livery, with several technical tweaks – most noticeably on the front wing – having been put in place in the hope of making Formula 1 races more action-packed and competitive, with more overtaking and smaller time margins between the teams.
CEO of Ferrari Louis Camilleri said, "The car embodies the latest state of the art technology, reflects the new regulations for the coming season and is the fruit of the combined enormous work and talent of everyone in the Scuderia."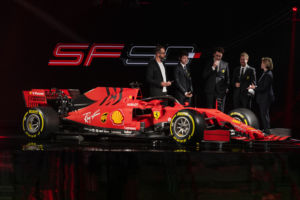 With the last Ferrari champion being Kimi Räikkönen, the team have high hopes that their two drivers will be fighting for race victories and both the drivers' and constructors' Championships. 2019 marks Sebastian Vettel's fifth year with the Italian team, whereas rising star Charles Leclerc will be making his Ferrari debut in just his second year in the premier class.
The Monégasque and the German will be fierce competition for their rivals over at Mercedes, who have retained their 2018 line-up of five-time drivers' champion Lewis Hamilton, and Valtteri Bottas. There is much speculation regarding how Red Bull will fare having dropped Renault as their engine supplier in favour of Honda, however with winter testing coming up in Catalunya, there should be a clearer idea as to how competitive each team will be. With an experienced champion in Vettel, and with Leclerc's natural talent, the duo will undoubtedly have starring roles in the forthcoming season. 
Daniel Ricciardo's surprise move to Renault caused a knock-on effect in the drivers' market which has produced one of the most exciting line-ups in recent memory. Robert Kubica will return to the sport after a prolonged absence due to sustaining injuries in a 2011 rallying accident; Brits Lando Norris and George Russell will race with British teams McLaren and Williams; Antonio Giovinazzi will take part in his first full Formula 1 season at Alfa Romeo Racing with Kimi Räikkönen as his teammate; and at Red Bull, fan-favourite Max Verstappen is paired with Pierre Gasly.  
Pre-season testing is set to get underway on Monday, the 18th of February, with the first race scheduled for the 17th of March. An unpredictable year lies ahead, however one thing is certain – the 2019 F1 season is shaping up to be a thriller.
[Featured image – Ferrari Media]