Red Bull Racing revealed their 2019 F1 car today, labelled the RB15, ahead of pre-season testing in a few weeks time. This comes after Toro Rosso's unveiling on Monday which revealed another high-shine and  vibrant livery with the trade-mark Red Bull colours.
Red Bull have been a hive of activity on social media in the build-up to the launch, conducting interviews with drivers Max Verstappen and Pierre Gasly that discussed how they have geared up for the new season, and how nice it is having an Aston Martin as a company car. Verstappen also addressed the youthfulness of this year's driver pairing and said, "I don't think it is an advantage but also not a disadvantage… When you are 30 years old you have a lot more experience, it's not necessarily that you are faster". Quite right Max.
In the 2018 F1 season fans enjoyed a sleek, matte livery, contrasting with the Baby Bulls 'fizzy drink' aesthetic, with Aston Martin's sponsorship proudly displayed on its rear spoiler.
Today, Red Bull have treated fans to a one-off livery in honour of an official filming day at Silverstone. It is unclear whether this livery will be used in pre-season testing, however it is thought normal service will resume come the Melbourne Grand Prix.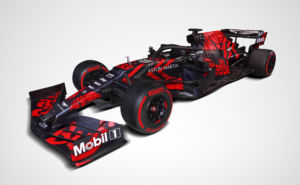 For now, fans can enjoy yet another matte navy blue and red livery; the car retains its traditional 'charging bull' motif, but with a greater emphasis on geometric patterns than in previous years.
So, what can we conclude from today's unveiling?
Yep, it's definitely a Red Bull!