Reigning world champions Mercedes have released images of their 2019 title contender online, ahead of a shakedown test at Silverstone later today.
The W10  largely sticks with Mercedes' signature silver, black and turquoise colour scheme but has added a mesh-like gradient pattern of three-pointed stars to the engine cover, and a silver halo as opposed to last year's black.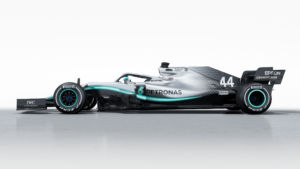 Like the designs of its rivals, it features a simpler front wing design as mandated by the 2019 regulations, along with a larger rear wing and mirrors positioned further out on the bodywork to compensate for any reduced visibility. Mercedes Technical Director James Allison has also spoken of emphasis being placed on the suspension system and on the aerodynamics, in an attempt to make the W10 kind on its tyres.
Mercedes have utterly dominated the hybrid era in F1, taking a clean sweep of drivers' and constructors' championships every year since 2014. The last couple of seasons, however, have seen Ferrari begin to challenge the Silver Arrows on track, even if internal struggles and various mistakes have meant that they have fallen short of that challenge being sustained across an entire year.
Mercedes' line-up remains unchanged from last year. Lewis Hamilton will be aiming to become just the second-ever driver to claim six world championships, while Valtteri Bottas enters his third season with the team and will be hoping for a more consistent performance than the one he gave in 2018.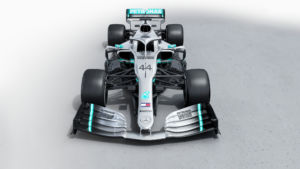 Speaking of the upcoming 2019 season, team principal Toto Wolff said, "The 2019 season will be a new challenge for all of us. The regulations have changed quite substantially. We have to start from scratch, we need to prove ourselves again – against our own expectations and against our competitors.
"We start the season with zero points, so we're taking nothing for granted and there's absolutely no feeling of entitlement
to be at the front. In fact, with the regulation change for the new season, every team can have a shot at the title and we're seeing all of them as a potential threat."
The W10 will be seen for the first time on track at Silverstone as part of a shakedown test, driven by Bottas in the morning and then Hamilton in the afternoon.
[Featured image: F1 W10 EQ Power+ Shakedown, Silverstone]